If you thought previous seasons of You were deliciously dark and twisted, then prepare yourself because season three will keep you up at night.
After series of delays thanks to COVID, Netflix have finally dropped a trailer and best of all—a release date. Clear your schedule and pop Friday 15 October in your diary because Joe Goldberg is back baby and he's here to make you question every person you've ever dated.
Until then, here's everything you need to know about You season three.
Where Did Season Two Of You Leave Off?
Before we deep dive on the new characters and plot, here's a quick recap on where we left our favourite psycho in season two.
After a rollercoaster of a season in which Joe (Penn Badgley) hightailed it to LA in search of a fresh start, it looked like he had finally met his psychotic match in girlfriend turned baby mama, Love (Victoria Pedretti). He had murdered less (good for him) and moved to the suburbs where he seemed to be on the right path… that is until the final moments where he spotted his newest prey, the sexy neighbour.
What Is You Season Three About?
Joe and Love, now married and raising their baby, have moved to the balmy Northern California enclave of Madre Linda, where they're surrounded by privileged tech entrepreneurs, judgmental mommy bloggers, and Insta-famous biohackers. Joe is committed to his new role as a husband and dad but fears Love's lethal impulsiveness. And then there's his heart. Could the woman he's been searching for all this time live right next door? Breaking out of a cage in a basement is one thing. But the prison of a picture-perfect marriage to a woman who's wise to your tricks? Well, that'll prove a much more complicated escape.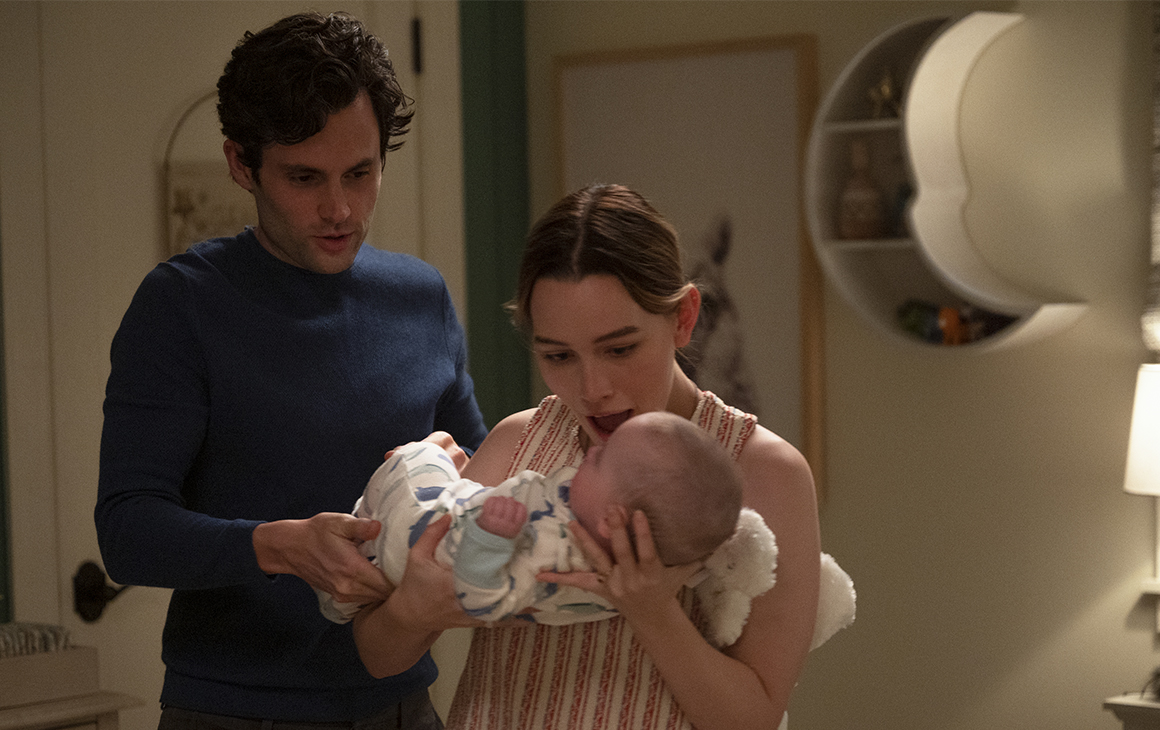 Who Is Cast In You Season Three?
We can now reveal a slew of brand new characters are joining the show. Say hello to fresh meat number one, Tati Gabrielle who you'll recognise as tough-talking, sassy witch Prudence Night from Netflix's Chilling Adventures of Sabrina.
Gabrielle will play Marienne, "a smart, no-nonsense librarian who doesn't let much get by her". According to reports, she's a keen observer of the neighbourhood's comings and goings—look out Joe! But beneath her polished exterior, Marienne is hiding personal struggles that she battles to keep under wraps while she tries to create a better life for herself and her young child.
Fresh meat number two is Shalita Grant from Search Party and Santa Clarita Diet fame. Grant will play Sherry, "a mum-fluencer who appears down to earth, but is actually a mean girl who only pretends to welcome Love into her social circle."
Another exciting addition is Nashville's Dylan Arnold. He'll take on the role of Theo, a uni student with a strained and complicated relationship with his stepfather. Also joining the ranks is Travis Van Winkle (Hart Of Dixie, 90210) who will play Cary. All we know about this handsome devil is that he's a wealthy dude who invites Joe into his inner circle. We're assuming he has no idea Joe's a serial killer, unless said inner circle is a murderous cult. We can't wait to find out.
And rounding out the new additions is the one we're all eager to learn more about—Joe's latest obsession, his neighbour. That role goes to Michaela McManus who will star as Natalie, "a professional and social success" who leads a "secret life".
It sounds so juicy we could actually cry.
Is There A Trailer For You Season Three?
Absolutely. Feast your eyes below.
When Will You Season Three Air?
The third season of You will drop on Netflix, Friday 15 October 2021.
In the meantime, here are 25 of the best Netflix shows to binge in Australia or NZ.
Image Credit: Netflix