Barbarino's Spaghetteria (Permanently Closed)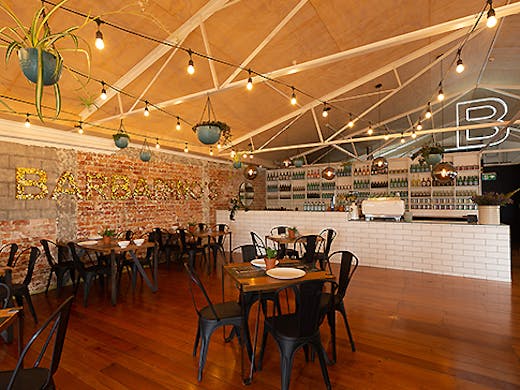 The Verdict
If you're a lover of all things pasta, then come and spaghett it (we had to) as new pasta joint, Barbarino's Spaghetteria lands in Avondale. Get your slurp on and be prepared to tuck into some authentic traditional Italian fare that won't break the bank.
The brains behind well-known eateries Winona Forever, Major Tom, Fang, and many more, Fran Mazza and Aaron Carson, have done it again but this time they've dropped the fusion and created an authentic Italian restaurant that resembles an Italian food hall—relaxed, simple, easy eats in a flash and generally just a no-nonsense type of place.
If you're after an Italian experience like no other, where cheap eats that don't sacrifice on flavour are at the forefront, as well as a low-key, chilled out vibe, and a carafe that just keeps on giving then Barbarino's is the place to be.
For the full write up, click here.
Image credit: Wono Kim
---
You May Also Like
Restaurants
The boys at Jo Bro's Burgers have done it again, adding a second…
Cafes
If there's one thing that the French do magnificently, it's food. Case in…