Burgernaut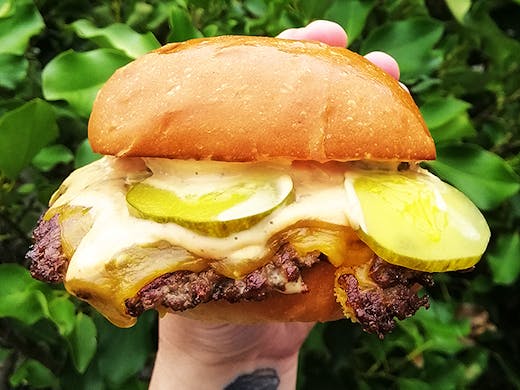 The Verdict
Imagine this: a juicy smash burger pattie loaded with pickles, cheddar 'cheese' and diced onions, dripping in creamy secret sauce then smooshed between two toasted potato buns. Now imagine this: that same burger is entirely vegan. Surely something so delicious doesn't exist? Wrong. Because there's a burger of that very description (the Vegan Classic Smash Burger, believed to be the only vegan smashie in Auckland), waiting for you right now at Burgernaut—the epic new burger kitchen operating out of Urbanaut Brewery in Kingsland.
Many of you will already be familiar with Urbanaut's gourmand side, with the brewery having hosted a number of successful pop-ups but unlike those, this mouthwatering new offering is here to stay. Chefs Jamie Stewart (the man behind legendary food truck Toasted As) and Isaac Chadda (ex Better Burger) are whipping up a legit smash burger storm from their kitchen inside the taproom, with creations that are designed with just one purpose—to make you drool, duh.
Choose from three game-changing mainstays (available vegan, vegetarian or with meat) or perhaps one of their insane specials, all made with housemade sauces and seasonings and in a genius yet totally sensical move, incorporating Urbanaut's beers wherever possible. Case in point? The lush West End BBQ Smash Burger, which takes a prime New Zealand Angus brisket smash pattie with cheddar cheese and onion rings and puts it to bed with a tangy BBQ sauce, laced with West End Stout.
And if you need some companions for your smashie, worry not, the boys have also cooked up a couple of mouthwatering sides for you to enjoy including some rather incredible beer-battered halloumi fries (using Urbanaut's Kingsland Pilsner, naturally).
Of course, the only respectable way to complete your meal here would be with a beer, served icy cold and straight from the tap for peak drinking pleasure. In fact, you'll have a front-row seat to all the brewery action as you eat, with all those tanks and steam sure to have you feeling very Charlie and the Chocolate Factory-ish.
So bring your mates, bring your dog (that's right, good dogs are welcome) and definitely bring your appetite, because this tasty new offering is ready and just waiting to be smashed.
Image credit: Urbanaut.
---
You May Also Like
Cafes
Is there anything better than sinking your teeth into some freshly baked goods? We…
Cafes
If there's one thing that the French do magnificently, it's food. Case in…