Cibo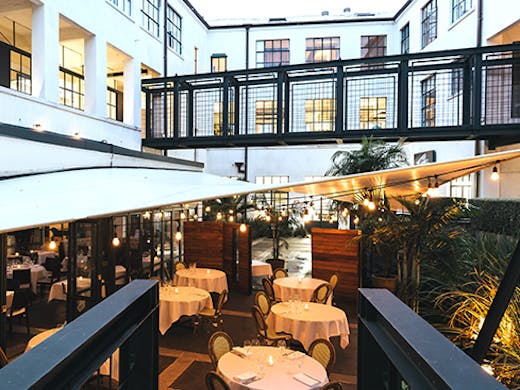 The Verdict
Only the best restaurants stand the tricky test of time and Parnell's much-loved Cibo just happens to be one of them. Gearing up for their 25th birthday celebration in September 2019, Cibo has cemented itself as one of Auckland's best restaurants—and for good reason!
Tucked away in an old chocolate factory (umm… yum), Cibo remains somewhat of a hidden gem. The spacious courtyard forms an inner-city oasis with its bubbling water feature and lush foliage. Inside, the restaurant boasts subtle glamour with chandelier-lit booths, white tablecloths and wallpaper decorated with cherry blossoms.
While the restaurant is very ooh la la, you won't feel out of your depth—Cibo is far from pretentious. As a top contender for Auckland's friendliest restaurant, you'll be greeted by the charming maître d's Jeremy Turner and Brad Sullivan. They'll welcome you like an old friend and, by the end of the meal, you'll be genuine buddies.
As for the food, there are several equally divine dining options. If you're after a quick (but delish) lunch, the two-course express menu has got your back—and your stomach. Choose between an entrée and a main, main and a dessert or—if you're reeeally—hungry, go for all three courses!
Available from midday on Monday to Friday, the entrees start the likes of sashimi, whitebait and an unmissable bánh mì. The mains include Wagyu steak, pork (with mouth-watering crackling) and a vegetarian-friendly mushroom medley.
Cibo also offers an à la carte menu, six-course degustation and a set menu perf for groups. Whatever you go for, all menus showcase seasonal produce crafted into mouth-watering dishes. Presented like works of art, Cibo experiments with a range of textures and bold flavours.
Start with salmon paired with smoked cream, venison tataki or a flavoursome combo of prawn, octopus, popcorn (!!) and chorizo. As for the mains, you've got dishes starring Hāpuka, duck, lamb and everything in between.
No visit to Cibo is complete without dessert. Spoon into Valrhona fondant, pineapple doughnuts or a choc brownie served in a piping hot skillet—sign us up! The restaurant is also famous for their mammoth pavlovas with not one, not two but THREE to choose from. We're talking raspberry coconut, lemon meringue or—our fave—salted caramel.
Cibo, you've had our heart from day one. It's clear to see why you are—and forever will be—one of Auckland's fave restaurants.
Image credit: Lydia Arnold
---
You May Also Like
Restaurants
A Melbourne icon for almost two decades, MoVida has officially landed on our shores,…
Restaurants
The only thing better than straight-up seafood is seafood with sea views—can we…