Circus Circus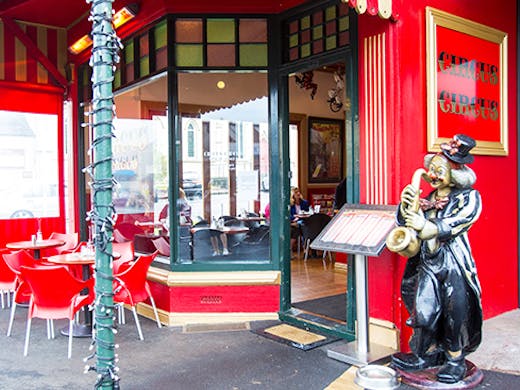 The Verdict
Remember what it was like to be a child? The world was filled with endless possibilities and life was nothing but fun and games. You saw the fun in everything: traffic meant games of 'I Spy', bad weather created puddles to jump in, and power outages called for games of Spotlight. Ah, those were the days!
For a good ol' dose of childhood nostalgia, look no further than Mt Eden's Circus Circus. Surrounded by clowns and all things circus-inspired, this café is nothing but happiness and good times.
Resembling a big top circus tent, the enchanting café is painted bright red and adorned with twinkling fairy lights. Bringing delight to both the young and the young-at-heart, the circus theme continues inside the sprawling café.
Porcelain clowns hang from the ceiling and the walls are decorated with old-school circus posters. There are pops of red in every direction—from the crimson coffee machine to the Kiwiana tomato sauce bottles.
Opening in 1995, the circus-themed eatery has well and truly stood the test of time. Circus Circus has cemented itself as a family-friendly fave, serving good, honest tucker right around the clock.
It seems a little backwards to talk about dessert first, but the 'after the show' menu is where the magic happens. The café are earned a well-deserved reputation for serving some of Auckland's most delectable desserts. We're talkin' Crunchie bar cheesecake, banoffee pie, salted caramel crème brûlée and an ever-changing selection of 'cakes in a jar'.
We're particularly fond (pun intended) of the fondue. Designed to be shared, it's the perfect date-night dessert. Star into your lover's eyes as you dip fresh fruit, house-made marshmallows, biscotti and chunks of brownie into molten chocolate. Our advice? Make it an AO-dessert but opting to add Baileys, Frangelico or Kahlua.
Desserts aside, visit for brunch and you'll find a trio of mushrooms, blueberry nut granola and Circus Circus' signature hash browns topped with hollandaise and perfectly poached eggs.
Those with a sweet tooth will love the irresistible vanilla pancake stack. This bad boy is served with lashing of toffee, banana, walnuts, maple syrup and a dollop of whipped butter. Do what five-year-old would do and opt to add an additional scoop of ice-cream—you know you want to!
If you prefer something a little lunch-ier, devour the grilled chicken burger, creamy chicken and broccoli fettuccine or try the steak sammie topped with caramelised onions and whipped goats cheese. Is that your tummy we hear rumbling?
Things are equally scrumptious across Circus Circus' dinner menu. The entrees are all about salmon and prawn fish cakes, finger-lickin' pork ribs and an oozing baked brie.
There's something for everyone (and every taste bud) on the 'main event' menu. We're talkin' prosciutto-wrapped chicken breast, pulled lamb shoulder pie, pan-fried market fish and vegetarian-friendly baked crêpes with flavoursome Napoli sauce.
On Sunday evenings, you can grab a hearty roast served with your fave sides. And, if you've got littlies in tow, kids dine free between 4.30pm and 6.30pm daily—we guarantee they'll love the circus theme!
One thing's for certain: a visit to Circus Circus is sure to delight your inner-child. Better yet, it's the best tastiest circus on earth!
Image credit: Kellie Blizard
---
You May Also Like