Cloud 777 Café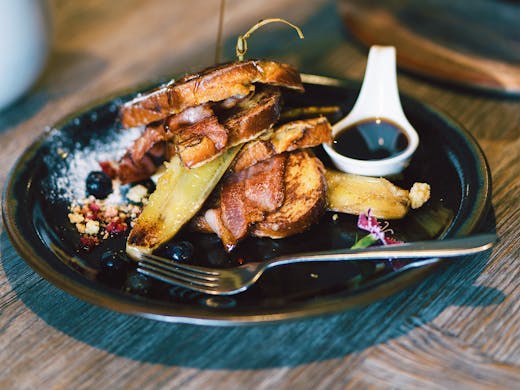 THE VERDICT
Foodies, meet Cloud 777 Café—a blissful haven for a Saturday brunch, workday snack or that all-important caffeine hit.
Situated in Mt Wellington, Cloud 777 has recently undergone an extensive renovation, transforming the space into a light and bright atmosphere complemented with rather regal accents—we're talking plush, comfy chairs, vintage-inspired mirrors and chandeliers, offset with modern moments like subway tiles, graphic wallpaper and hanging plants. Plus, they're also slinging a secret outdoor patio peppered with picnic benches, making it the perfect spot to soak up the last of those summer days.
But let's dive into what we're really here for—the mouth-watering eats, of course. Whether you're after a hearty brekky, a quick to-go lunch bite, or something more substantial, Cloud 777's classic menu of Kiwi faves has you covered.
Early in the day, our bacon senses are on high alert. We're opting for the mandatory eggs benny sporting all the favourites like crisp, fluffy focaccia topped with eggs, bacon and house-made hollandaise. For a sweeter bite, try the irresistible brioche french toast. Again we're looking at moreish crispy bacon and caramelised banana atop grilled, egg-soaked brioche, doused in berry coulis and Canadian maple syrup. Don't mind us if we zone out thinking about bacon...
Should you want to opt for something lighter, Cloud 777 Café also offers a stellar selection of cabinet treats. From freshly-baked muffins through to indulgent slices and flaky almond croissants, there's plenty to choose from, just be sure to order up a house-roasted cup of 777 Espresso while you're at it.
As lunchtime rolls around, you've got choices upon choices to suit your mood. The perfect spot for a work meeting or outing, sit down to an ample range of grub on offer. From fettucini carbonara to a mammoth beef burger, you seriously can't go wrong. Our pick for a dine-in dish goes to the refreshing beef lemongrass salad, starring slices of marinated grilled beef lemongrass atop a bed of fresh lettuce with Thai honey mustard dressing and crunchy mixed seeds.
But, if you're on-the-go, don't bypass their colourful cabinet of takeaway options. Dig into fresh, flavourful wraps starring pulled pork and slaw, crunchy Caesar salad with that touch of parmesan or chicken bacon (yes, more bacon) pesto pasta. We promise this beats any dinner leftovers hands-down.
Tummy rumbling? Make your next meal date at Cloud 777 Café—your tastebuds will thank you later.
Cloud 777 Café is operating safely and meeting all Level 2 guidelines.
---
You May Also Like
Restaurants
First, it was Auckland CBD, then it was Royal Oak, now it's Pakuranga's…