De Nada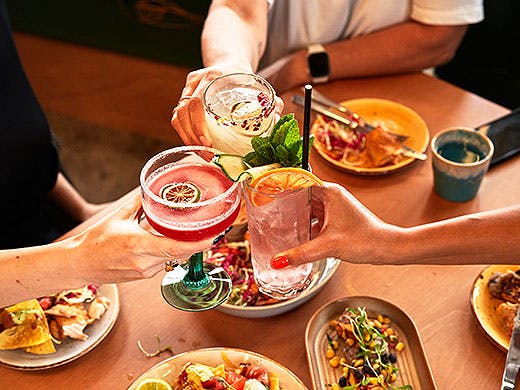 The Verdict
Striking a balance between chic, casual, and a touch quirky is a tricky one to master. Mt Eden Village's newcomer, De Nada, however, is ticking the fresh, fun and fabulous boxes as their taqueria and tequila bar doors swing right open to offer a contemporary spin on a much-loved cuisine.
As you might've guessed from a name like De Nada—Spanish for you're welcome—Mexican fare is the name of the game. Not just any kind: they're bringing authentic tastes, bold flavours, contemporary touches, and of course, generous servings to the taqueria table.
But let's be real, would we expect anything less from the talented team behind Scarlett Slimms & Lucky—De Nada's neighbour—than to put their talents towards another fabulous hang out next door?
Dessert is usually saved until after dinner. That we know. But let us sing our praises for their sweet selection before moving on to more savoury matters. They give the darling of the Mexican dessert world, churros, a fabulous spin with rich caramel, a punchy dark chocolate cinnamon sauce. On top of that, it arrives at your table *literally* flaming. A far cry from any sugary fairground churro glug you might've once had, these churros are impossibly light, thin, fluffy and satisfyingly snap with every bite. Want to venture a bit further? A sweet potato crumble, hot Mexican rice pudding and a 3-milk soaked sponge cake Tres Leches awaits.
As for the savoury fare? Simply put, you're in for a treat with a menu of authentic Mexican staples with some delightfully contemporary spins. Case in point: the nachos—which, by the way, are made with the crispest, lightest, most delicate corn chips ever. They come adorned with your choice of braised chorizo and beer cheese, tuna sashimi with chipotle sour cream and cheddar, or veggies with jalapenos and feta.
Of course, you can't round out your visit without a taco or two. Choose between elevated cuts of your classic meats like Scotch fillet birria, pork birria, chicken thigh, tequila prawn cocktail (yes, in taco form and not in your glass) and halloumi and kale. We promise, even the most committed of meat-eaters will fall head over heels for the mix of creamy halloumi and crispy, savoury kale mixed in with fried basil between soft tortillas.
There's a mix of plates both big and small for you to graze, share or dig into all by yourself. Vegetarians and members of the halloumi-loving cult should look to the Halloumi and bean mash—where a splash of burnt butter adds a savoury side to an already creamy and moreish dish. Also worth trying for a bit of comfort food is the chimichanga: where spiced chicken comes wrapped in a grilled tortilla alongside melted cheddar and a pepper coulis.
Of course, we can't go past a taqueria without talking about the liquid gold itself: tequila (as well as its cool cousin, mezcal). Yes, you'll find mojitos and margaritas on the bar pages—but you'll find a handful of colourful options giving a classic quite the fresh spin. Our favourite is the Lychee and Raspberry margarita—and no, it's not due to the quirky cactus glass it comes in or pretty hot pink colour.
From big, long lunches, an after-work tipple, a cosy date night for two and the pick-me-ups in between, De Nada most definitely delivers no matter the occasion. And for that, we, along with our bellies, are more than grateful.
Image credit: Veronika Sola
---
You May Also Like