Dear Jervois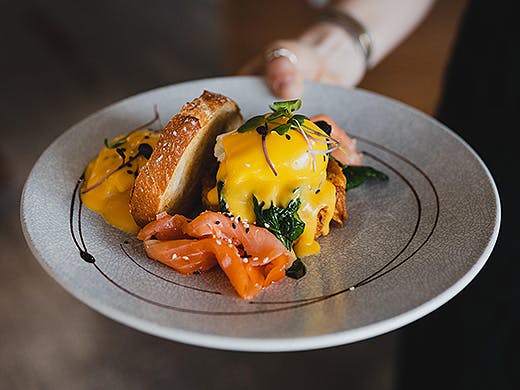 The Verdict
There are few things that can get us out of bed early on the weekend, but a meal at Dear Jervois is definitely one of them. This charming café in the heart of Herne Bay has been serving up some of Auckland's best (not to mention prettiest) brunch and brekkie for years and shows no signs of stopping, even with a recent-ish change in ownership.
You can still get your hands on all the DJ deliciousness you know and love, like their famed matcha waffles complete with housemade 'cruesli', raspberry mascarpone, maple syrup and coconut 'nice' cream—their droolworthy breakfast tacos—and their best-selling take on the king of morning cuisine, eggs benedict (which, btw, you can also purchase as a half portion... though why you'd want less of this deliciousness, we do not know).
Only now there's some exciting new additions to the menu, which we strongly recommend you let your tastebuds try. Case in point? The shakshuka. This vibrant dish features two eggs, baked inside a fragrant tomato sauce flavoured with red bell peppers and chilli, which will certainly add some pep to your morning step.
There's also a longer lunch menu up for grabs, with some delish new dishes to boot—we're talking chicken schnitzel, vegan tacos, and a lush ginger and honey glazed salmon. And should you wish to beef up your feast, you now have a more comprehensive list of sides to choose from (hellooo, cajun fries).
If we had to pick a favourite dish, we'd wave goodbye to the matcha waffles (sacrilege, we know) and give a warm welcome to the mushroom and rosti stack. Pairing juicy portobello and shiitake mushrooms, poached eggs, herbs, pecorino and basil pesto with crispy potato cakes, this is a true breakfast (or brunch) of champions. Special shout-out to the lentils, which help elevate this dish even further.
The dishes at Dear Jervois are definitely on the generous side, so checking out the cabinet may not be much of a priority once you're done. However you simply must grab a slice of their chocolate brownie on the way out—because hand on heart, this is THE best brownie we've ever tasted (and guys, we've tasted a LOT of brownie).
Image credit: Dear Jervois
---
You May Also Like
Restaurants
A stunning new Indian restaurant has arrived in Ponsonby and it's transporting us…