Fat Puku's Smashed Burgers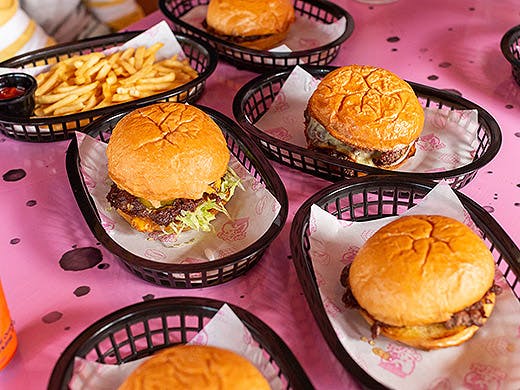 The Verdict
We're always down with trying out a new burger joint, especially one that's named after a cat! Enter Fat Puku's Smashed Burgers, the funky new spot with a hip hop edge that's taken over the old Al's Deli space on Queen Street (and which, once upon a time, housed Auckland music stalwart Real Groovy whose 70's wallpaper still adorns part of the wall).
The fit-out alone is worth a visit, a sort of retro 70's/80's wonderland featuring a rather regal portrait of the restaurant's namesake, Puku (actually one of the owners' cats), a punchy pink wall covered in gold-painted cassette tapes, and cheeky re-imaginings of famous artworks like Michelangelo's The Creation of Adam (where, naturally, a burger has been superimposed over the space between God and Adam's hands). The fact that the décor has been entirely upcycled or created by the owners, only adds to the cool factor (check out the Nike Air Max made entirely of Lego).
However it's the burgers that are the real talking point here, and rightly so—taking inspo from the 'smashed' style that's long been a mainstay of diners and roadside burger joints in the US, and is now gaining traction here in NZ. Indeed, we'd be happy to smash back any one of these bad boys, all served on a pillowy soft potato bun, but it's the Notorious V.E.G that most has us wanting more (this one features a juicy, super-convincing Beyond Meat patty slapped together with cheese, mayo, ketchup, mustard, homemade pickle, lettuce, and onion). What started as a food truck has now put down permanent roots in the city. Praise be.
Sides come in the form of potato bites and skinnies (aka fries) with the option of 'frost' seasoning—kinda like dipping your chips in your Wendy's Frosty, only better.
You'll of course be wanting a drink to wash down all of that burger-y goodness, so take your pick of classic milkshake flavours, sodas, and even a selection of beers, ciders, and RTDs.
In short, if it's burgers, fries, and fun vibes you're after, Fat Puku's is the place.
Image credit: Wono Kim.
---
You May Also Like
Restaurants
Underground Bistro is the hot new eatery making waves on Karangahape Road. Nestled…