fu/nis EMS Training Takapuna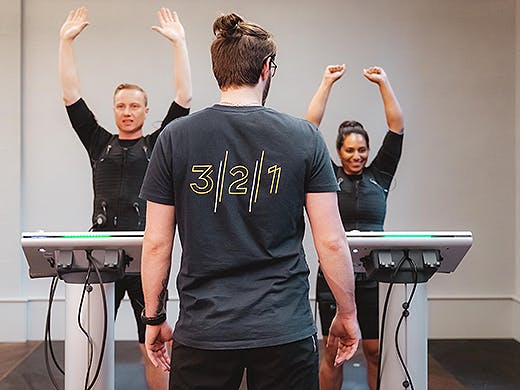 The Verdict
Let's be honest, who has time to work out these days? Yep, we understand the struggle. But what if we told you, you can get fit in just 20 minutes a week?! It sounds too good to be true, right? Wrong! Due to high demand, Auckland's first and only boutique EMS studio fu/nis has just opened a second outpost in Takapuna, bringing their fun and efficient training methods to the grateful citizens of the shore.
Allow us to introduce you to the wonderful world of EMS training. "Um, what's that?" we hear you ask. Electro Muscle Stimulation (aka EMS) training is a full-body training that contracts your muscles for you with small electric impulses as you complete a personalised workout.
The high-intensity, bodyweight exercises are challenged by your own resistance (imagine reaching to pick up a shopping bag without actually having one). EMS activates up to 90 per cent of the muscles—including those deep-lying ones you'd otherwise struggle to train.
Don't believe it? Here's what happened when we tried it for a month.
Image credit: fu/nis
---
You May Also Like
Health & Beauty
There's something sensational about businesses popping up in unexpected places…
Fitness
Grey Lynn, Auckland
Want to up your fitness game? Head to the heart of Ponsonby where you'll find…