Good George Craft House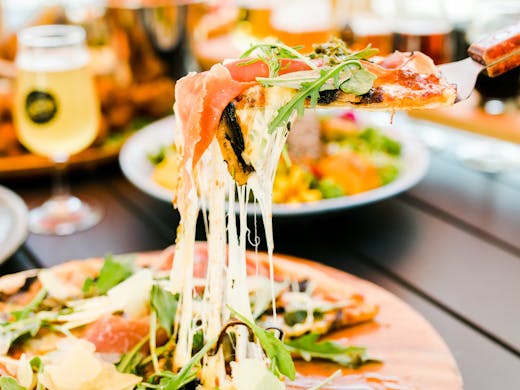 The Verdict:
We're calling it, a cold beer at the beach is the perfect pairing. Find this knockout combo at Mission Bay's newest rooftop bar, Good George Craft House.
You'll know Good George for their lineup of award-winning craft beer and cider. Hailing from Hamilton, this humble operation has quickly grown from a church-turned-brewery into eight dedicated eateries across the country. Luckily for Auckland locals, it's our turn now.
Head to Tamaki Drive and spot the sassy rainbow stairs featuring sayings like, 'If in doubt, try a stout.' Follow these up to the entryway where you'll be greeted by friendly staff and life-size murals of their famous bottle illustrations.
The Craft House's modern Kiwi decor combines exposed industrial fittings and warm wood tones, with an impressive bar featuring two large tankers stationed for the freshest pour. With 18 beers and ciders on tap, both the core range and seasonal varieties are on offer. We're talking classic IPA and pale ales or some more fruity options like Scarlett Peach cider. Can't choose? Opt for a tasting paddle. There's even a frosé cider on tap. Cold one in hand, nab a seat on the sun-soaked deck overlooking Mission Bay and Selwyn Reserve.
Feeling peckish? Wile away a lazy afternoon with some modern pub-style eats from their new menu. We love a sharing platter and there's something for everyone here, whether you're into mussels and meats, or classic charcuterie board. Our pick is the Mission taco platter, served with charred street corn and your choice of pulled beef, tamarind fish or Mayan chicken filling. It's so moreish, you may not want to share.
If you're after a pub favourite, you can't go wrong with Good George's beef and chicken burgers. Our taste buds were particularly tickled by the vegetarian burger, starring amaranth, spinach and corn patty, topped with lettuce, gherkins and slathered in beetroot relish. Pair this one with a Doris Plum cider for a refreshing hit of sweet and sour.
When it comes to salads, the fiesta bowl will certainly leave you feeling festive with a mix of roast chickpeas, charred pumpkin, spinach, sesame avocado and crumbled feta, adorned with a panko-crumbed egg. But if pizza is what you're craving, the prosciutto di parma packs a flavour punch covered in mushrooms, olives, rocket and sprinkled with parmesan and chimichurri.
Hit your sweet spot with Good George's semifreddo; a cooling summer bite of orange curd, pistachio fairy floss and fresh fruits. It's best served with their seasonal passionfruit sour beer for a total palate refresh.
And if by this point you haven't had your fill of the extensive beer and cider on offer, grab some of their infamous 946-millilitre squealers to take home. Their slogan-painted rainbow stairs say it best, 'Good beer, for good people.'
Image Credit: Lydia Arnold
---
You May Also Like
Restaurants
A group of hospo legends (Oliver Simon, David Lee, Tom Hong and Oli Rennie, whose…