Good George North Wharf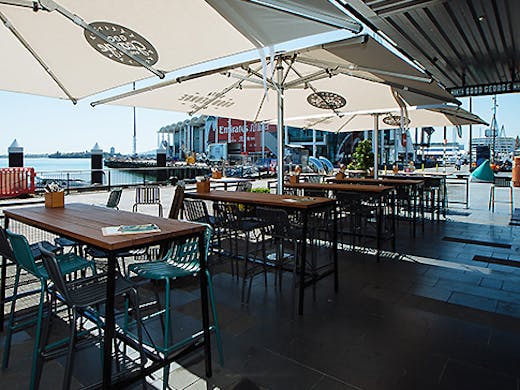 The Verdict
Something good is brewing down at Wynyard Quarter, and we think you're going to like it. Good George, the award-winning Hamiton brewery with a knack for crafting amazing beers and ciders, has opened the doors to its eleventh and arguably most epic outpost yet in an enviable position on the edge of North Wharf.
Inside, there's a wonderfully relaxed, semi-industrial vibe dotted with fun little flourishes that are sure to make you smile. These include colourful, travel-style posters referencing some of the brewery's drinks; a tongue-in-cheek sign encouraging punters to 'save our ales'; and a cute wee pick-up truck that serves beverages straight from the parcel-tray for special events.
The pièce de résistance, however, has to be the amazing tank system sitting behind the bar. This extraordinary, Willy Wonka-esque structure is a work of art unto itself and has the important role of housing the space's many beloved brews. The tanks, each filled with 500 litres (10 kegs' worth) of pure, unpasteurised product delivered direct from Good George's Waikato base, are specially designed to keep their contents in the freshest, most flavoursome condition possible—resulting in what is without doubt a pretty unique drinking experience.
So, about the drinks then. There are a whopping 22 beers and ciders on tap, including all the brews Good George fans know and love. Whether it's a glass of their popular IPA or one of their delightfully fruity doris plum or scarlett peach ciders, the team here have made absolutely sure that no stone of the proverbial craft-brew path is left unturned.
Image credit: Wono Kim
---
You May Also Like
Restaurants
If you love to wine and dine with a view then listen up, we've found a stunning…
Bars & Pubs
Danny Doolans has a sleek new younger brother bar joining the Viaduct Harbour…