Goode Brothers Feast of Italy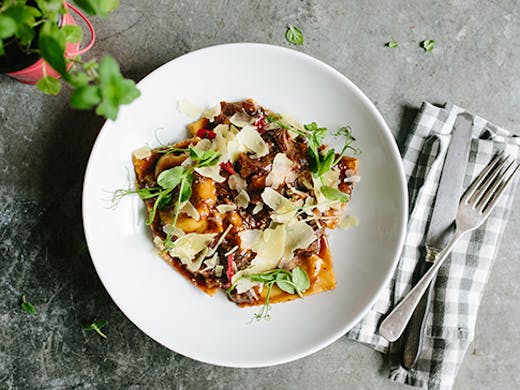 The Verdict
Authentically Kiwi—that's what Goode Brothers are all about when it comes to their Italian-inspired gastropub. Part bar, part restaurant, part pasta school, there's plenty of good (dare we say great?) dishes to enjoy at Goode Brothers.
Until the end of February, Goode Brothers Feast of Italy is offering up all things Italian in addition to their staple Pasta School classes. Whether you're an avid cook, wine lover or simply enjoy a carby meal (raises hand), there's something for everyone at this month-long invitation to Italy.
Get your chef on and learn how to nail two Italian classics—pizza and pasta. Pasta School teaches the delicate process of handmade pasta. At their classes guests learn how to craft their own dough and match delicious sauces, followed by a sit-down dinner with wine with new cooking mates.
The Pizza Making classes transforms guests into a pizzaiolo in no time, spinning dough in the air like a pro. They teach how to make the perfect traditional base complete with your favourite gourmet toppings. Finish with a lesson in Italian cocktail making and a dessert calzone. Nonna would be proud.
If simply eating and drinking are more your specialty, there are a number of other events just for you. Prosecco Tasting will tingle your tongue with six premium varieties to try, and you'll also learn about their ingredients and heritage. The New Zealand vs. Italian Wine Off will have you playing spot the difference between eight wines, cheese board included.
Rounding out this month of mouth-watering events is none other than an all-you-can-eat competition starring—you guessed it—pizza. How many pizza pies can you devour in five minutes? If you're looking for a challenge (or possibly a career change?) the winner walks away with prize money AND a year of free pizza. Sign us up.
If your cooking skills are strictly limited to anything that's microwavable, Goode Brothers have a DIY pasta menu so you can customise your plate (extra cheese for us please). Choose between al dente options including linguine, cheese tortellini or gnocchi and pair it with sauce combinations like slow cooked lamb (chilli, roasted herb jus, crispy polenta gremolata), roasted pumpkin (beetroot, chilli, peas and herbs) or classic beef bolognese.
Crispy-crusted pizza, pub-style meals and giant dishes designed to share are also on the menu. Think: Metre Long Pizzas (it's not a hyperbole), the share pasta bowl or Goode platter.
Tail end your meal with a dessert, and your night out is complete.
Image credit: Provided.
---
You May Also Like
Restaurants
Now for those who know Sumthin Dumplin, then you know that their little juicy morsels…