Grangers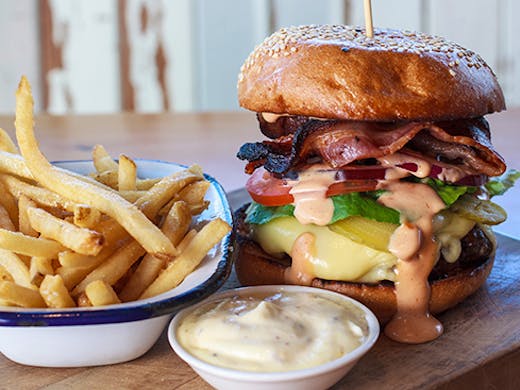 The Verdict
The only thing better than an epic meal, is an epic meal with an epic view. It's fair to say waterfront restaurant Grangers has both bases well and truly covered. Located at an arm's reach from Half Moon Bay's marina, the bustling taphouse and kitchen has a menu that is earning them a reputation around town (the good kind).
It seems fitting to feast on seafood while you're sitting by the ocean, so it's a good thing Grangers has an extensive seafood menu. Here you'll find the likes of steamed mussels, comforting seafood chowder, fish and chips (of course), deep-fried prawn pops and a humongous—seriously, it's huge—seafood platter with all the trimmings.
Grangers also serve fresh Waiheke oysters in two ways: natural with chardonnay vinegar or tempura battered with wasabi aioli. We can assure you that these oysters are as fresh as can be—they're hand-delivered to the door by the ferry's crew.
If seafood's not your thing, Grangers also have your back. Graze on mac n cheese fritters, Dutch beef krokets, fried chicken seasoned with Korean spices, and poutine fries generously topped with cheese curd and lashings of chicken gravy—yass please!
As for mains, get amongst one of their mouth-watering burgers, salad or Duck breast schnitzel served with a flavoursome chilli and apple purée. Grangers also know what's up when it comes to steak. They offer three cuts (sirloin, eye fillet and rib-eye on the bone) cooked to your liking and served with red wine jus and either béarnaise, Café de Paris butter or wild mushroom jus.
Enjoy with a glass of vino or work your way through their craft beer selection. If the sun's shining, we suggest you set up camp in the sunny patio and sip on spiced piña coladas and mojitos—it'd be rude not to, right?
If there's still room for dessert (there always is), their deconstructed rocky road starring roasted pistachios, marshmallows and popping candy is not to be missed—it's like something out of Willy Wonka's chocolate factory!
If you and your amigos love Mexican food, Grangers' adjoining Marina Cantina serves all your fave Mex eats: tacos, quesadillas, burritos and spiced brisket nachos. The best part? There's margaritas on tap—hola!
Visit by car, private boat (you fancy thing, you) or simply catch a Fullers ferry from downtown Auckland—no sober driver required. Make a day of your visit and enjoy Grangers' free bike hire to cruise along the Pakuranga Rotary shared cycling route.
Image credit: Kellie Blizard for The Urban List
---
You May Also Like
Restaurants
First, it was Auckland CBD, then it was Royal Oak, now it's Pakuranga's…