Harbourside Ocean Bar Grill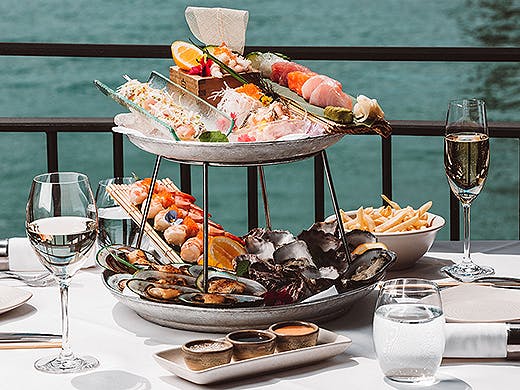 The Verdict
When you're gazing at stunning waterfront views, there's no food more appropriate than fresh, sensational seafood. Delicate fish, grilled crayfish, juicy prawns and moreish mussels... We want it all and we want it now. Lucky for us, we can have all of this (and then some) at Auckland's premium seafood destination, appropriately named Harbourside Ocean Bar Grill.
Overlooking the glistening Waitemata Harbour, this restaurant knows how to impress. It's perched in the iconic Ferry building, providing the perfect vantage point of the harbour and the perfect setting for a long lunch.
Inside, it's the perfect balance of stylish yet relaxed. Think: crisp white tablecloths alongside modern Kiwi art and—our fave part—an impressive display of wine bottles stacked to the ceiling. The balcony accommodates Auckland's unpredictable weather with covered seating and pull-down screens to protect you from the rain. Yep, you can totally dine outside in the depths of winter.
Beautiful harbour views? Check! Divine seafood? Check! Other mouth-watering eats? Check! ALL the good times? Check, check, check! See you there.
Image credit: Harbourside
---
You May Also Like
Restaurants
Tears were definitely shed when Saxon + Parole closed its doors late last year, but…
Restaurants
Auckland's appetite for Taco Medic is growing, literally. The gluten-free taco…