Harbourside Ocean Bar Grill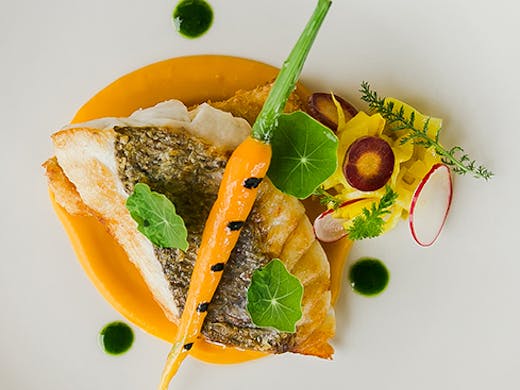 The Verdict
When you're gazing at stunning waterfront views, there's no food more appropriate than fresh, sensational seafood. Delicate fish, grilled crayfish, juicy prawns and moreish mussels... We want it all and we want it now. Lucky for us, we can have all of this (and then some) at Auckland's premium seafood destination, appropriately named Harbourside Ocean Bar Grill.
Overlooking the glistening Waitemata Harbour, this restaurant knows how to impress. It's perched in the iconic Ferry building, providing the perfect vantage point of the harbour and the perfect setting for a long lunch. Total bliss, right?! Right.
Inside, it's the perfect balance of stylish yet relaxed. Think: crisp white tablecloths alongside modern Kiwi art and—our fave part—an impressive display of wine bottles stacked to the ceiling. The balcony accommodates Auckland's unpredictable weather with covered seating and pull-down screens to protect you from the rain. Yep, you can totally dine outside in the depths of winter.
When it comes to the lunch menu, the options are seamlessly endless with everything from mussels and clams to scallops and scampi. The best part? The restaurant prides itself on sourcing sustainable seafood. Spoon into a comforting seafood chowder, classic fish pie or the ever-popular fish 'n' chips. Prop tip: don't miss out on the epic squid karaage paired with wasabi mayo—it's outta this world.
When dinnertime rolls around, the seafood deliciousness gets turned up a notch. Start your feast with prawn Vietnamese dumplings or the smooth and oh-so-creamy smoked snapper pâté. For mains, dig into delicate snapper, crispy Ora King salmon or a fragrant red hāpuka curry.
Rest assured, there's also plenty of seafood-free options across both lunch and dinner. Choose between the likes of succulent duck breast, finger-licking venison rack and vegetarian-friendly tortellini. We can't go past the cheesy beef cheek tart—it takes the humble pie to a whooole new level.
It'd be a crime not to stick around for dessert because Harbourside serves the goods in exceptional style. There's mandarin pavlova, lemongrass brûlée and a Japanese-inspired yuzu tart with Italian meringue and white choc sorbet. However, the real star of the show is the gooey choc fondant. The lava cake literally oozes with Valrhona chocolate deliciousness. Talk about heaven on a plate!
Beautiful harbour views? Check! Divine seafood? Check! Other mouth-watering eats? Check! ALL the good times? Check, check, check! See you there.
Image credit: Lydia Arnold
---
You May Also Like