High Tea with Hotel Grand Windsor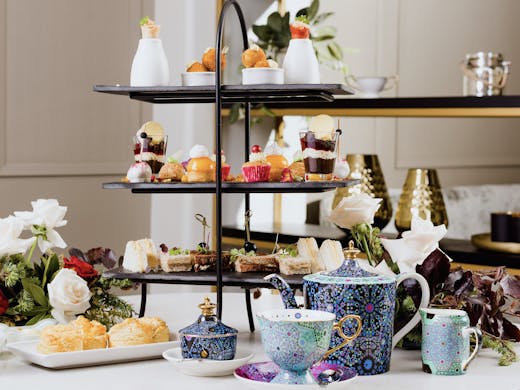 Delicate bites, modern flavours, and art deco ambiance is what an afternoon of High Tea at the Hotel Grand Windsor is all about. Located next to Louis Vuitton on Queen Street, it's only right that a dining experience at this award-winning boutique hotel is about one thing—absolute luxury. Get ready, we're about to spill the tea (pun intended) on what makes this the place to be for a lavish afternoon of snacking.
Cooke's Restaurant & Bar is inspired by the original occupant of this heritage building—a traditional tea room complete with soda fountain. Step out of the bustling city centre and into a 1920's style lobby, decked out in velvet couches and crystal decanters. You will be greeted by a dashing man in a top hat upon entry, and yes, you totally deserve it.
A modern take on this afternoon classic, High Tea at Cooke's is far from the simple English breakfast, biscuits and tea trolly. Serving your favourite sips in exclusive fine bone china by T2, the spread before you is just calling to be photographed. Raise your pinkies and take your pick from 15 select tea choices.
The T2 menu serves up some classics like Royal Earl Grey, through to the more fruity White Tea with Pomegranate & Manuka. You can also go for a caffeine-free Vanilla Rooibos, or, if you must, a glass of something more sparkling. Mumm cordon bleu rouge champagne and Huia blanc de blanc sparkling wine are both at your fingertips.
The snacks at this high tea are both dainty and delicious and we're all about it. Every dish is crafted in-house, using only sustainable and locally sourced foods that sing with flavour. Start with the savory specials of cured salmon with dill or arancini with aioli, then move onto the sandwiches—chicken and walnut, ham and cheese or a good old egg mayo.
But let's be honest, we're here for the sweet treats—isn't everything just better in mini form? We're talking buttermilk scones with strawberry and rose preserve, elderflower profiteroles, geranium truffle pops and much more to satisfy a sweet tooth.
For an outing with elegance, look no further than High Tea at Hotel Grand Windsor. Perfect for a lazy Sunday catch-up with girlfriends or a 'treat yourself' special occasion, Cooke's can cater for almost any afternoon event, including vegan and gluten free High Tea options.
What's more, this Christmas they're serving up a festive high tea that will have you humming Michael Bublé all the way home. It'll feature some festive twists including turkey and walnut sandwiches and cranberry scones. Round up your fellow shopaholics and make an outing of it, browsing the city stores and rounding out the day with an indulgent afternoon of snacking.
Image credit: Jared Donkin
---
You May Also Like
Restaurants
A group of hospo legends (Oliver Simon, David Lee, Tom Hong and Oli Rennie, whose…
Bars & Pubs
Get a lesson in London pub culture over at Viaduct newbie, The Fox. Decked out with…