INCA Ponsonby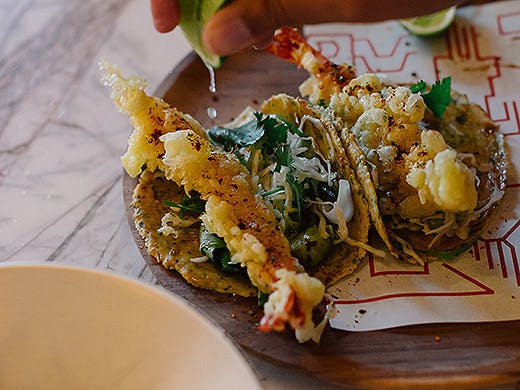 The Verdict
Hold onto your tastebuds, Auckland restaurateur chef Nic Watt's much-loved Peruvian-style restaurant INCA has opened a sister restaurant in Ponsonby Central's new laneway development. The restaurant boasts an open-plan feel with plenty of pink marble and details inspired by Peru's famously colourful textiles, courtesy of CTRL Space. INCA Newmarket is known for serving up quality Latin American fare with a unique Asian twist and Nic Watt's new establishment is certainly no different. Shaking up the Ponsonby food scene, INCA is serving up some much-loved signature items like their freshly cured ceviche but also brings some new and exciting dishes to the table. The menu is packed full of colourful cuisine which will transport you to Peru with just one bite. Think big, bold, and boisterous flavours that will awaken your palate.
Designed for sharing, we suggest grabbing a few mates and a couple of plates and you're good to go. The rockmelon with ichimi kimchi, served over ice is the perfect spicy light bite to get you started, alongside some sashimi—choose from tuna, kingfish, salmon or trevally and if you're feeling extra peckish treat yourself to the grande: classico ceviche and sashimi—a beautiful bowl packed with two lots of ceviche and three lots of sashimi of your choice and served with corn chips and a soy dipping sauce.
Next up has got to be the chicken karaage —cue the saliva action. Showcasing the Latin American meets Asian flavours, the chicken pieces are smothered in a Szechuan caramel sauce, which is to die for. If like us you love a taco or two then opt for the ao nori taco with tempura prawn, avocado, tonkatsu, and pickled white ginger served in a freshly pressed corn tortilla—these bad boys are not your average taco, they're jam-packed with fresh and flavoursome ingredients.
As if all of that wasn't enough, unzip your jeans a little bit more, as we get into the bigger dishes. The dry-aged beef short rib served with a yellow pepper miso glaze and spiced roasted cashew nuts is melt-in-your-mouth perfection, while the ember roasted black cod with anticucho miso and pickled root vegetables has got to be our fave alongside the clay baked sweet potato with Peruvian chilli and miso butter.
Don't forget to save some room for dessert, because trust us you're going to want to taste what's on offer. The sigh of a lima lady made up of dulce de leche custard, toasted meringue, apple, and roasted white chocolate will certainly hit that sweet spot, while the piña colada in a bowl made with woodfired pineapple, coconut rum, passionfruit, and lime will transport you to a tropical paradise.
To wash down all that goodness, we think a tipple or two is in order. Serving up some tantalising tipples, the margaritas are an absolute sensation as are the pisco sours. If you're after a smart yet casual dining experience where you can dig in deep and get your paws dirty, then INCA is sure to satisfy. So, without further ado, pack your bags and take a trip to Peru.
Image credit: Wono Kim, Babiche Martens.
---
You May Also Like
Bars & Pubs
The *most chic* cinema experience has set up shop in Ponsonby Central: Silky Otter…
Restaurants
Ponsonby , Auckland
The brains behind much-loved Indian-inspired eatery Cassia and Sid at the French…