La Fourchette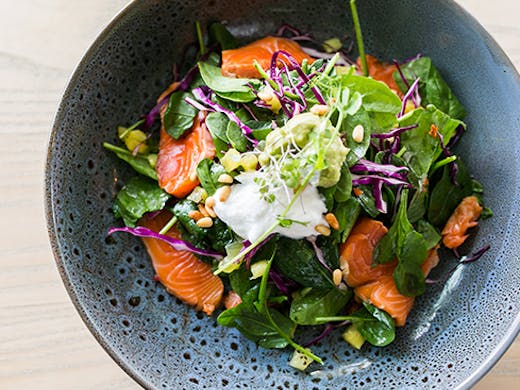 The Verdict
Is your heart craving a trip to Paris? Or, more accurately, is your stomach craving a trip to Paris? Think melt-in-your-mouth croissants, comforting confit duck and—of course—escargots loaded with garlic. Mm-mmm! Get in our belly, s'il vous plait!
Quit your longing and make your dream a reality at La Fourchette in St Heliers. The three-in-one wonder (it's a restaurant, café annnd pâtisserie) bases its menu on traditional French recipes and takes them to a whole new level. Long story short: this is French fare at its finest.
Located a stone's throw from St Heliers Bay, La Fourchette (meaning The Fork) perfects modern French style. Step inside and you'll be magically transported to Paris. The Insta-worthy space is adorned with bentwood chairs, cute lamps and warm blue walls adorned with pictures of French landscapes and celebrities.
Watch the comings and goings from La Fourchette's sidewalk seating (just like Paris!) or find a spot in the loft-like dining area upstairs. The smell of freshly brewed coffee fills the space from the on-site café. Or, if you're after something "stronger", the marble bar is stocked with an impressive range of French wine and cocktails—it'd be rude not to, right?
At the helm of the kitchen, you'll find executive French chef Christophe Carissan. He'll take your taste buds on a culinary journey to Paris with his mouth-watering menu.
Swinging its doors open from 8am Monday to Sunday, kick-start your day with the likes of mushroom ragu, potato and herb hash and an unmissable French toast topped with caramelised banana.
Come lunchtime, the ooh la la factor is turned up a notch. You won't be able to go past the duck liver parfait served with sangria jelly and pickled grapes or the escargots swimming in garlic butter. The summery salads are also a thing of beauty. Our pick? The nutritious (and oh-so delicious) oasis bowl jam-packed with salmon, avo, pineapple and kiwifruit.
Ensuring you get your French fix morning, noon and night, La Fourchette is also open for dinner from Tuesday to Sunday. Start with an innovative beef tartare flavoured with parsley pesto or opt for crab beautifully paired with watermelon done in three different ways.
The deliciousness continues to the mains with duck confit in Jack Daniel's orange purée, mushroom gnocchi and braised lamb shoulder paired with roasted eggplant. The rare tuna is a crowd fave showcasing crispy polenta with grapefruit and fennel. You'll be tempted to order one of everything!
And don't even get us started on dessert. Obviously, the crêpes and crème brûlée (the caramel top cracks perfectly every time) are both a must. Your taste buds will also be delighted by the très magnifique white pepper cheesecake and an oh-so fluffy chocolate mousse with peanut butter powder. In true French style, La Fourchette has a delightful fromage (translation: cheese) menu.
Don't fork out on tickets to Paris—a taste of France can be found in the heart of St Heliers. Visit La Fourchette to discover the divine French fare for yourself. Bon appétit!
Image credit: Lydia Arnold
---
You May Also Like
Food & Drink
Very few things rival the wholesome feeling that comes with stumbling upon a wine…
Restaurants
First, it was Auckland CBD, then it was Royal Oak, now it's Pakuranga's…