La Petite Fourchette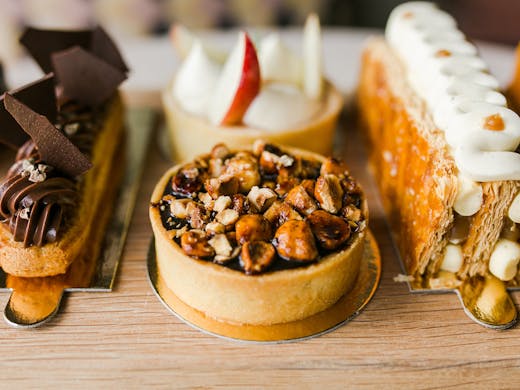 The Verdict:
There's no need to book a flight because a delicious slice of Paris is right on our doorstep. Simply follow the buttery scent of freshly baked croissants down Daldy Street and you will find La Petite Fourchette, an authentic French patisserie and boulangerie nestled in Auckland's newest hot spot, Wynyard Central.
The little sister of L'Assiette in Britomart and La Fourchette in St Heliers, this humble pastry shop is the latest in a string of successful French eateries opened by Natalie and Romain Le Gal. The patisserie collection is delivered fresh daily to each location, so there's no excuse not to get your French fix.
Enter the quaint storefront and you'll be greeted with a cornucopia of colours and scents, all lovingly crafted by Head Patissier, Vatthana Boulom and his team. Having worked at some of the top patisseries in Paris, Vatthana is bringing his delicious skills Down Under. You can even catch a peek of the chefs assembling each pastry to perfection through the large window overlooking the kitchen.
Savoury snacks like croque-monsieur, salads, and loaded baguettes are on offer to kick-start your lunch course. With fillings changing on the regular, you can also expect French classics like pain bagnat or a seasonal veggie quiche year-round.
For once, we urge you, don't eat too much—because the main event here are the sweet treats. You can't go wrong with the legendary mille-feuille, a mouth-watering morsel that layers buttery, flaky pastry with vanilla crème patissiere and fresh raspberry jam. Drooling yet? The intricate detail makes these works of art (almost) too beautiful to eat.
If you'd rather a selection, dig into the crisp yet gooey macarons. There are classics like vanilla, chocolate and caramel, but we suggest opting for the more adventurous lychee and rose or olive oil and mandarine. The fresh flavours balance out the sweetness, which simply means you can eat more—right?
Best yet, each Thursday, you'll see a new pastry hit the shelves as a part of their new summer collection. Our favourite (so far) is the apricot tart decorated with pillows of mousse and fresh fruit, or the indulgent chocolate and caramel entremet, covered in a glistening, 'gram worthy mirror glaze.
La Petite Fourchette also has you sorted for the holiday season with their Christmas collection. To impress your guests, opt for the delicately decorated logs, known as bûches in France. With vanilla, chocolate and passionfruit on offer, we suggest grabbing one of each for an unforgettable dessert degustation.
They also have your festive breakfast covered with croissants, pain au chocolat and classic Kiwi mince pies. Order them frozen and reheat on Christmas Day, filling your home with the sweet scent of chocolate, butter and carbs—the dream. This New Years Eve they're collabing with La Fourchette on a five-course French fare, where you can see in 2019 with a magical caramel and cacao creation.
Make sure to grab a caffeine hit while you're there as their expert barista Belen will craft you the perfect coffee to match your choice of cake, croissant or other sweet creation. They also offer catering, so you can bring a slice of France to your guests this party season.
Who knew perfect Parisian pastries were right in the heart of Auckland City? Save the coin on a plane ticket, the French feast of your dreams is just around the corner.
Image Credit: Lydia Arnold
---
You May Also Like
Bars & Pubs
Get a lesson in London pub culture over at Viaduct newbie, The Fox. Decked out with…
Restaurants
Auckland , NZ
Fact: seafood tastes a trillion times better when it's sustainably…