Lord of the Fries, K' Road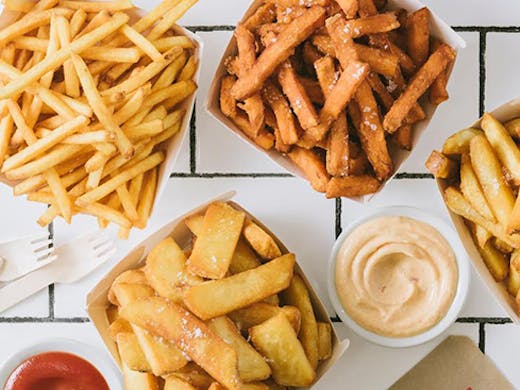 The Verdict
If you're a bit like us and fries = life. Then stop what you're doing, drop everything and make a beeline for Lord of the Fries. Serving up epic fries morning, noon and night, this gem makes your comfort food dreams come true.
Located in the entranceway to St Kevins Arcade on K' Road, Lord of the Fries is your one-stop shop for all things mouth-wateringly tasty. We're talking hearty burgers, lip-smacking hot dogs, slurplicious shakes and, of course, fries of every shape and size.
And just when you thought things couldn't any better than that, they absolutely do. Lord of the Fries is 100% vegan. Their mission? To prove being plant-based doesn't mean giving up the comforting flavours and food you love. Yep, they even serve soy-based fried chick'n drumsticks—and they're better than the real deal!
First things first, no visit to Lord of the Fries is complete without trying the eatery's namesake. Whether you fancy chunky, shoestring, sweet potato or a classic fry, these guys have your back… or should we say stomach?
However, the real magic happens when you pair your fries with their much-loved sauces. Locally produced, the internationally-inspired sauces include Middle Eastern hummus, Indian mango chutney and Vietnamese chilli mayo. We can't go past the Canadian poutine showcasing lashings of gravy (vegan-friendly, of course) and Angel Foods' dairy-free cheese. And, trust us when we say, this cheese is out of this world!
Speaking of poutine and all things delish, Lord of the Fries also whip up a poutine burger. This bad boy is stacked high with a vege 'beef' patty, soy 'bacon', gravy and cheese-laden fries. Get the napkins at the ready, because this mouth-watering burger is one hot (delicious) mess.
If poutine isn't your thing (who are you?), there are several equally divine burgers up for grabs. Choose between the likes of chick'n, spicy or an Italian-esque Parma with Napoli sauce. Visit before 11am and you'll be treated to brekkie burgers starring hash browns, bacon (the vege kind) and their signature sauces.
The deliciousness continues with Lord of the Fries' epic hot dogs. If you like things hot, devour their Tijuana dog with jalapeños and super spicy sauce—yeow! Cool your mouth down with one of their vegan-friendly shakes. Trust us when we say, the peanut butter choc is unmissable. And be sure to save room for dessert—they've got three of Moustache's signature cookies on offer.
Tummy rumbling? Get to K' Road pronto or check out Lord of the Fries' Queen Street store opposite the ferry terminal. Alternatively, get your fry fix delivered straight to your front door with UberEATS or Mobi2Go. How's that for convenience?
Vegan or not, Lord of the Fries is sure to satisfy your comfort food craving. These guys are making Auckland a tastier city to live—one fry at a time!
Image credit: Siobhan Mitchel
---
You May Also Like
Restaurants
Introducing Atelier, the newest kid on the Karangahape Road block. The name is French…