Lowbrow. K' Road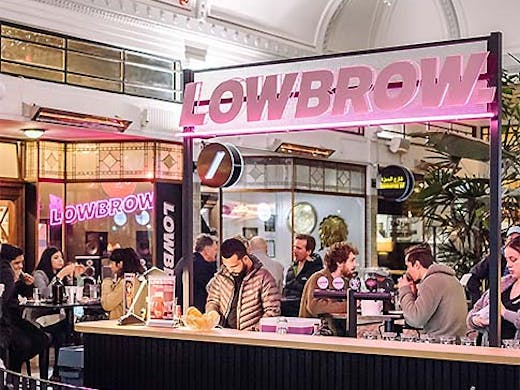 The Verdict
It seems us Aucklanders can't get enough of Kyle Street and Jordan MacDonald's particular brand of fast food, with the boys opening their second Lowbrow. branch just a couple of kilometres up the road from their flagship eatery in Queen's Rise. Yip, this time round they've swapped the suits for sneakers, joining the ranks of other great eateries like Bestie and Gemmayze Street inside the funky St Kevin's Arcade on K' Road.
These guys certainly know how to make a statement, securing a spot that includes the very middle of the arcade, where you'll find a sleek black bar topped with their signature pink signage. The space itself is smaller than its predecessor, seating around 30 people, but worry not—the food is of the same droolworthy standard Lowbrow. fans have come to know and love.
All your fave dishes are here, including generously-sauced sandos, deep-fried chicken wings (some of the best in Auckland) and desserts that, we're sorry to say, definitely aren't diabetes-friendly. Completing the line-up is a range of low-intervention wines, cocktails and craft beers—something these guys take just as seriously as their food.
So grab the gang and head for the neon lights of K' Road, where you'll find a lively little spot that's perfect for a feast of deep-fried treats, a couple of cheeky drinks, or—dammit—an ice cream sundae at 12:30am.
Image credit: Lowbrow.
---
You May Also Like
Restaurants
Introducing Atelier, the newest kid on the Karangahape Road block. The name is French…