Lucky 8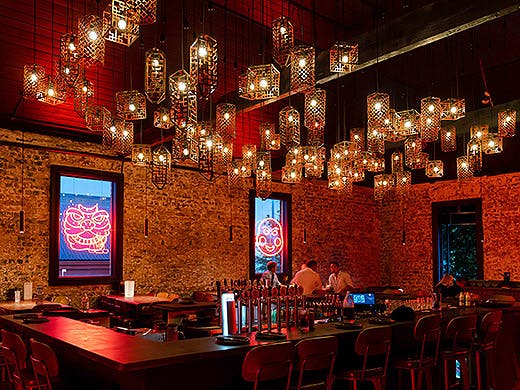 The Verdict:
A hot new speakeasy from the legends behind Mr Hao has just opened on Ponsonby Road and it has legit blown our minds. Come up the sleek black staircase framed by cute black cats and be ushered into Lucky 8—a seriously cool spot pairing exposed brick and funky neon signs (a Mr Hao signature) with deep-red leather seats, wooden tables and Asian touches reminiscent of a Shanghai Loft in the French concession.
Chefs from around the world have helped create an exquisite Asian-inspired tapas menu where nothing is over $8 (and unbelievably, all the delicious cocktails will also only set you back $8). And we're not talking about a measly bowl of fries either, think slow-cooked beef cheeks, crayfish, pork belly, dumplings, scallops, paua and more—flavours that evoke the feeling of sitting at a street-side market in Chiangmai, tucked up in a Shanghai restaurant or a Japanese yakitori joint down a back street in Tokyo.
Lucky 8 is bought to us by Paul Wong, Julian Diprose and Lucas Boucly—the brains behind the hugely popular Mr Hao skewer bars in Mount Eden and Albany—and you'll find it hidden up a mysterious black stairway at 161 Ponsonby Road (top tip: look for the big black lucky cat statue on the roof).
So let's talk about that high-end tapas. Designed for sharing (the team recommend 4-5 dishes per person), it's easy to go overboard and to be honest, this is one time where we'd encourage you to do so.
Crunch your way through lightly-battered mushroom fries (an epiphany, to be sure), watch as the black pepper beef cheek literally falls apart beneath your fork—before melting in your mouth—then pop back a few portions of silky-smooth sweet and sour egg tofu (the texture really is something else).
You'll also want to get amongst the golden-crusted shrimp with mayo (our pick for the most showstopping dish on the menu), slurp your way through the incredibly delicious cold noodle salad (plump for the spicy option, if you dare), and dive into the delicately-flavoured abalone with soy (paua virgins, this might just be the dish to corrupt you).
And don't forget to order a round of dumplings, either pan-fried or served to your table still in the steamer and as juicy and packed full of flavour as you could ever want.
Mr Hao fans will be pleased to see that the infamous Hao's chilli chicken is also on the menu here, as well as an array of succulent teriyaki bbq skewers (all equally moreish).
Of course, a feed like this wouldn't be complete without something delicious to drink and that's where those $8 cocktails come in. We like the Tokyo Mojito with sake, sencha, lime juice, mint and soda, as well as the Viet Dragon with vodka, coffee liqueur, Viet coffee and condensed milk—available on tap along with a number of other tasty tipples. And if beer or wine is more your thing, well they have that too.
Finally, we'd like to mention their sweet ordering system—simply scan the QR code on your menu, then sit back and wait for your goodies to arrive.
So what are you waiting for? Come check out this fun new spot, where eight is definitely a lucky number (certainly where your wallet's concerned, anyway!).
Image credit: Wono Kim, Besa Social.
---
You May Also Like
Bars & Pubs
Few things in life bring us more joy than cosying up with a glass of wine, and one of…