Mekong Baby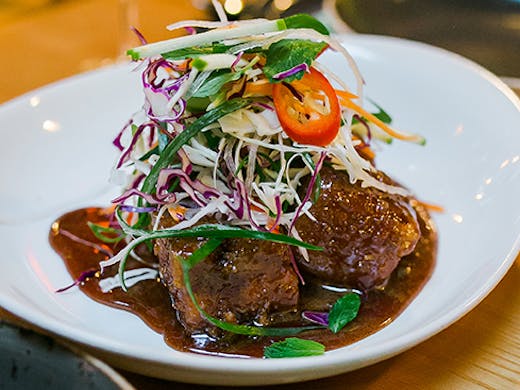 The Verdict
If there's one cuisine us Aucklanders can't get enough of, it's Asian fusion. We're talking crispy roti rolls and fragrant curries served alongside fresh summer rolls and moreish dumplings. What's not to love about that?!
Sitting proudly on Ponsonby Road, Mekong Baby serves up some of the city's best Asian fusion—Southeast Asian, to be exact. The talented team go over and above to create the perfect blend of sweet, spicy and sour flavours. No shortcuts are made with hand-ground spices and produce sourced daily.
However, the vibrant flavours are just the beginning at Mekong Baby—the venue is as beautiful as the food. Step inside and a sprawling bar fills the space, surrounded by stools and leaners. For a more formal dining experience, continue into the main dining room and you'll find wooden tables and a cosy booth running the length of the restaurant. There are also not one, not two, but three private dining areas—one starring a cosy fireplace.
The mood lighting of the restaurant creates an intimate atmosphere—yes, this spot is totally date-worthy. There are exposed brick walls, hand-painted murals and pops of green in the form of bamboo. You'll need a few moments to soak in the enchanting ambiance—Mekong Baby is nothing short of stunning.
As for the food, the menu will have you eating your way around Southeast Asia—with plenty of vegetarian and gluten-free options. We suggest ordering an array of dishes to share (the more, the better) and bracing yourself for a total feast.
There's no shortage of entrees with the dishes starring everything from prawn and beef to tempeh and squid. Start your meal with Wagyu beef wrapped in Betel leaf, crispy soft shell crab, and fresh Kingfish sashimi paired with Thai nam jim dressing, coconut and basil.
Move on to mains and there's an array of flavoursome curries—all of which are divine. Choose between the likes of red beef cheek (our fave!), green fish, chicken madras or a massaman showcasing succulent roast duck. Whatever you opt for, pair with crispy roti bread to mop your plate clean.
Curries aside, you'll also discover pad see ew, green papaya salad, crispy Hapuka and a not-to-be-missed pork belly. The latter is Mekong Baby's most-popular dish—and for good reason. The pork belly is braised to perfection and served with an irresistible caramelised chili sauce. Trust us when we say: no visit is complete without it.
Stick around for a happy ending (aka dessert). Coconut sago, chocolate hazelnut mousse, caramel coconut sundae…the choice is yours. We can't go past the apple and walnut tart served with a dollop of mouth-watering miso butterscotch ice-cream—it's heavenly!
The 30-page drinks menu is also equally impressive. There are cocktails infused with Asian flavours, spirits, craft beers, and a wine list curated by master sommelier Cameron Douglas. You'll find everything from Champagne and Chardonnay to Pinot Noir and Shiraz. There are also hand-selected vintage numbers for oh-so special occasions.
Tummy rumbling? Mouth watering? Experience the deliciousness for yourself at Mekong Baby. This is one baby you should need to try!
Image credit: Lydia Arnold
---
You May Also Like
Restaurants
A stunning new Indian restaurant has arrived in Ponsonby and it's transporting us…