Miramôr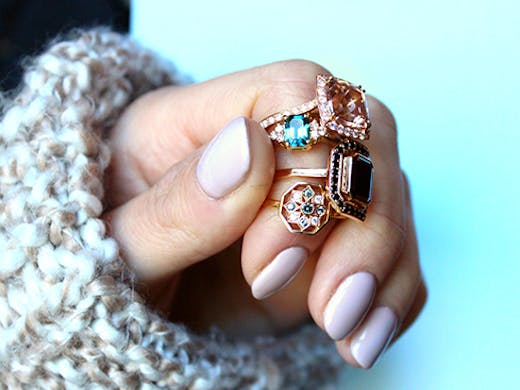 The Verdict
The secret's out. Tucked away behind two hidden doors, you'll stumble upon Auckland's newest—and most stunning—jewellery studio. Since launching in 2016, Miramôr has been shaking up Auckland's jewellery scene with their beautiful, handmade designs.
Located in the historical Old Magistrates Court building, Miramôr is truly bespoke is an appointment-only bespoke jewellery studio like no other. There's no such thing as 'one-size-fits-all' at this unique studio—no siree! Miramôr is truly bespoke with each piece starting with a clean sheet of paper—whatever your budget. They encourage you to collaborate with their talented designer and master jeweller to create a one-of-a-kind design, hand-crafted in the on-site workshop.
Miramôr draws inspiration from the art deco era in their unique designs. We're talking dazzling coloured gems, alluring diamonds and precious metals to create bold, vintage pieces. However, if that's not your personal style—fear not—Miramôr is only too happy to cater to you and your vision.
Yep, this is customer service at its finest—and something that Miramôr's founder, Nicola Morris, prides the brand on. While it's all too common to feel like 'just a number' when it comes to jewellery shopping, Nicola and her dedicated team make it their priority to create a memorable and oh-so special experience—after all, it's not something you buy everyday!
It all starts when step through the door (well, technically, when you step through the doors—plural). The elegant studio oozes cocktail lounge vibes and immediately puts you at ease.
The dark, moody space is lit by atmospheric lighting with a rounded art deco-esque window framing Albert Park. There's a lounge area showcasing a cosy, buttoned leather couch adorned with cushions. The scent of a flickering candle fills the room and soft, jazzy music plays in the background. Along the length of the studio, jewellery is displayed on sleek, gallery-like plinths.
And while the speakeasy space will make you feel like a total princess (or prince!), Miramôr is accessible to everyone. Rest assured, there's no obligation to buy and you're more than welcome to pop in, have a chat and throw your wildest ideas around.
Miramôr runs by appointment, meaning they can work around you and your schedule. Better yet, their hours are flexible—how's that for service?
Your visit will begin with a consultation with design director, Kate. You'll be offered a bevvy from the vintage drinks trolley (yes, you can opt for a whiskey on ice), while you tell Kate about your likes and dislikes. It's a hands-on chat where you're encouraged to bring in photos, family heirlooms and Pinterest boards. You can also draw inspo from Miramôr's statement collection—a range of pieces built on the brand's signature art deco style.
Kate will then create an initial design encompassing everything you love. Miramôr then source a selection of gemstones for you to choose from (you get to choose your exact stone) before perfecting the design. It's then passed on to the master jeweller who brings your creation to life—how exciting! From start to finish, it's a four to six week process to create your special, handcrafted work of art.
And while it's all very ooh la la, the experience doesn't come with an outrageous price tag. Miramôr keeps the pricing competitive with everything made to order so they don't have to hold large amounts of expensive stock. Having a small, expert team means the overheads are kept down and the time and attention are dedicated to you!
The jewellery studio does it all: rings, earrings, bracelets, cufflinks and very, very special engagement rings guaranteed to woo your lover.
Miramôr is changing things up for the better and we're certainly impressed. Make room in your jewellery box because these unique pieces will be on the top of your wish-list!
Image credit: Jaiden Bhaga
---