MoVida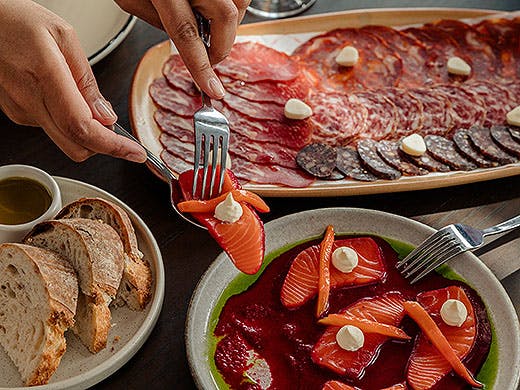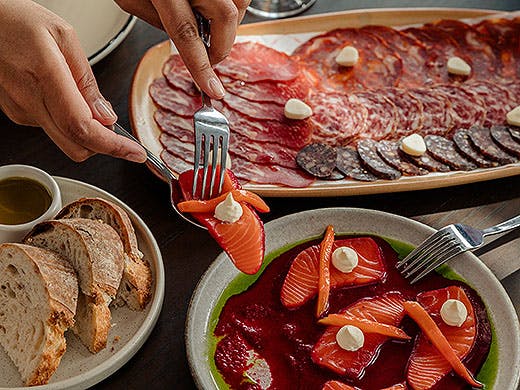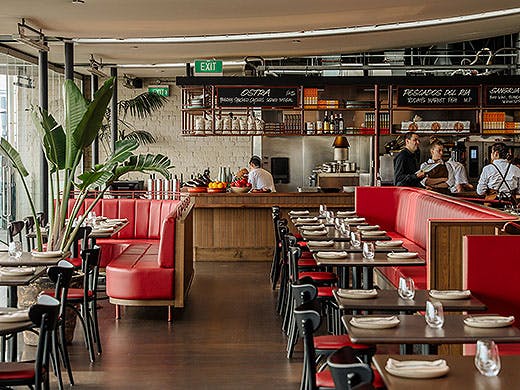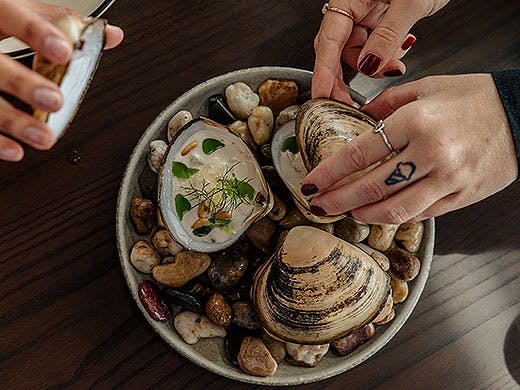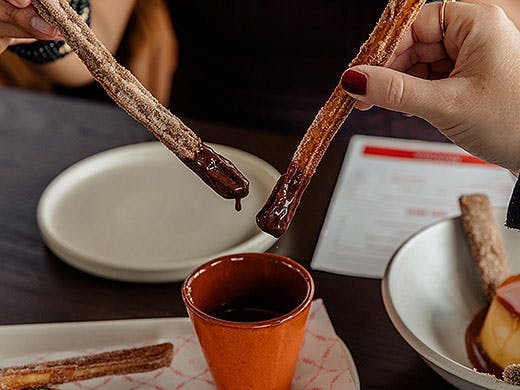 The Verdict
A Melbourne icon for almost two decades, MoVida has officially landed on our shores, bringing its beloved brand of Spanish-style tapas and sharing plates with it.
The brainchild of Barcelona native and acclaimed chef, Frank Camorra, MoVida has spawned an empire of sorts since first opening in the early 2000s, with two additional eateries and several airport outposts to its name, as well as the unofficial title of the restaurant that kickstarted Melbourne's obsession with tapas.
Now it's Auckland's turn to partake of the MoVida goodness—the eatery has moved into the space previously occupied by Ostro (and where, in fact, it appeared as a pop-up some years ago).
Those of you who dined at Ostro will know that this second-floor spot inside Britomart's Seafarers Building is a total vibe, what with its floor-to-ceiling windows and uninterrupted harbour views. However, thanks to the folks at Izzard Design, it now has a fresh and inviting new look featuring wooden interiors punctuated by greenery and pops of red—what we'd call 'subtly Spanish'. That is, with the exception of the vibrant artwork emblazoned across the ground-floor doors, which gives us almost Dia De Los Muertos (Day of the Dead) vibes.
The cuisine here plays into this welcoming feel and is designed to be shared. Come expecting fare that's fresh and full of flavour (as per the Spanish way), with a grand and at times, theatrical twist.
A great place to start your MoVida journey is the aperitivos—namely, the tabla de embutidos. This mouthwatering selection of smallgoods will be especially appreciated by the meat-lovers amongst us, and features thinly-cut slices of Iberico lomo, morcon, salsichon, and local venison and walnut salami, with pieces of pickled garlic to bring it all together. The pan catalan, served alongside, is just as lush—think slices of thick toasted bread, rubbed with garlic and topped with a juicy blend of fresh tomatoes and olive oil. Delicioso.
That's not to overlook the salmon, which apart from looking like a legit work of art, is one of the tastiest options on the menu. Featuring slices of tender Big Glory Bay salmon, lightly cured in salt and sugar and floating atop a sea of deep red beetroot and tamarillo gazpacho, this dish goes against the very nature of the dining culture here (and by that, we mean we want to keep it all to ourselves and not share a single bit).
Next up, the tapas—including what is considered MoVida's signature dish, the anchoa. How the team have pumped so much flavour into one, two, three bites at most, we'll never know—though we suspect it has something to do with the wonderfully salty hand-filleted Oritz anchovies they use, perched atop a crouton cracker-of-sorts, and finished with a cornelle of smoked tomato sorbet (yes, sorbet!). An epiphany for the palate, we can see why this dish has become so famous.
The almeja is just as impressive—these freshly shucked Cloudy Bay storm clams have shells the size of your hand, and naturally, are served on a bed of pebbles (it's like having an actual slice of the Spanish seaside, right there on the table). Pop the lids off, and things get even more exciting, with the clam meat dressed in a creamy blend of pine nut gazpacho, verjuice granita, and Pinoli pine nuts. You won't be able to resist slurping the last little bit out of the shell.
And finally, the tartar. Resembling a sort of savoury macaron, these pretty little bites feature an almond and horseradish cracker topped with melt-in-the-mouth wagyu beef rump, pickled kohlrabi and cured egg. A definite case of easy on the eyes, and easy on the stomach.
These are just some of the highlights of an extensive menu that also features raciones and parilla (aka larger dishes, including gigantic pans of woodfired paella), along with a selection of rather lush desserts.
Now while we will never, EVER turn down a churro, which here you'll enjoy dunked in rich Spanish drinking chocolate, it's the flan that really has us excited. This Spanish take on the classic crème caramel is absolutely divine and features a gloriously smooth custard dripping in caramel, with crunchy pestiño pastries on the side.
Of course, it'd be remiss of us to not also mention the drinks—think Spanish wine, beer, sherry, and an epic line-up of G&Ts inspired by La Gintoneira, a gin bar in Haro, Spain which offers one of the most extensive gin lists in the world. The cocktails are also noteworthy, with the cheeky Manhattan Andaluso and Palomino Fino amongst our faves (and don't forget about the sangria!).
MoVida may be a Melbourne institution at its heart, but we're sure happy this iconic eatery has shared the love with us Auckland folk. One of the most anticipated openings of 2022, it certainly delivers on—if not surpasses—the hype.
Image credit: Jamin Drupsteen.
---