Mumbaiwala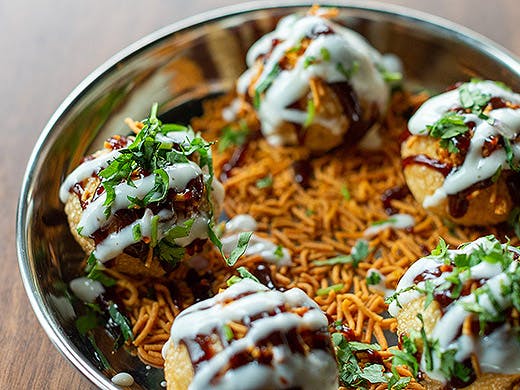 The Verdict
A stunning new Indian restaurant has arrived in Ponsonby and it's transporting us straight to the bustling streets of Mumbai. Named Mumbaiwala, this is the eatery's second branch (the flagship is in Christchurch alongside their sister eatery Permit Room) and it's alive with the sights, sounds, smells and of course, tastes, of India's largest city.
The fit-out is one of the most impressive we've seen in a while, with much of the décor sourced directly from India (around 700kg of it, in fact!). No detail has been spared, with rice-sack light shades—a bar front displaying Thumbs Up and Limca aka the Indian equivalent of Coke and Sprite—and pull-chain toilets with authentic 'Mumbai' audio (beware of honking trains!) just some of the many talking points here.
The size of the restaurant is equally grand and large enough to house a dining room, bar area, and private function space in the back that can be curtained off for all those exclusive events.
Naturally, all of this will have you expecting big things of the food, and trust us when we say, you won't be disappointed. Taking inspiration from the authentic street food made famous by its namesake city, Mumbaiwala's menu is packed full of flavoursome dishes designed to be shared, just like they are in India.
We can personally vouch for the Caulifower Manchurian, featuring moreish pastry-free cauliflower dumplings cooked in a fiery chilli and garlic sauce—the Palak Paneer Tikka, with its super-sized slices of lightly charred paneer paired with juicy tomatoes, spinach, and red onion—and the Mumbai chicken, marinated overnight in spices for peak juiciness, then lightly fried for the perfect crunch.
However, the award for tastiest dish goes hands-down to the Dahi Puri, which takes mini puff pastry-like shells and stuffs them with a drool-worthy combo of mashed potatoes, chickpeas, and spicy yoghurt.
Dessert should never be overlooked, and here comes in the form of Chocolate Naan (like a super-upgraded Nutella-on-bread situation), Cardamom & Coconut Kulfi (think Indian frozen yoghurt), or perhaps a cheeky cocktail (our vote goes to the Bombay Colada with coconut rum, chai, coriander, pineapple, and coconut).
The restaurant is currently open for lunch and dinner (with an Indian brunch also in the pipeline), but no matter what you're after, your next visit to Ponsonby should definitely involve a lil' trip down Mumbai(wala) way.
Image credit: Wono Kim
---
You May Also Like
Bars & Pubs
Few things in life bring us more joy than cosying up with a glass of wine, and one of…