Onemata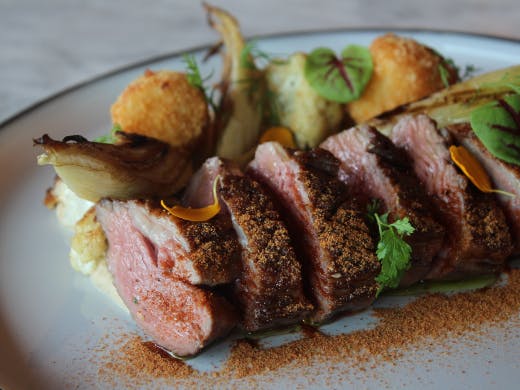 The Verdict
Dining at Onemata is one of those real oh-la-la experiences. With stunning contemporary interiors and floor-to-ceiling windows, practically within arm's reach of the water (plus up-close views of Wynyard Crossing, the moving bridge that we still get a kick out of watching), there's no denying there's something very special about this restaurant. And we haven't even started on the food...
Onemata is of course the beautiful restaurant at Park Hyatt Auckland—one of the city's newest and most luxurious hotels, which sits on the site previously used as a base for Emirates Team New Zealand. National pride remains strong at the Viaduct spot, courtesy of a menu that champions our country's premium fresh produce, seafood and livestock (meaning that yip, all food here is locally sourced). Basically, if you wanna know what New Zealand tastes like—a meal at Onemata oughta give you a damn good clue.
Pull up a seat and settle in for a feast of shared plates, helpfully broken down into categories like Aotearoa Harvest, South Island Provisions and Kai Moana, curated by executive chef, Brent Martin—chef de cuisine, Jonathan Pasion—and executive pastry chef, Callum Liddicoat.
Begin by slurping your way though a big ol' bowl of chow fun noodles—a dish that's so incredibly delicious, you may want to re-think the meaning of 'shared plate'. Featuring gloriously thick noodles that are more akin to pasta, studded with juicy pieces of pork belly and baby bok choy then slathered in housemade hoisin sauce—it's the epitome of mouthwatering.
The buttermilk fried chicken is just as dreamy and so lightly fried, it could (almost) pass for healthy. Served with pineapple kimchi—one of those rare, why-didn't-someone-think-of-it-sooner? additions—gochujang sauce and daikon, this dish alone warrants a return visit.
Rounding out our trifecta of fave mains is the coastal spring lamb rump, beautifully tender, dusted in kaffir lime spice and perfectly paired with coconut jus and a couple of crisp cauliflower croquettes to soak up all those rich, meaty juices. Tucking into this, you'll be reminded of why New Zealand lamb is considered some of the best in the world.
However, if none of the above quite tickles your tastebuds' fancy, you can also grab some fresh fish or a cut of premium beef (including a 55-day aged scotch), cooked to perfection in Onemata's epic hearth oven then served with a sauce of your choosing, as well as a few extras alongside to keep things interesting (truffle mac 'n cheese, we're looking at you).
And finally, dinner wouldn't be dinner without dessert, right? These guys do some absolute beauties, including a stunning chocolate soil that delivers on its name with a delicious mound of praline granola and soft Foundry Chocolate 'dirt'. The cherry on top is a quenelle of pear and feijoa sorbet, which with a lil' digging, you'll also find on the bottom.
So crank out your Sunday best and prepare to get schooled in seriously good Kiwi cuisine at Onemata. We're certainly keen to learn more!
P.S. Onemata is also open for breakfast so if omelettes and eggs benny are more your jam, be sure to check it out. Subject to availability.
Image credit: Onemata
---
You May Also Like
Restaurants
If you love to wine and dine with a view then listen up, we've found a stunning…
Bars & Pubs
Danny Doolans has a sleek new younger brother bar joining the Viaduct Harbour…