Parade Ponsonby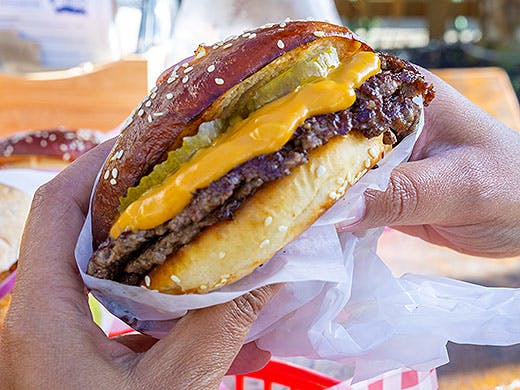 The Verdict
Parade has a new haunt and we're totally in love. Just a stone's throw from their O.G. home on Ponsonby Road, this new chapter of Parade—now with a levelled up garden fit-out and a liquor licence—is where you'll want to be.
Before we get into the juicy details can we just start by saying, we know we use the word delicious a lot? And we mean it, each and every time. But the goodies coming out of Parade's kitchen are really, REALLY delicious if you know what we mean. The baby of Bryan Anderson, Nick Fury and Sean Bone—the trio behind another insanely good eatery, Mutual Friends in Newmarket—Parade is delicious incarnate.
With an ever-evolving menu, Parade is currently spotlighting a seriously tasty burger lineup served on pretzel-style buns the boys make from scratch on the daily. Choose from Wagyu beef smashed patties—which come in single or double, free range buttermilk fried chicken thigh, a seasonal vege option (currently a mouth-smackingly delightful deep-fried cauliflower), or their special which changes every couple of weeks and there are also gluten-free options available.
If you're wondering how Parade make their buns so damn addictive (because addicted is exactly what you'll become once you try one), we'll tell you. The boys spent a whopping eight months perfecting the dough (thank you, lockdowns of 2020), finally settling on a sort of classic dough/American pretzel dough hybrid that is lovingly made from scratch, every single day.
As if tasty AF burgers weren't enough, there's a load of exceptional extras that you will 100% want to wrap your mouth around (hellooo, loaded fries with cheese sauce, sour cream, sweet chilli & crispy bacon bits). Their salt & pepper shrimp dish slams too and is a must for the table, as are their triple cooked spuds with garlic-infused whipped feta. Dang. Another extra you won't want to pass up are their wings, in Habanero hot honey or Thai chilli. Get six for $6 from 6pm on Wednesdays.
The team have made quick work of putting their shiny new liquor licence to work too, whipping up some gorgeous cocktails—do buy them by the jug—and stacking the fridges with a selection of beer and white, rosé, red and natural wines. Happy Hour goes from 4-6pm Wednesdays to Fridays, and on Thursdays, you can score a cocktail jug for the absolute steal of $20. We're head-over-heels for their lilac Sweet Dreams cocktail where vanilla meets triple sec with notes of sharp wine.
With all this deliciousness on offer, you'll go from feed to feast in a matter of moments (and there's nothing wrong with that) but do save a mini donut pretzel-shaped space for dessert. A little bit sweet, a little bit savoury, topped with moreish chocolate sauce and a dusting of icing sugar, these babies are the perfect end to a perfect meal.
But don't just take our word for it, drop by Parade and smash a burger, with plenty of extras and a cheeky glass, for yourself. However, if you do (take our word), know that when we say their food is delicious, we mean it's really, REALLY delicious.
Image credit: Larryn Rae
---
You May Also Like
Bars & Pubs
Few things in life bring us more joy than cosying up with a glass of wine, and one of…