Rosanna's Garden Bar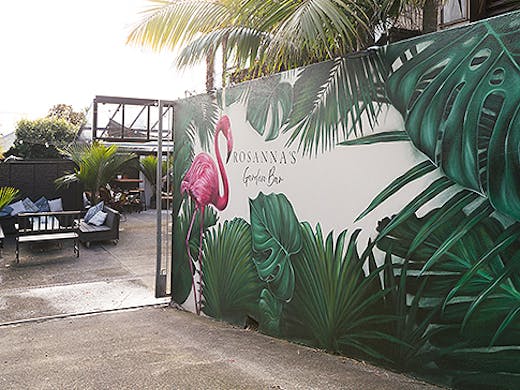 The Verdict
Raise your glass to Rosanna's Garden Bar—Kingsland's cool new Bali-inspired drinking spot. Hidden down a short driveway just off the main shopping strip, this is definitely one of those blink-and-you'll-miss-it situations (pro tip: don't blink).
Having said that, some of you may recognise it as the former location for holistic café, Mondays Wholefoods. Either way, you'll know you're in the right location when you see the bright pink flamingo flanked by palm trees adorning the wall at the entrance (shout-out to mural artist Erika Pearce for her epic work).
The tropical vibes continue inside, where you'll find the classy black interior studded with wooden furniture and potted plants. However the garden is where the party's really at. We're talking a cosy undercover courtyard decked out with fairy lights, heating and so much greenery, you can't help but feel worlds away from the hustle and bustle happening just up the drive. And that's not to mention the fact this area is almost entirely encased in glass, meaning that in the evening, all drinks automatically come with a free stargazing sesh—score!
Yip, we'd happily escape to this urban retreat any day of the week, especially come summer when the vines growing down the outside of the building will be in full bloom and have us really reminiscing about those balmy Bali days.
Cocktails are a crucial part of any Balinese holiday, and you'll certainly find no shortage of them here. Expect a changing menu of lush, fruit-flavoured creations in keeping with the tropical theme, led by the bar's signature drink—Just Call Me Rosanna (a kind of pornstar martini made from 42 Below Vanilla Vodka, passionfruit liqueur, lime juice, passionfruit pulp, egg white and a shot of Prosecco).
There is one exception here however, which we feel we must also mention—the Toblerone. Inspired by the famous choccy bar of the same name, this tipple is pure decadence and guaranteed to send those with a sweet tooth (read: us) into a real spin.
The food is simple yet delish and comes in the form of beautifully presented cheese platters, tasty nibbles (lotus root chips, anyone?) and vibrant Bali bowls laden with fresh veggies, dipping sauces and other goodies. The latter come in a range of options—all designed to share—and will definitely make you feel better about having that extra cocktail. There's even fresh honeycomb on offer, should you feel like really indulging.
Finally, if you fancy your drink with a side of yoga (um, yes?) then consider heading upstairs to The Ivy Studio, which is also run by the Rosanna's team and hosts regular classes as well as fun social events. Yes fam, getting into shape now comes with an added incentive—be it a cup of kombucha or a glass of Prosecco!
Rosanna's Garden Bar may not be in Bali, but it's about as close as you'll get to it for now—see if you don't agree.
Image credit: Wono Kim, Supplied
---
You May Also Like
Restaurants
What do you get when you breathe new life into an old classic? A fancy AF bar and…