Supernova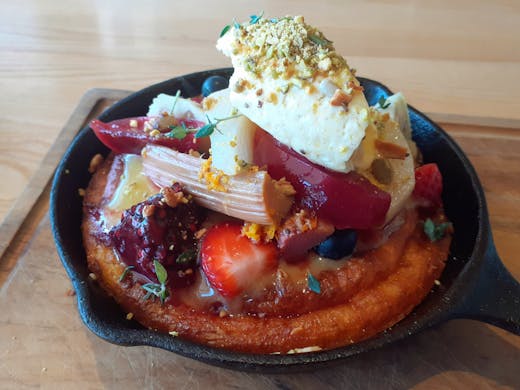 The Verdict
If, like us, you shed a tear when Bread & Butter upped sticks from Milford, we've got some news that's going to make you very happy. A new café called Supernova has taken over the space, and it's bringing with it some pretty solid (some might even say super) grub.
Run by Sam Richardson and his wife Lili, who between them have a smorgasbord of hospitality experience (Sam worked as front-of-house at The French Café, while Lili is a bit of an expert behind the coffee machine and together they've run several other talked-about cafés, including Cereal Killa and Greedy Guts), there was never any doubt this new eatery would bring the goods.
The focus here is on healthy and honest fare that will fill your belly, without filling out your waistline and that's definitely something we can get onboard with. Sam also refers to it as 'rustic', and we couldn't think of a better word to describe their glorious lemon hotcake, served in a mini cast-iron skillet and piled high with a kaleidoscope of seasonal fruits, tangy lemon curd and a generous whack of maple butter that you'll be dreaming about long after your visit.
Of course, the hotcake is just a taste of what you'll find on the menu here, which spans breakfast through lunch and can be expected to change on the reg. At the moment that looks like ricotta pea fritters, charred chicken salad and shakshuka eggs with all the trimmings for the savoury folk, or crispy banana toast, coconut chia pudding and a cabinet full of gorgeous home-baked treats for the sweet tooth set—washed down by smoothies, Kokako coffee (complete with Lili's epic latte art if you're lucky) and even a glass of beer or wine, should the occasion call for it.
These guys also get extra brownie points for offering some outside-the-box options for kiddos, who as we know, are some of the hardest critics to please (think fish finger sammies and bacon butties, plus an iced choccy that deserves a spot on Insta as much as in the clutches of your little one).
Welcome to the neighbourhood, Supernova—we're pleased to make your acquaintance.
Image credit: Kathryn Steane, Supernova
---
You May Also Like
Restaurants
If you're looking for a cosy place to nestle into this winter, then we know…
Restaurants
Auckland , NZ
Fact: seafood tastes a trillion times better when it's sustainably…