The Cazador Delicatessen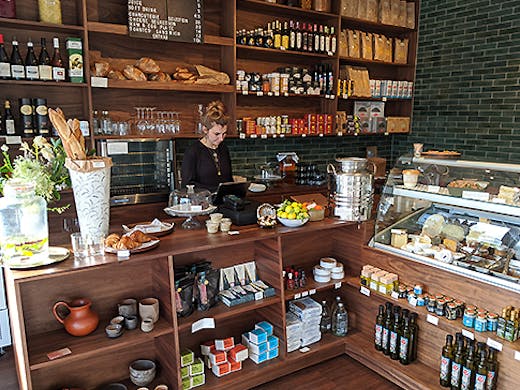 The Verdict
Adore Cazador? Us too. Suffice to say, we were stoked to learn that after 30 plus years in the restaurant game, this iconic eatery has opened the doors to a brand new spot—and all amidst the madness of COVID-19.
Located inside what was once Cazador's private dining room, The Cazador Delicatessen offers a carefully curated selection of owners Dariush Lolaiy and Rebecca Smidt's fave foodie things, alongside some of their own housemade delicacies including charcuterie and cheese.
The space is stacked to the ceiling with yummy artisanal finds, ranging from blocks of locally-made Foundry Chocolate through to an impressive selection of vinegars (apparently Lolaiy is a bit of a fan) and organic Eighthirty coffee, which you can also enjoy hot from their epic blue Slayer espresso machine.
You can even bring along a bottle from home and fill it with olive oil straight from a keg on the counter, best slathered on a loaf of their freshly baked La Voie Francais bread.
You'll also want to know about their kombucha, which the team clearly like to have a bit of fun with (case in point: they recently made a version flavoured with baklava syrup).
Of course a visit here wouldn't be complete without perusing the cabinet, which is loaded with Cazador's famed game-style meats, all butchered in house—think wild boar and pistachio salami, and ox tongue proscuitto. That's not to overlook the many mouthwatering cheeses that are also on offer, and which include their very own labneh and ricotta (yum).
But what's caused the biggest stir here since opening day is the pies, which in true Cazador style, are anything but ordinary. Selling out on the daily despite being baked in two batches, you'll definitely want to get amongst these bad boys (just make sure it's before 1:30pm!). Their mince and cheese is the current fave, and we can totally see why–made from a decadent combo of wagyu beef and cheesey béchamel sauce, this pie packs some serious pizzazz.
If you're feeling extra gluttonous, grab yourself one of their tasty sammies, pastries or salads, and you're good to go.
This is one spot we hope sticks around for as long as its big brother because Cazador Deli, you got game.
Image credit: Armelle Frimpong
---
You May Also Like