The Garden Shed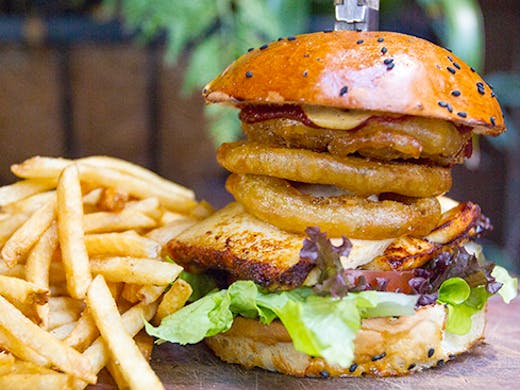 The Verdict
Located in the heart of Mt Eden Village, The Garden Shed is a restaurant with all the comforts. Covered in sprawling ivy and adorned with overflowing flower baskets, The Garden Shed is—hands down—one of the most beautiful restaurants in Auckland. The theme continues inside with garden tools hanging from walls, utensils presented in terracotta pots and plants in every direction.
No garden is complete without a lush courtyard and The Garden Shed has this covered—literally.
Whether you're after a meal or drinks, The Garden Shed ticks all the boxes. They focus on simple, honest food made with seasonal ingredients sourced locally. The talented chefs go above and beyond, handcrafting their bread, pasta and sauces from scratch.
If you're there for dinner, start your meal with Argentinian empanadas, mushroom and mozzarella arancini or a hearty soup of the day. As for the mains, choose between braised beef short rib, slow-cooked lamb pappardelle and perfectly crispy pork belly. Lunch is all about seafood risotto, goats' cheese ravioli and a veggie patch salad packed with edamame, avo smash and grilled haloumi.
The Garden Shed's not-to-be-missed dish is their epic burger. And trust us: this burger is seriously epic. Pinned to a wooden board with a knife stabbed through it, it's stacked with a beef patty, battered onion rings, cheddar, salad and bloody Mary ketchup. They also cater to vegetarians with an equally epic burger starring haloumi and avocado. A decent vegie burger at last—hooray!
Alternatively, if you're keen to graze the day (or evening) away, the signature shed boards are brimming with local cheeses, cured meats, beer-battered onion rings, crispy chicken and freshly baked bread served in a terracotta pot.
Stick around for dessert because there's dark chocolate pavé, raw mango cheesecake and a piping hot pear pie topped with vanilla ice cream and caramel sauce. However, the real star of the show is their toast-your-own s'mores. Toast the massive marshmallows over an open flame and pair with chocolate ganache and graham crackers for a messy but oh-so tasty dessert.
As for the bevvies, there is no shortage of options. As one of the city's best free houses, there are more than 30 ever-changing craft beers as well as a lengthy wine and cocktail list.
Image credit: Kellie Blizard
---
You May Also Like