The GF Depot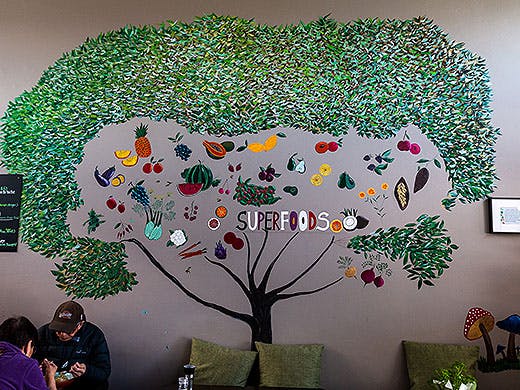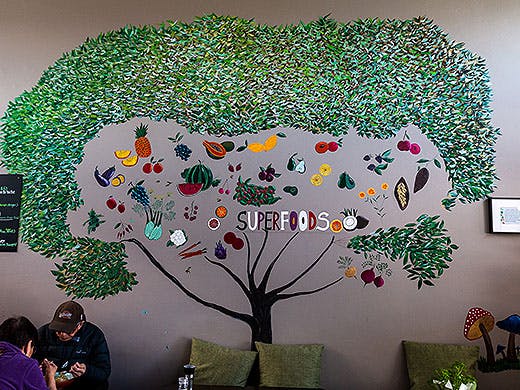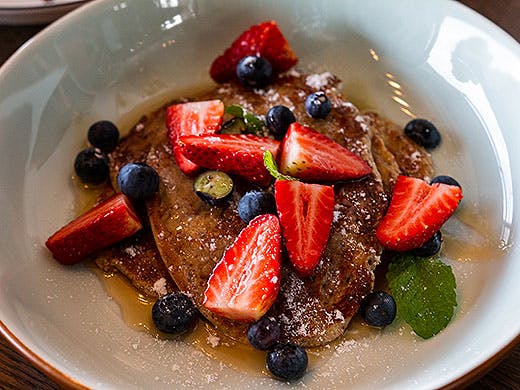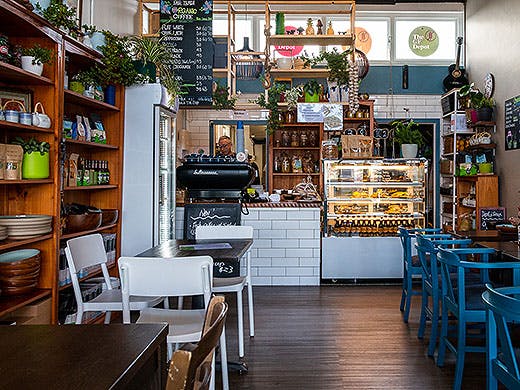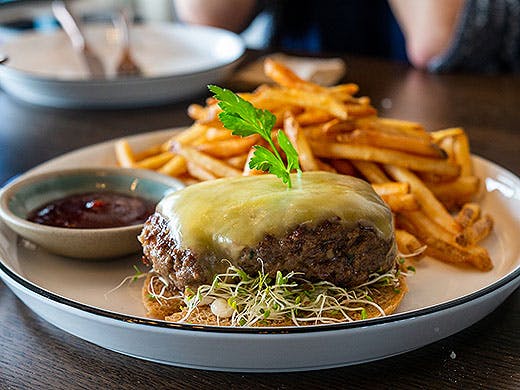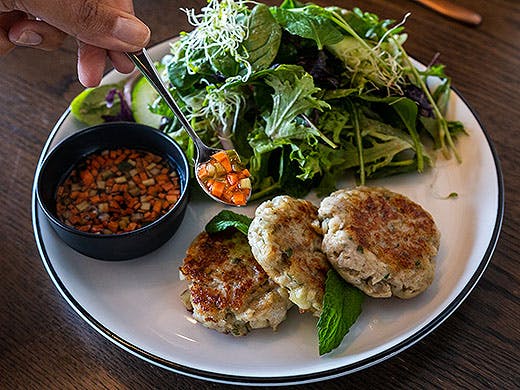 Meadowbank has a tasty little secret you'll want to wrap your mouth around, stat. Enter: The GF Depot, a hub of mouthwatering gluten-free fare in calming surroundings. Step through the door and, if the treat cabinet doesn't immediately ensnare you, your eyes will be drawn to a stunning mural of a lush tree painted by the cafe owner and chef, Vivi Cheung.
The first thing you need to know about the menu at The GF Depot is every detail is homemade without using any machines, from glazes and dressings to sauces and hand-ground flours. Even the chai blend, which is spiked with pea protein, is the Depot's own which comes as no surprise when you learn Vivi, who's a powerhouse of passion and knowledge, is renowned in Hong Kong as a therapeutic chef and performance food artist. Her previous venture, Dandy's Organic Cafe, was even awarded a prestigious Hong Kong Michelin Star in 2014.
The extensive lineup is packed with mouthwatering moments but we suggest tucking into the Rice Cracker Mountain to begin. Pleasantly addictive, crispy and topped with homemade balsamic glaze and chilli powder, these babies will go down an absolute treat and are the perfect accompaniment to an AF Drink, a lip-smacking dark hot chocolate or a pea protein-spiked chai.
Next up, we'd recommend tucking into a plate of fish cakes—a fully realised dream of perfectly cooked snapper. Tasty on their own and even better slathered in homemade cucumber and carrot vinegar dip. Be sure to get amongst the delightfully generous side of green salad which is a feature all of its own, dressed in homemade keto pineapple and lime vinaigrette.
For something more substantial the green curry, with seasonal veggies and either free-range chicken or organic tofu, will make your tastebuds sing and not just because of the cheeky spice hit. The curry paste is made from lemongrass grown on Vivi's farm in the Waikato and it makes for a beautifully layered taste experience.
Another showstopper is the beef and cheese burger which features a 100% prime beef pattie on a bed of sprouts, topped with a cheese blanket and matched with a euphoric load of fries and house tomato sauce.
Now, whatever you do, leave room for the pancakes. A borderline spiritual experience, this keto almond and coconut triple stack sits in that perfect balance of sweet and savoury, drizzled with agave nectar and topped with fresh berries and xylitol icing sugar. The stuff of gluten-free dreams—this is not a drill.
For dessert (because we all know that's a separate stomach) unleash yourself on their cabinet. Our vegan friends will be stoked to know most of the desserts will tick all your boxes, with chia seeds being used as an egg replacement. Treats include glorious pumpkin muffins with coconut cream, chocolatey snack balls, and cookies galore. Our pick? The flower-shaped hazelnut shortbread cookies. We've never seen gluten-free shortbread before so we were hella gleeful, then we bit into one and lowkey wanted to take the whole jar home.
Impressive from first bite to full belly, if you've ever felt awkward (or worse, apologetic) about your dietary requirements—whether you're Coeliac, wheat intolerant, dairy-free, vegetarian, vegan, keto or low GI—The GF Depot's got you. And even if you can eat everything in the world (I'm only a little bit salty about that) you'll be very pleased you dropped by.
Image credit: Eric Jang.
---