The Hunting Lodge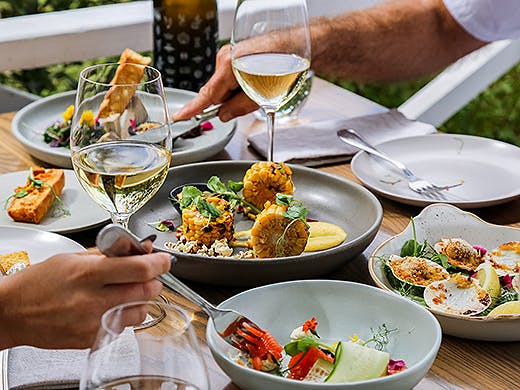 You know you've discovered a gem of a restaurant when your first visit has you planning your next. And that's exactly what will happen when you visit The Hunting Lodge. The stunning destination restaurant, Cellar Door & Lawn Bar, and its incredible setting will woo your heart (and taste buds) time and time again.
A leisurely Sunday (or weekday) drive away, The Hunting Lodge sits pretty in Waimauku. Just around the corner from Kumeu, it's surrounded by breathtaking vineyards, forest and farmland. You'll feel a million miles away from the city, even though it's just a 30-minute drive.
Owned and operated by the oh-so passionate Sutton family, the 80-acre estate offers it all. Satisfy your foodie desires by brunching or dining in the dreamy historic villa, or opt for the recently opened Cellar Door & Lawn Bar on warmer days.
The team at The Hunting Lodge has crafted a seasonal menu showcasing a farm-to-table philosophy, or, as they call it, pasture to plate and they source all of their fresh meat, fish and veggies locally.
Keep it casual at the Cellar Door & Lawn Bar—the brainchild of chief winemaker Pete Turner and Liberty Brew Co. founder, Joe Wood. Settle into the lawn area and enjoy vast views of the vineyard, fitted out with wooden pallets and festoon lighting.
They've nailed the casual eats menu. We suggest starting with one of the many platter options—with four to choose from you're spoilt for choice. Although the fromage is definitely a fave, pair this with a wine or beer board and you're in for a real treat. If you're after something more substantial then the woodfired oven is roaring all night long, churning out a variety of tasty woodfired pizza. Get in our bellies.
Enter the historic villa restaurant and you'll find a mouth-watering seasonal menu. Inspired by the seasons where the wine and food experience evolves throughout the year, you can expect exquisite dishes that are sure to tantalise your tastebuds. Kick things off with queen scallops in garlic butter or if that doesn't take your fancy then the honey glazed carrots with goat cheese mousse will certainly hit the spot.
The deliciousness continues onto the main course, dig into mushroom risotto with parmesan emulsion or if seafood is what you prefer then opt for the slow cooked octopus, it's simply divine.
Now how about some cheese? We can't go past the goat cheese and THL honey filo parcel. Yum! Or how about the brie with apple and truffle feuillete?—don't mind if we do.
No meal is complete without dessert. Sink your teeth into the French profiteroles made from choux pastry, 70% dark chocolate and served with vanilla bean ice cream. Although for those sweet-tooth lovers out there, the chocolate three ways will hit the spot. That's right, chocolate done three ways. Yass!
If you're feeling spontaneous, then choose the trust the chef menu, where the chef will create a specially crafted experience for you—so you get to indulge in delicious fare without having to do any of the brain work.
The best part is the seasonal menu is ever-changing so it gives you an excuse to visit on the regular.
One thing's for certain: there's a lot to love about The Hunting Lodge. It's a stunning (and delicious) spot to wile away the hours. Book your table here and we'll meet you there.
Image credit: Kelly Reeve, The Hunting Lodge
---
You May Also Like
Cafes
The Muriwai Deli is a collab between legendary coffee and pudding truck, Double Shot…
Restaurants
The boys at Jo Bro's Burgers have done it again, adding a second…