The Lula Inn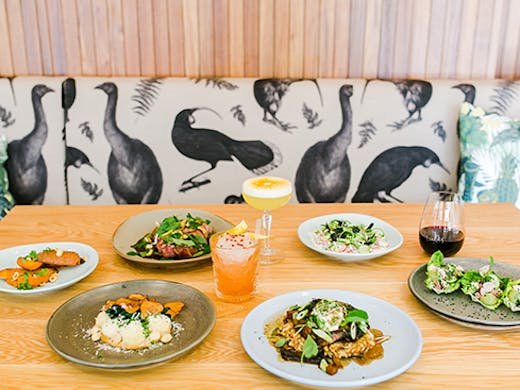 The Verdict
There's no need to fork out on a plane ticket to the islands—a Pacific getaway is closer than you think! We're talkin' exotic cocktails and mouth-watering fare (with an abundance of seafood, of course) while you sit back, relax and overlook the rolling ocean.
Pretty blissful, huh? It's easy to slip into island time at The Viaduct's newest eatery-slash-drinkery: The Lula Inn. You'll be magically transported to an island paradise (well, you can at least pretend) as you pass the day (or night!) by.
Located on the Waitemata Harbour—yes, Lula's is literally perched ABOVE the water—the venue oozes South Pacific charm with a touch of Kiwiana. There's lush foliage, seating adorned with native New Zealand birds and a whooole lot of indoor-outdoor flow—the best seat in the house has got to be on the sun-drenched deck.
Ease into your "getaway" with a well-deserved cocktail. Opt for a tropical rum number such as the aptly named Island Time or the Pacific Punch with pineapple and a generous dollop of coconut ice-cream. We're suckers for Lula's cocktails starring shrub syrup aka preserved fruit with the perfect balance of sweet and sour.
It's no coincidence the majority of the cocktails are gin-based. The Lula Inn doubles as one of Auckland's best gin bars with an impressive 39 (yes, 39!) gins on offer. Sourced from New Zealand and beyond, the menu will have you drinking your way around the world. What's more, there's an impressive wine list (with plenty of champers up for grabs) as well as craft beersies.
Bevvy in hand, allow yourself to work up an appetite because things are Tasty with a capital T! The flavours of the Pacific shine alongside Kiwi classics on the mouth-watering menu. Visit for brunch, lunch, dinner and everything in between—the grazing menu is particularly good for the latter.
Start your meal with freshly shucked oysters, flavoursome Kokoda (Fiji's take on ceviche), ricotta dumplings and scampi prawn spaghetti. For your main, devour a pizza (the duck confit with cherry and brie is divine!), Southern-style fried snapper roll or the much-loved chicken schnitzel. If you're there for dinner, don't pass on the tarakihi fish fingers or venison tartare—they're both incred!
The Lula Inn sure know how to cater to those with a sweet tooth on their unmissable dessert menu. Crack into lemon crème brûlée, chocolate mousse (adorned with a Kiwiana-esque Afghan biscuit) or try the raspberry chocolate fish for a dose of childhood nostalgia. We love the apple crumble with the innovative additions of nashi pear, salty miso and spicy ginger—what a combo!
And, if you love shaking what your mama gave ya (who doesn't?!), Lula turns up the tempo with live music from Thursday to Sunday. Bands and DJs take the stage, playing funky soul numbers to keep you grooving into the wee small hours. Be sure to keep a finger on the pulse with The Lula Inn's epic event calendar—there are a lot of fun things in store!
Mm-mmm! We're lovin' your sweet, sweet vibes, Lula. Thanks for bringing the islands to Auckland. Fiji who?
Image credit: Lydia Arnold and supplied
---
You May Also Like
Bars & Pubs
Danny Doolans has a sleek new younger brother bar joining the Viaduct Harbour…
Restaurants
Auckland's appetite for Taco Medic is growing, literally. The gluten-free taco…