Underground Bistro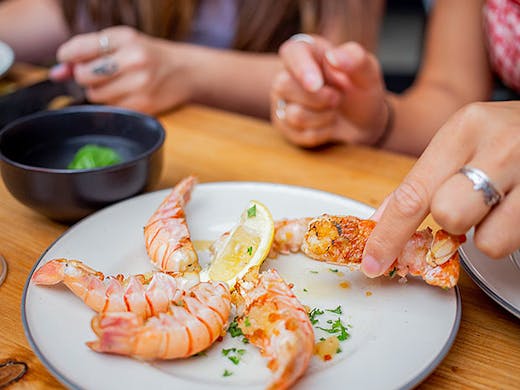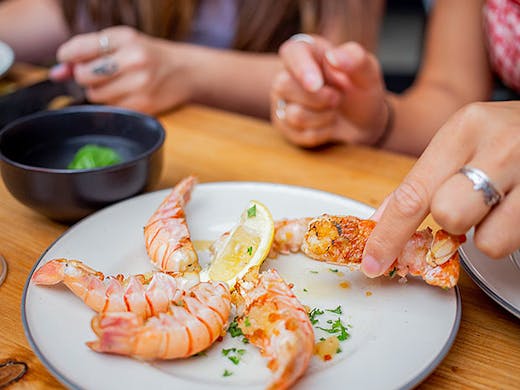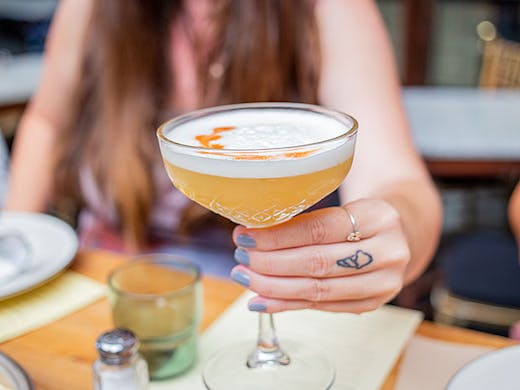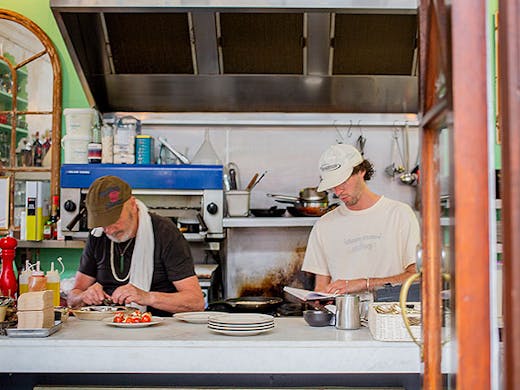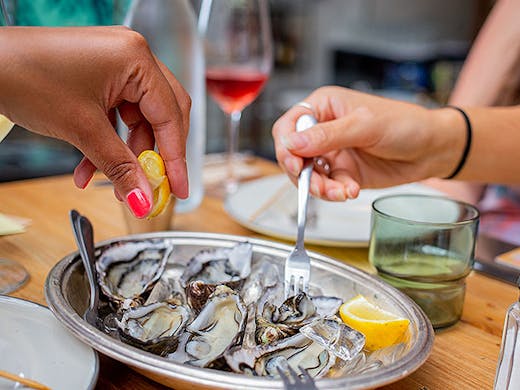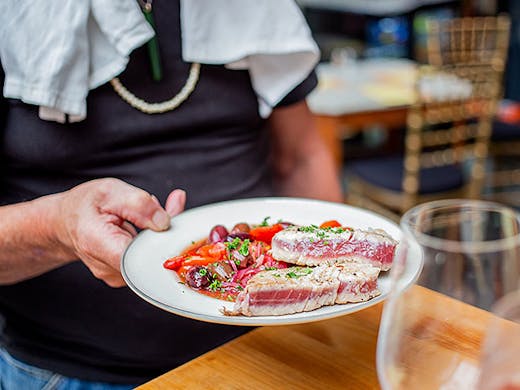 The Verdict
Underground Bistro is the hot new eatery making waves on Karangahape Road. Nestled within the iconic St Kevin's Arcade, it's in good company alongside hospo royalty like Pici and Gemmayze Street—and after opening just a few short months ago, is on track to also becoming one of the city's most sought-after restaurants.
Look for the sign of a mermaid cradling a giant oyster, and you'll know you're in the right place. It's also a good clue as to what you'll find on the menu here—delish, pescatarian-friendly dishes centred around glorious fresh seafood (all locally sourced, of course).
The space itself is definitely on the cosy side—seating around seven, with room for more at a couple of larger tables out front—but in our opinion, that only adds to the charm (and exclusivity).
What it lacks in size, this spot certainly makes up for in personality, with quirky antiques and second-hand finds bringing the interior to life. Take a closer look, and you'll notice each of the staff members also wears a piece of vintage pearl jewellery—a sort of unofficial uniform, we're told, and a nod to the aquatic theme.
Arcade regulars may already be familiar with the bistro's owners, Adam Purcell and Lindon Wahrlic. Together, the pair run a number of other ventures inside St Kev's including Underground (a multi-use space downstairs) and Junktion (a store selling film cameras—remember those?—and other curiosities). However, Underground Bistro is their first foray into the world of food and we have to say, we're impressed.
If seafood's your thing, you're gonna be happy as a clam about what's in store—and by that, we mean a menu dedicated almost entirely to kai moana. The emphasis at Underground is on fresh, clean flavours that speak for themselves, and we're here for it.
But before you dive in, you'll want to order a drop to drink. No problem, 'cos the team have put together the perfect selection of tipples to both kickstart and complement your meal, from refreshing spritzes and beers to gorgeous natural wines on tap, including a rather lush chilled red that tastes just like strawberry jam. Oof.
Now, for the food. Get the party started with a plate of plump, freshly shucked Coromandel oysters, dressed to impress in a punchy vinaigrette (down the hatch!), or perhaps the skewers, threaded with juicy seared scallops, cherry tomatoes, tuna, and phoenix tail mushrooms. This is an absolute killer combo and admittedly, one we didn't know we needed in our lives until now.
However it's the grilled scampi, laced with chilli-garlic sauce, that really has us swooning—though be warned, these cheeky little critters will definitely put you to work. But whether you're prying them out of the shell in a million delicious pieces (definitely not us...) or in one fell swoop like a pro, one thing's for sure—these babies are one of the best things on the menu, and worth every. Single. Bit of the effort.
Grab yourself some delightfully crunchy toasted Daily Bread focaccia to go with (which you'll of course want to drown in the accompanying olive oil)—and you have yourself one hell of a snacking sesh.
If you're in the mood for mains, make the mushroom medley risotto your first stop. This dreamy dish, laced with beurre noisette (brown butter) sauce and scattered in salty capers, is all kinds of addictive and despite its decadent nature, was practically made for repeat orders. Waiter!
For something a little less committal, opt for their riff on a classic fish burger, the burger di pesci. Smooshed between two soft buns with salad and pickles lies a delicately grilled fillet of snapper (or salmon, gurnard, or tarakihi if you prefer). We're not used to burgers so light and, to be honest, we're digging it. No food baby tonight.
And now, for what many would consider the pièce de résistance of any seafood menu—the pan-fried fish (we like the salmon, but again, you can choose from other species). Here the dish is done absolute justice, featuring a tender, melt-in-the-mouth fillet topped with textbook crisp skin. Paired with a refreshing Greek salad, this is the GOODS.
For those of you wondering about dessert, that's off the table for now so consider this your permission to order another tipple instead.
In conclusion: if you're asking yourself whether you should visit Underground Bistro, the answer is yeah. Shell yeah (we're not even sorry).
Image credit: Anna Cassandra Goh.
---