With the current inflation doom and the price rise in barista-made coffees (we see you, $6 cappuccino), we're all looking to lower our weekly spending. What if we told you that you could pinch pennies while saving the environment in a two-hit combo?
In partnership with 7-Eleven, we've scoured the country for the most affordable and sustainable products and lifestyle changes. Turns out you can work towards a healthy environment and bank account with just a few simple swaps. From where to source Fairtrade coffee (hint, it starts with 7 and ends with Eleven) to eco-budgeting hacks you can implement today, discover how these daily swaps can help you support our environment on a budget.
Get Some Feel-Good Inspo To Get Your Started
7-Eleven is putting on a free event to celebrate its new Fairtrade coffee beans which is sure to get you in the mood to implement some sustainable swaps. Fair Ground will pop up on Lonsdale Street in the CBD on Friday, 14 and Saturday, 15 October from midday to 8pm on both days. Expect to find a 15-metre-high Ferris wheel, carnival games, entertainment, freshly ground 7-Eleven coffee, snacks, and prizes with a friendly catch—everyone wins. Get it? because it's fair? Head over here for all the event details.
Switch To Fairtrade Coffee That Doesn't Break The Bank
Contrary to what investment bros on Instagram may suggest, your morning cup of joe doesn't have to leech away your life savings. Introducing 7-Eleven's most sustainable coffee ever. With a regular cup costing an easy $2, this is by far the most affordable way to get your daily caffeine fix on the go without going over budget. You can even save an extra 50c when you scan the My 7-Eleven app.
The best part? Not only is the coffee Fairtrade, but the cups and lids are also made with plant materials. In other words, your tasty morning cup can help fairly sustain coffee farmers without hurting the planet. Now that's a good cup of coffee.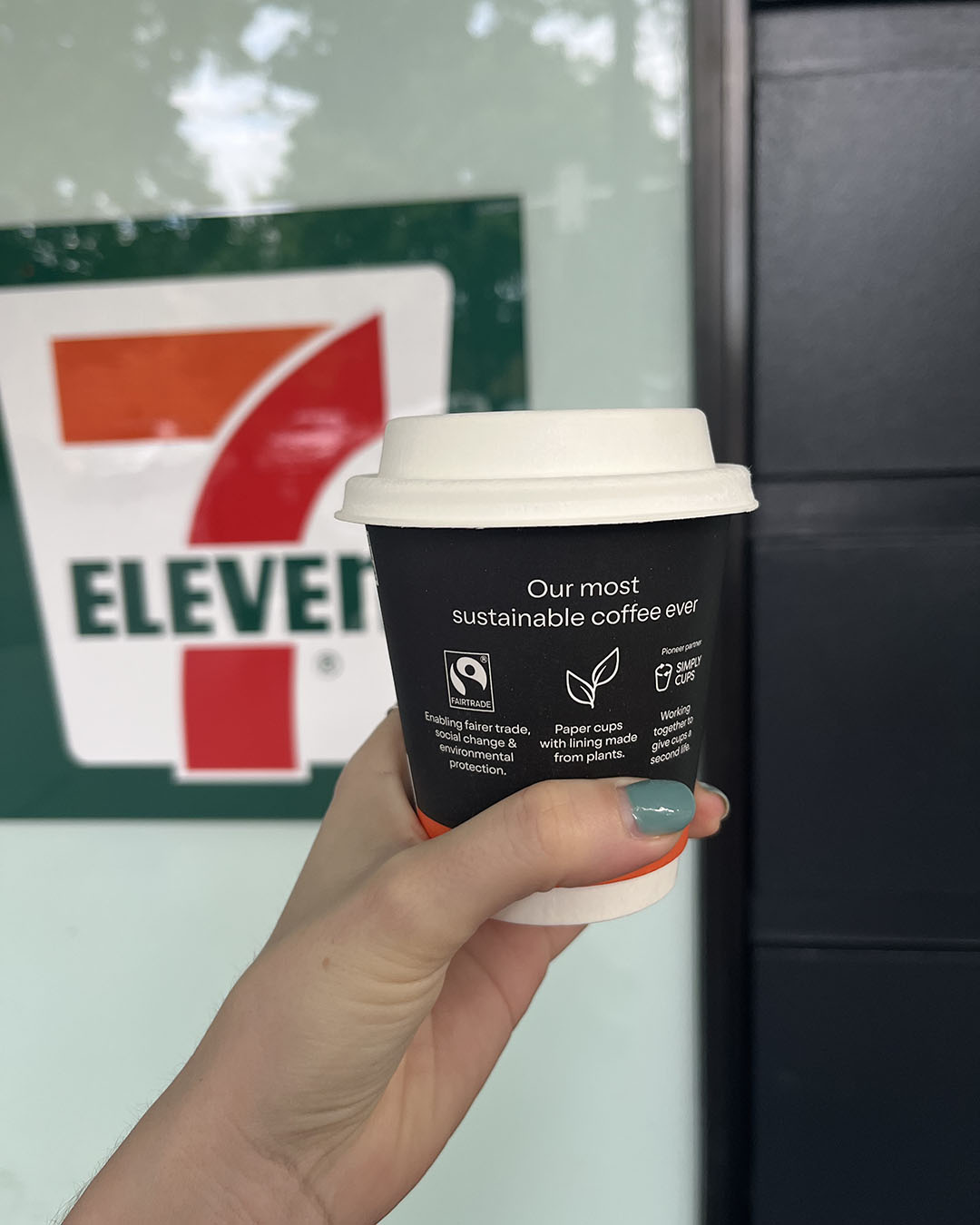 Ditch The Clingfilm For Reusable Solutions
Clingfilm sucks in pretty much every way. Not only is it bad for the environment, but it also is a well-documented kitchen menace that only clings when inconvenient and remains utterly useless at all other times. Keep your eyes peeled for new storage technologies like stretchy silicone lids, or beeswax food wraps that are setting the new standard for banishing single-use solutions for goods. Plus, some businesses even run silicone take-back programs to turn your well-loved lids into new and useful products. Say see ya to clingfilm and hello to sustainable savings.
Trade Single-Use Cups For Reusable Gems
We all know that the emotional support water bottle has well and truly cemented its place in our hearts, but what about the emotional support coffee cup? Our morning kick of caffeine supports some emotions, but when we start adding up the number of single-use takeaway cups it's possible to go through in a week, a headache can sink in. If you need a little extra incentive to pop a reusable in your bag for your morning fix, 7-Eleven is knocking 50c off the price of your coffee when you BYO cup. Sign us up!
Ditch The Copious Plastic Packaging
When you look a little closer, there are heaps of options around to reduce the number of plastic bottles you use to keep you and your home feeling fresh. Just-add-water soaps and cleaners are an easy swap to rid your domestic cleaning supplies of bulky plastics and harsh, chemical-ridden products. Body soap has also had a glow-up over the years and bars designed to nourish and cleanse are readily available—goodbye squeaky soap, hello plastic-free daily swap.
Commit To Meat-Free Monday (and Tuesday and Wednesday?)
No matter how much you love a good steak, there's no denying that the meat industry has its problems. One of the easiest ways to reduce your individual impact is simply to buy less meat throughout the week. Not only will you help lower the demand, but you'll also save a pretty penny on your weekly grocery haul. Head over here for some meat-free inspo.
Pack A Homemade Lunch Each Day
Avoid single-use plastics and gobsmackingly priced city lunches by packing your own food each day. All it takes is a few cheap but cute —and most importantly, reusable—containers to make homemade lunches a breeze to transport. Cook extra dinner the night before and voilà, you have a tastier, healthier, cheaper and more sustainable lunch than you could buy.
Ready to incorporate some sustainable swaps in your daily routine and help your hip pocket while you're at it? Head over here to find out more about 7-Eleven's Fairtrade brew and how to nab 50c off your next caffeine hit.
Editor's note: This article is sponsored by 7-Eleven and proudly endorsed by Urban List. Thank you for supporting the sponsors who make Urban List possible. Click here for more information on our editorial policy.
Image credit: Urban List.