Ah, France. The land of mimes, baguettes, and specific types of alcoholic beverages no one else is allowed to make. They're the only country to have trademarked a type of kissing and their somewhat elitist attitude to excellent cuisine is legendary.
The French don't have a strong immigrant culture, with many preferring to stay within the borders of their own country. Much like Australia or America, they too have it all. From superb beaches, stunning mountain ranges, dynamic, bustling cities, and a highly refined food and wine culture, the rest of the world doesn't offer them much that they cannot get at home.
Instead, they export culture. French anything is considered to be the pinnacle of quality and craftsmanship and their way of life is the envy of the rest of us. Fresh bread every morning, coffee and pastries all day long, and drinking world-class wine late into the evenings. We aspire to do it how they do it in France.
As a result, the Aussie French scene isn't as big as, say, our Italian or Chinese offerings. That seems to be changing though, as a spate of new openings across the city appears to be setting us up for a bit of a Francophile revival. From crepes to steak frites, escargot and coq au vin, Sydney's French expats and French-inspired chefs have brought us the best of what the country has to offer and we're here to lap it all up.
These are the best French restaurants in Sydney right now.
Manon Brasserie
CBD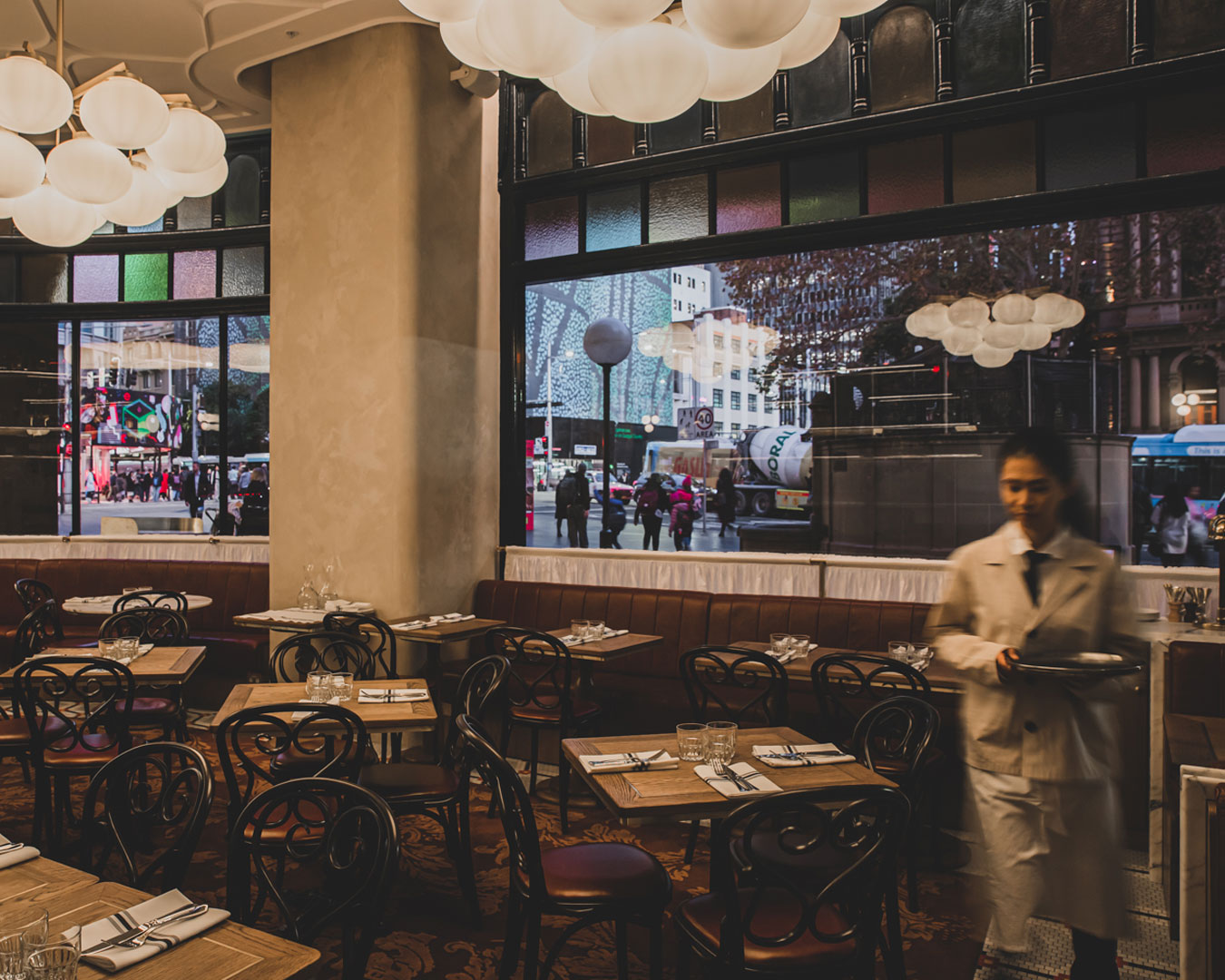 Situated in the stately Queen Victoria Building, Manon Brasserie is a new French brasserie that exudes old-world Franco charm. Think red leather banquettes, brass and aged bronze accents, warm timber furnishings, mirrored surfaces, a marble bar, and retro tiling. There's also abundant outdoor seating for sunny afternoons, accommodating up to 80 punters outside. Oh. and did we mention it's open f from morning coffee and viennoiseries to dinner and late-night cocktails? How European.
The kitchen is headed up by French-born chef Thomas Boisselier, with the team operating for takeaway, breakfast, lunch, and dinner services, as well as late-night supper on Fridays and Saturdays. On the breakfast menu, you'll find croque monsieurs, Brittany-style crepes, omelettes, egg meurette, crab on toast, and, of course, French toast. Lunch and dinner services include a raw bar with caviar oysters shucked to order, as well as brasserie classics like beef tartare, bone marrow tartine, steak frites, savoury souffle, and duck a l'orange. And the desserts are not to be overlooked, with the crepes Suzette and mocha and Valrhona chocolate mille-feuille particular highlights.
Loulou
Lavender Bay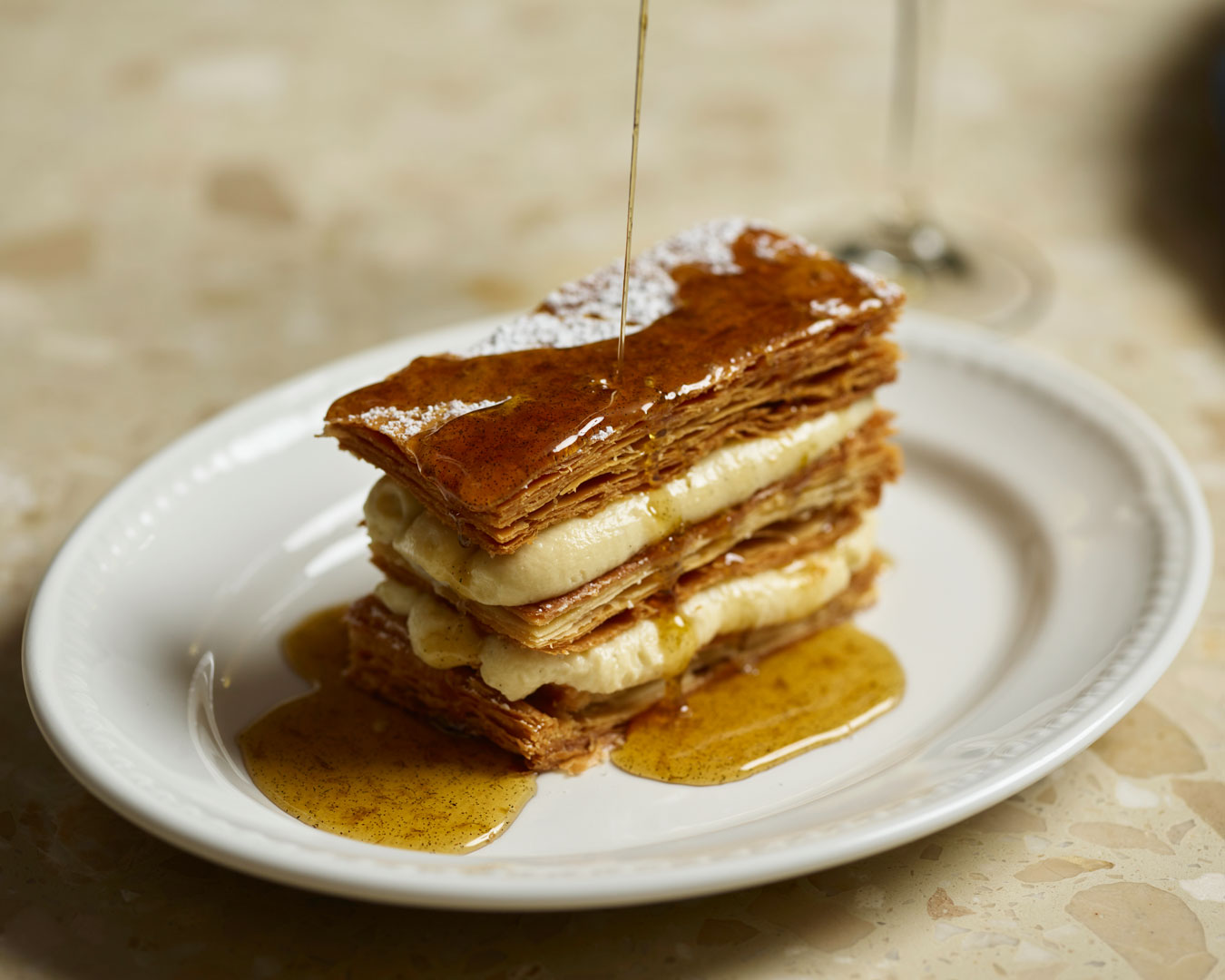 Over the bridge in pretty Lavender Bay, Loulou is the latest addition to Sydney's neat collection of French-inspired eateries. Part boulangerie, bistro, and traiteur, there's a lot going on at this triple act all-day eatery and it's well worth visiting for breakfast, lunch, or dinner. Begin your day at the boulangerie, led by head baker Brendon Woodward (ex-Chouquette Boulangerie, Bread Ahead Bakery London). Here, the team bakes four times a day—yep, you read that right—four times a day. This means your baguette will be ultra-fresh no matter what time of day you drop in.
Alongside the boulangerie is Loulou's traiteur. A lot like a deli, here French-born butcher and chef Cyprien Picard (ex-Victor Churchill) is in charge. Shop classic French-style charcuterie like saucisson sec, Toulouse sausage, country terrine, and chicken liver parfait sliced to your liking. Finally, Loulou's sprawling bistro, helmed by Billy Hannigan (ex-Bistro Guillaume and Michelin-starred The Ledbury London), offers up French classics, but a little lighter than their more-traditional counterparts. For lunch and dinner, there's a caviar service if you're feeling fancy, hand-cut steak tartare and potato crisps, chicken liver parfait served with warm brioche, a classic steak frites, and, for dessert, apricot mille-feuille or rhubarb soufflé.
The Strand Bistro
Darlinghurst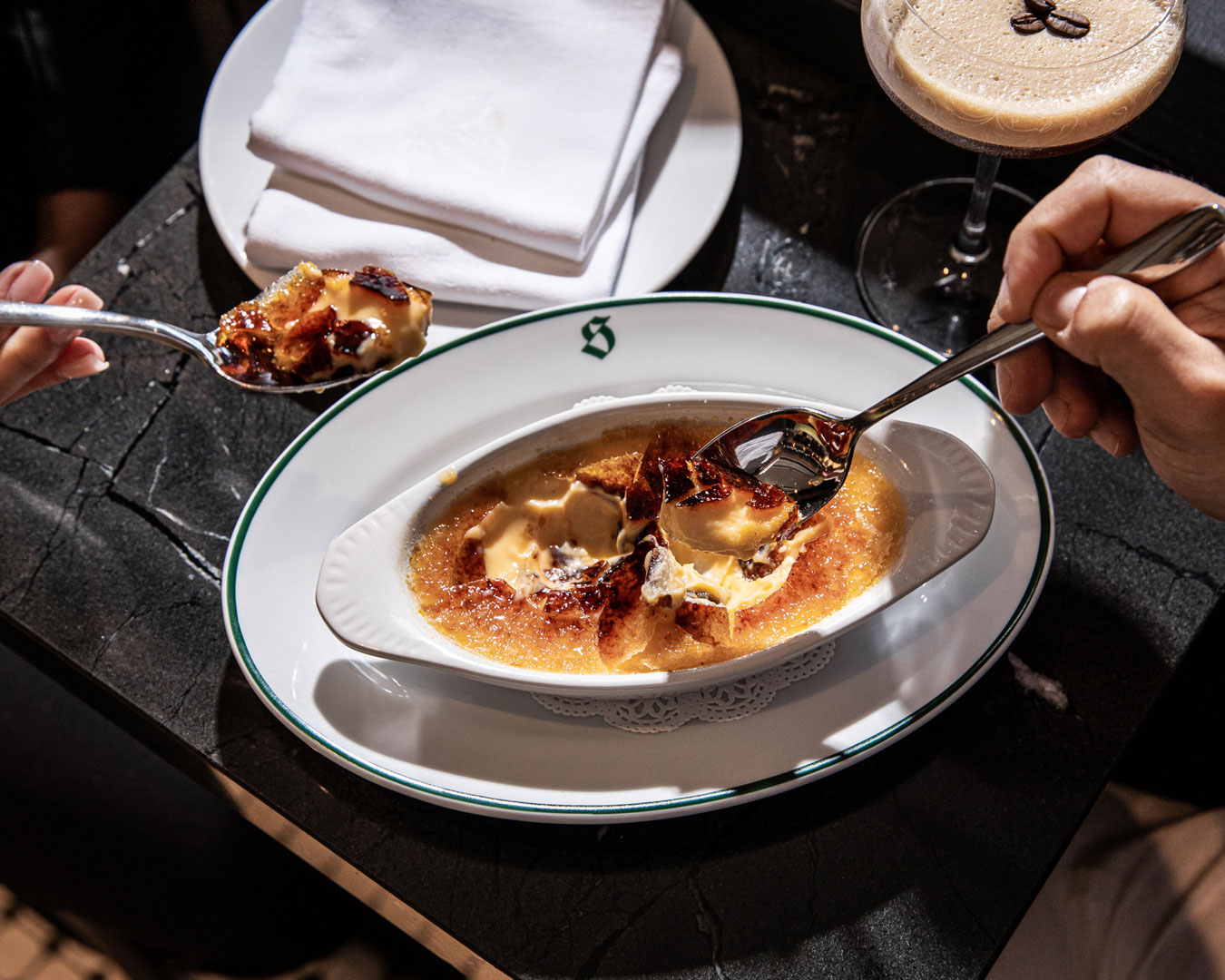 Chances are you've made a pit stop at the old boozer known as The Strand Hotel once or twice before. The pub has been stationed on the corner of William and Crown Streets for an impressive 99 years—but now it's entering into a new era. The Strand has been reimagined as a multi-level dining precinct and hotel inspired by Paris in the Belle Époque. And if it's a casual French feast you're after, then you'll want to hit the ground-floor French bistro.
Here, you can slurp spoonfuls of beluga caviar and Sydney rock oysters topped with classic French mignonette. Head chef Alex Kavanagh is also plating up "Lè Bùrger Gruyere" (a cheeseburger made with gruyere cheese), classic steak frites, a duck leg pie, and baguettes with lashings of cultured butter. And to drink, you'll find an extensive list of Aussie and French wines, alongside a 49-strong whisky list and a set of French-themed signature cocktails.
Whalebridge
CBD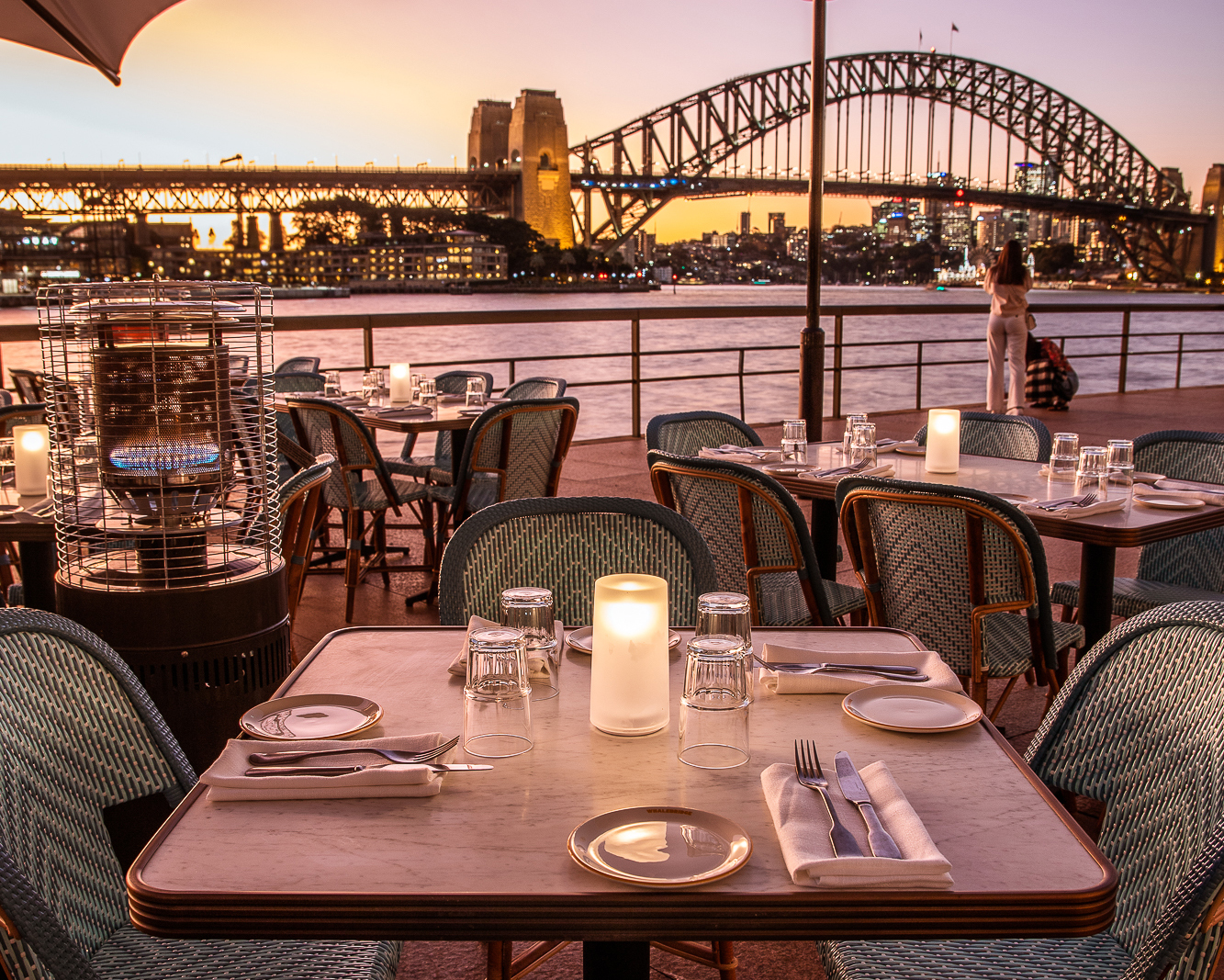 If your dream of France is less Paris and more Côte D'azur, Whalebridge's million-dollar harbour views are definitely for you. This new spot is nestled near the sails of the Sydney Opera House with a spectacular view of the Bridge. The kitchen is led by executive chef Will Elliot, who counts Restaurant Hubert, Melbourne's iconic Cumulus Inc, and ST JOHN in London on his resume. The food follows a fuss-free ethos, with Elliott serving up playful French dishes and plenty of seafood—an intersection of Paris and the Pacific Ocean, if you will.
Sydney Rock oysters, market fish, and caviar are all on the menu. However, the real show-stoppers are Whalebridge's house specialties. Order the Bouillabaisse de Marseille for an indulgent meal of scampi, prawn, fish, and lobster in a saffron broth. There's also the Lobster Thermidor, which is a whole lobster served with mustard, gruyere cheese, and shoestring fries.
Porcine
Paddington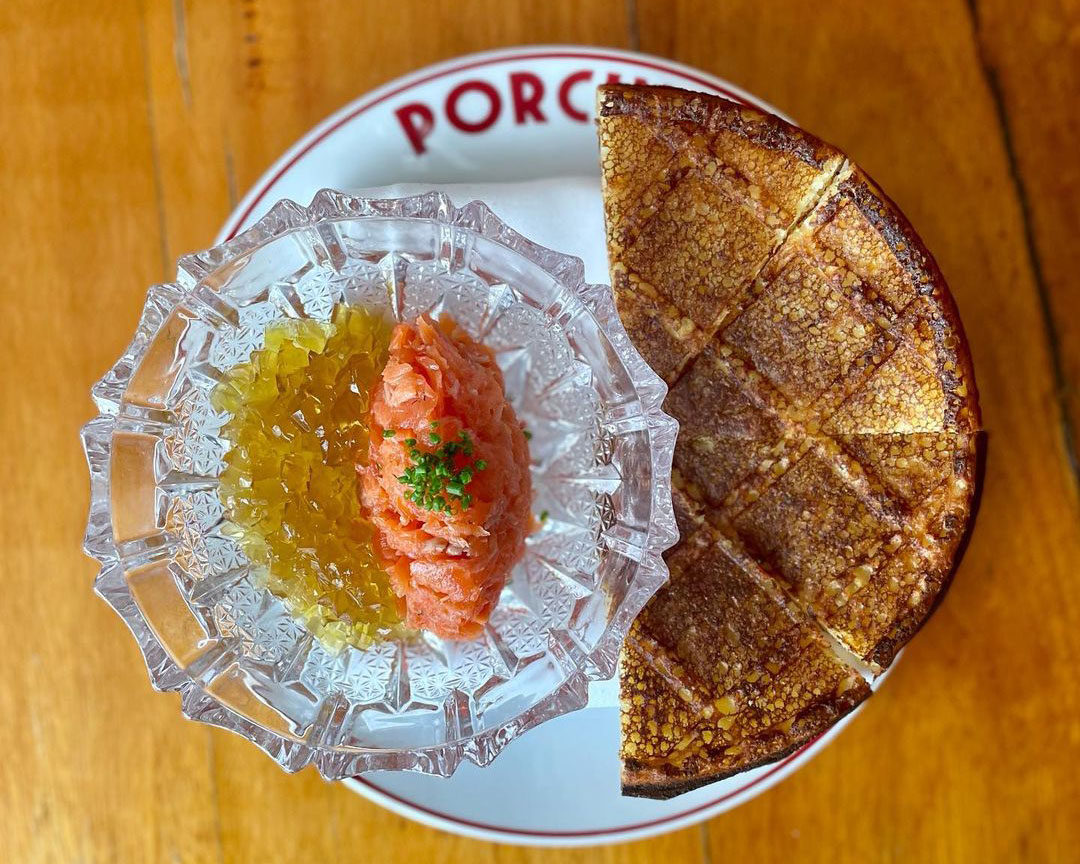 Porcine is named after the French word for "pig-like" and, as you might have guessed, pork is the name of the game here. Owner and head chef Nicholas Hill and Harry Levy have converted the old Micky's cafe on Oxford Street into a swanky wood-panelled affair, and, with their stripes earned at hatted and Michelin Star restaurants in Sydney and London, it's clear they mean business.
Each fortnight an entire pig is delivered to the restaurant and every single part of it is used to create ham, pork spreads, and, of course, pork chops. It's a heavily carnivorous affair, though there are vegetarian options. The bistro offers BYO and is situated in prime position above P&V Paddington, a bottle shop peddling the best natural and minimal intervention wines around, so you've got plenty to choose from. Or have the team here recommend something from their strong selection of French tipples.
Bistro St Jacques
Redfern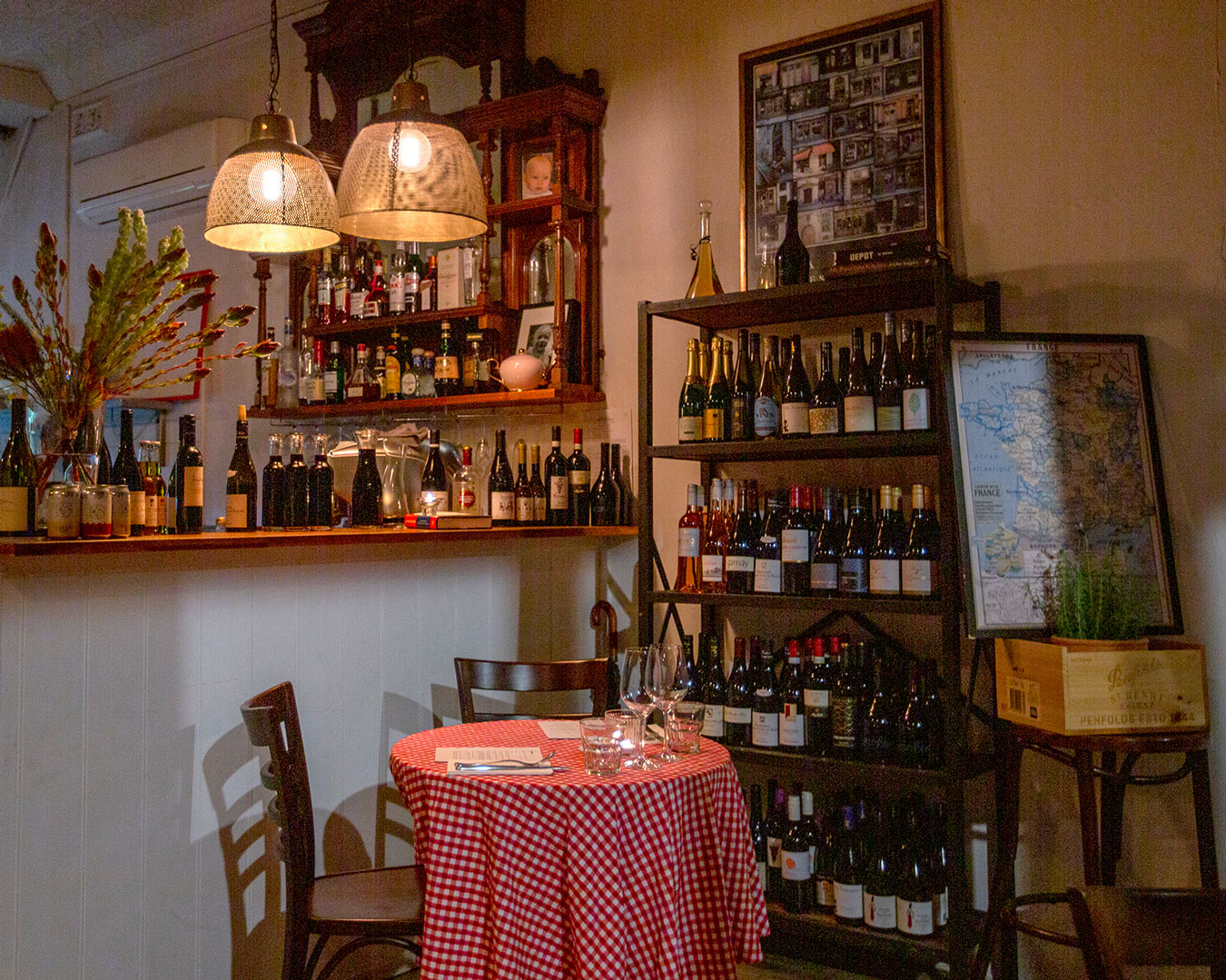 The little red bistro on Pitt Street in Redfern has been serving its loyal clientele for the past nine years a beautiful selection of unpretentious, honest delicacies. Bistro St Jacques is another entry in the "timeless" French bistro experience with lighter finishes to the traditional classic French techniques. Their Southern French-inspired menu means less butter and cream and more olive oil, seafood, and fresh vegetables.
It's all about creating "food that people go back to time and time again," owner Gary Prebble tells us. The seared scallops with mushroom duxelle and gruyere cheese have been a firm favourite since the beginning and they offer a good selection of natural, low-intervention, and organic wines too. French cuisine is famously unfriendly to herbivores however Bistro St Jacques also offers a vegan degustation.
Felix
CBD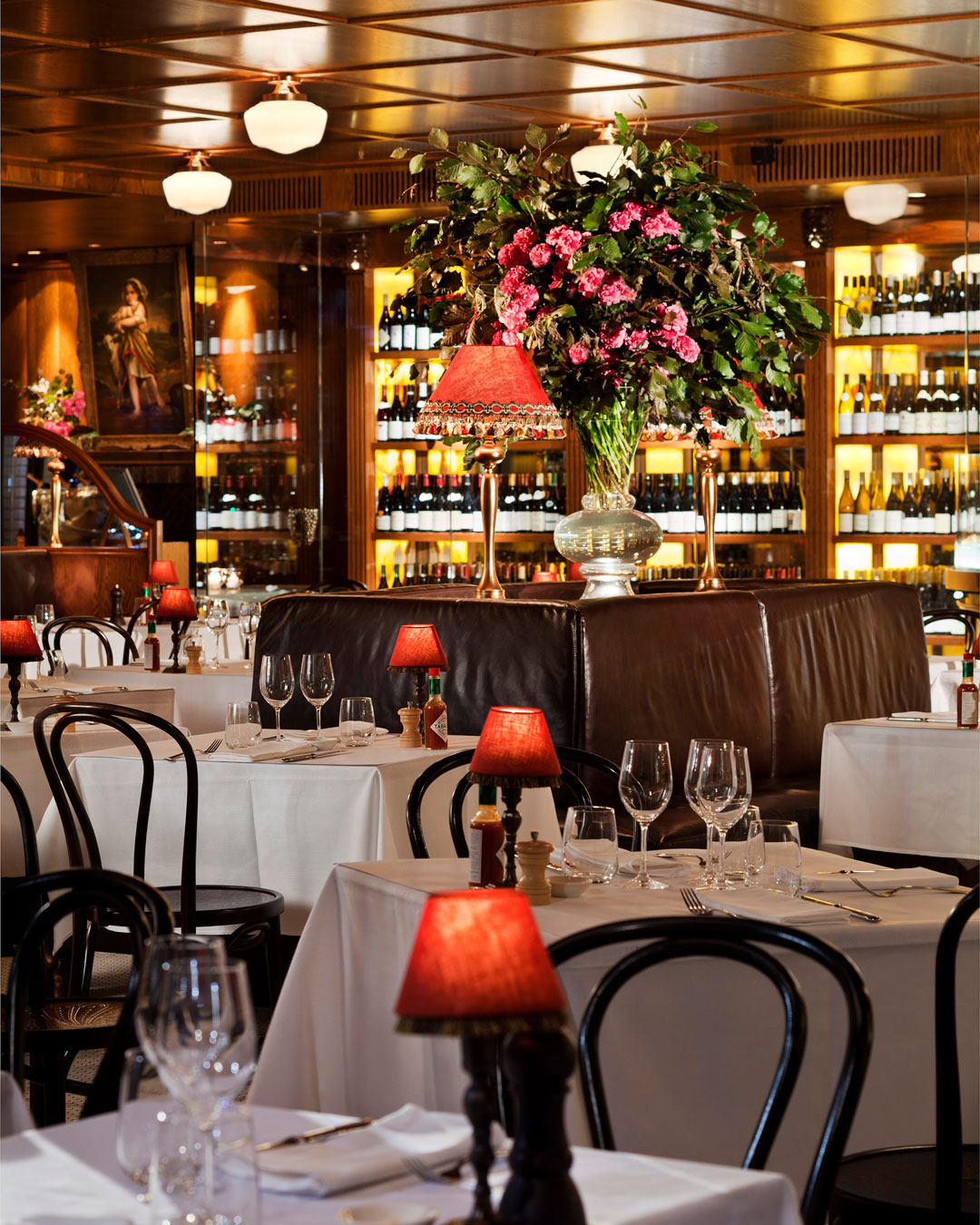 Felix is pretty much the closest thing you can get to being in France without getting your passport out. Surrounded by shelves of wine and under the glow of French-imported chandeliers, you can select your meal from the iced-up fresh seafood bar that serves as the main attraction to the venue. It's Merivales take on French luxury and offers extravagant dishes like whole rock lobster, côte de boeuf, and two kinds of caviar. Next door is Little Felix, a Parisian-style speakeasy specialising in roaring 20s inspired cocktails and indulgences.
Bistro Rex
Potts Point
Included in our best of Potts Point list, French local Bistro Rex has been making waves in the area since 2018. It's an easy, European hang out spot, the kind of place you can read the paper (maybe in a bowler hat) over a light charcuterie lunch or sip a Rex old fashioned in the evening before a show. Exec Chef Jo Ward is a butchery specialist meaning their cuts are choice and their steak frites some of the best in town. Using some of the best local Aussie produce, the team here at The Rex pride themselves on being able to offer the best of France in a new-world setting.
Bistro Papillon
CBD
When owners Ludo and Xavier met in the UK, they frequented a French bistro in Bath called Papillion. Coming to Australia, they opened their own restaurant under the same name in tribute to the place they loved and classic French cooking in general. "We've always kept things simple," Ludo tells us. "Old recipes, our grandma's recipes, but also French classics. That's our concept."
The walls inside are decorated with emblems from their decades of travel and hospitality work, telling the history and story of the venue, and the arch column entry is the perfect spot for a French experience. With ingredients sourced from France and the markets and butchers of Sydney, the pair pride themselves on simple French classics like duck confit, beef bourguignon, and escargot ("some people just rave about it!"). It's a hearty, warming place perfect for a winter feast.
Gavroche
Chippendale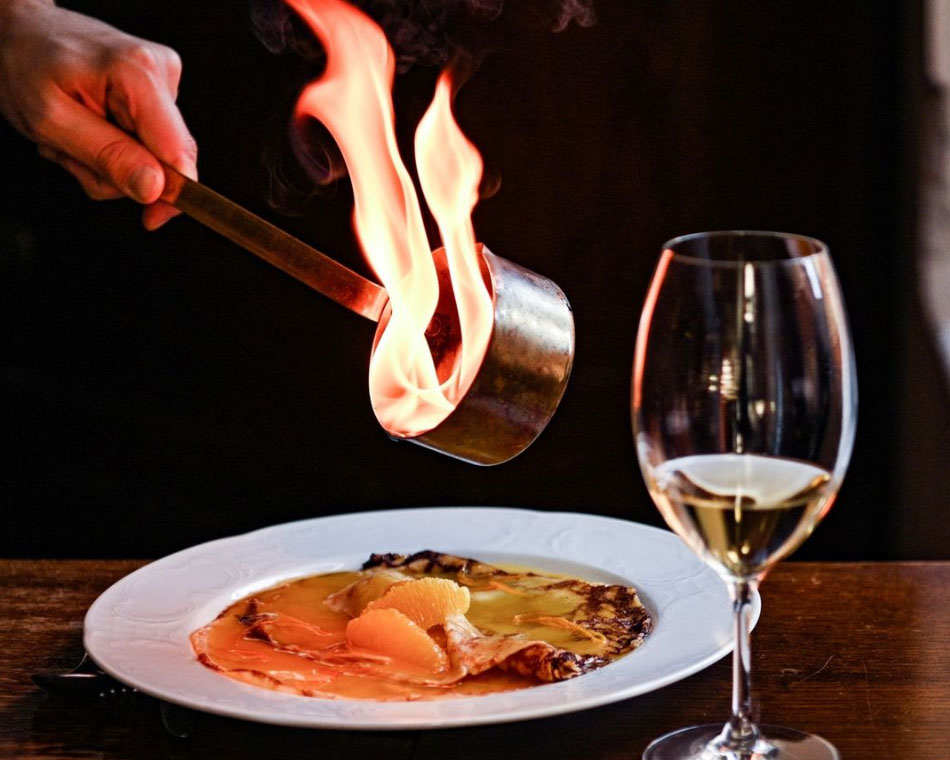 Hidden amongst the clamour of spice alley is a quaint French diner named after the urchin boy in Les Misérables. That being said, the food is very far from the street food of France and the menu is packed with big-hitting classics like pork confit, bowls of creamy muscles, and a whopping 450g chateaubriand. It's certainly a refined French experience but an entirely wholesome one at that. The staff here are friendly and attentive and happy to guide you through their menu and suggest wines to go with each course. The grand finale is the crêpes Suzette flambées: a bowl of freshly made crepes swimming in grand Marnier sauce and orange slices brought to your table and set alight. It's as boozy and heady as you would expect.
Bistrot 916
Potts Point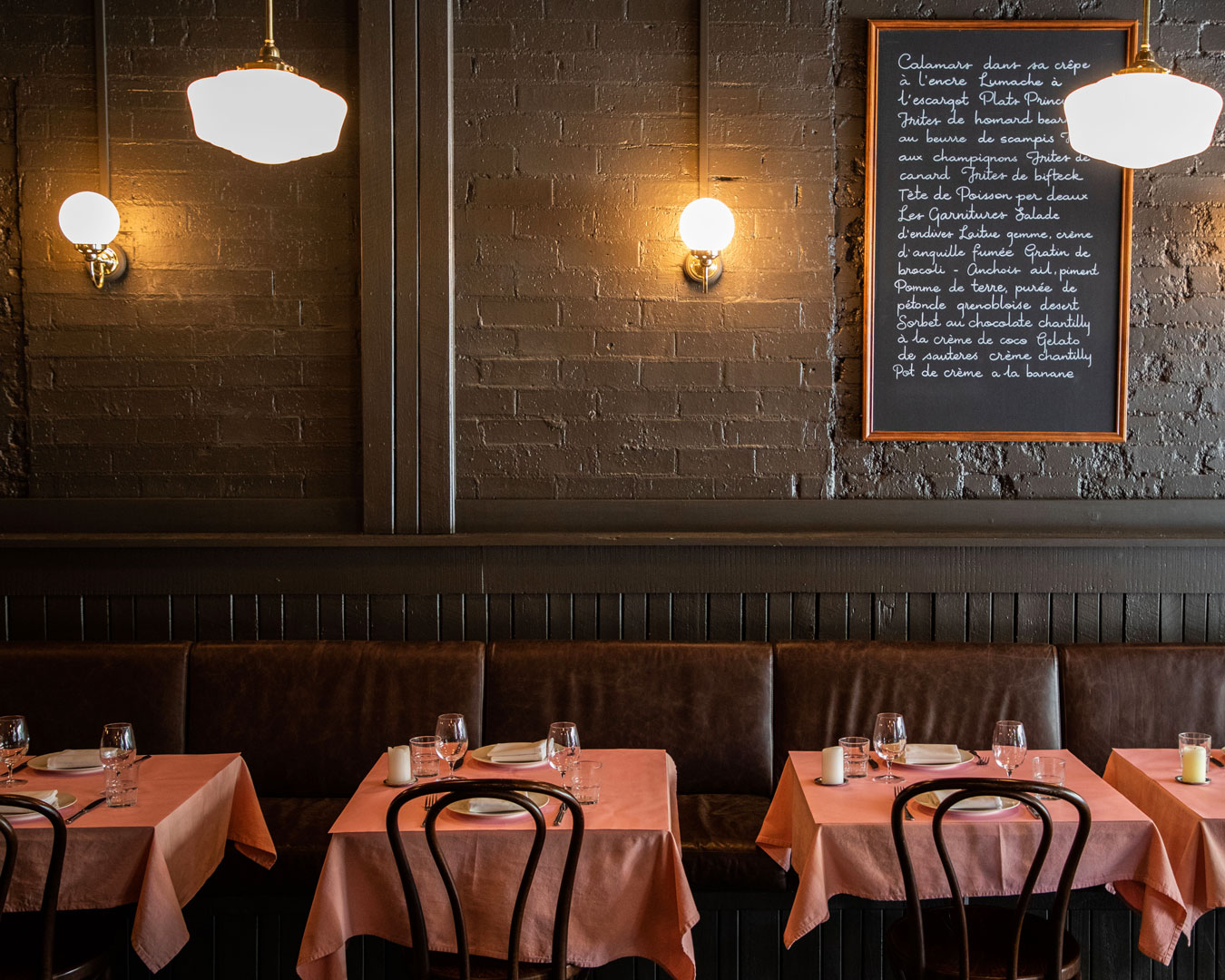 Newbie Bistrot 916 nails the French atmosphere—something hard to describe but impossible to miss (it could be the candy pink table cloths). The recently opened dive into French seafood is helmed by head chef Dan Pepperell of Restaurant Hubert and 10 William Street fame. It's heavy on the French specialities, not shying away from things like escargot and lambs brains while bold enough to tackle a range of frites dishes that leave very little room for error. The wine list is, as you would expect, replete with new offerings from the Burgundy, Champagne and Châteauneuf-du-Pape regions as well as some stellar homegrown drops.
Bistro Cocotte
Haberfield
With a fairly nondescript exterior, Bistro Cocotte manages to surprise and delight at every turn. It's owned and run by a Korean-born chef who has had a passion for French cuisine since childhood and perfected his skills over ten years in France, earning a degree in culinary skills at Le Cordon Bleu and working in restaurants throughout the country. It's all been in preparation to bring you a truly French experience, seen through the eyes of a devotee with something to prove. Indeed, Cocotte has become a firm a local favourite since opening over five years ago. Its all-star line up of classic French dishes are executed with flair and a focus on rich, complex flavours. The tuna crêpe and twice-baked spinach and camembert soufflé are particularly high notes here.
La Renaissance Patisserie And Cafe
The Rocks And Waterloo
What would any French expose be without at least one patisserie? The French are arguably the most famous for their pastries and the idea you can have dessert for breakfast. La Renaissance in The Rocks and Waterloo has been in the same family since it opened in 1974 and has a distinctly French edge to it. Its stark interior feels as though you're shopping for jewellery on the Champs-Elysées except behind the glass is an array of exquisitely designed cakes and glazed treats. The main area gives way to a leafy pink courtyard out the back, showcasing another French speciality: the lazy cafe session over endless coffee and pastries. It's a good time. The croissant as an art form is one that's very difficult to get right. The perfect balance of crunch, softness and pull-apart texture has to be achieved. Get down here early and you may just get the chance to experience a true exemplar of the craft.
LoLuk Bistro
Surry Hills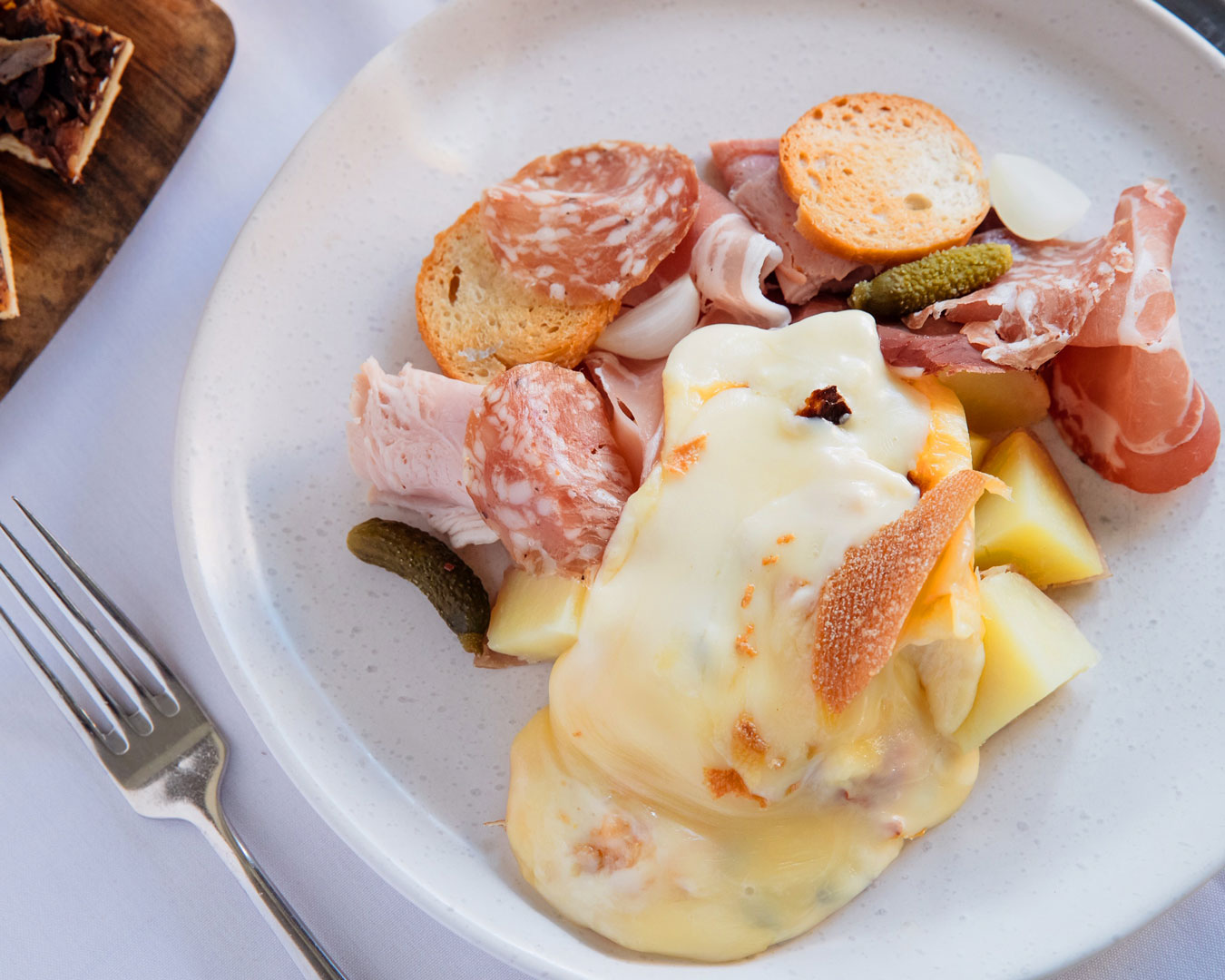 At the top end of Bourke Street is a tiny home-away-from-home tucked behind a few potted olive trees that feel like a direct transplant from France itself. LoLuk Bistro is owned and run by two brothers who arrived in Sydney from Provence with their backpacks on and no idea about hospitality. Since 2016, they've turned LoLuk Bistro into one of the linchpins of French dining culture in Sydney.
Their philosophy "comme à la maison" means "feel like home", and they tell us that they "try to bring as much of Provence to Sydney" as possible. The menu features recipes derived from their grandmothers' cooking like a lavender crème brûlée and a duck breast with homemade Provençal gnocchi. On Tuesdays, they do bottomless raclette, which means an all-you-can-eat mountain of liquid cheese over veggie or meat offerings that are just as indulgent as they sound. Go with the classic French onion soup to start, you won't be disappointed.
Keen to visit Loluk Bistro soon? Purchase a gift voucher here.
Restaurant Hubert
CBD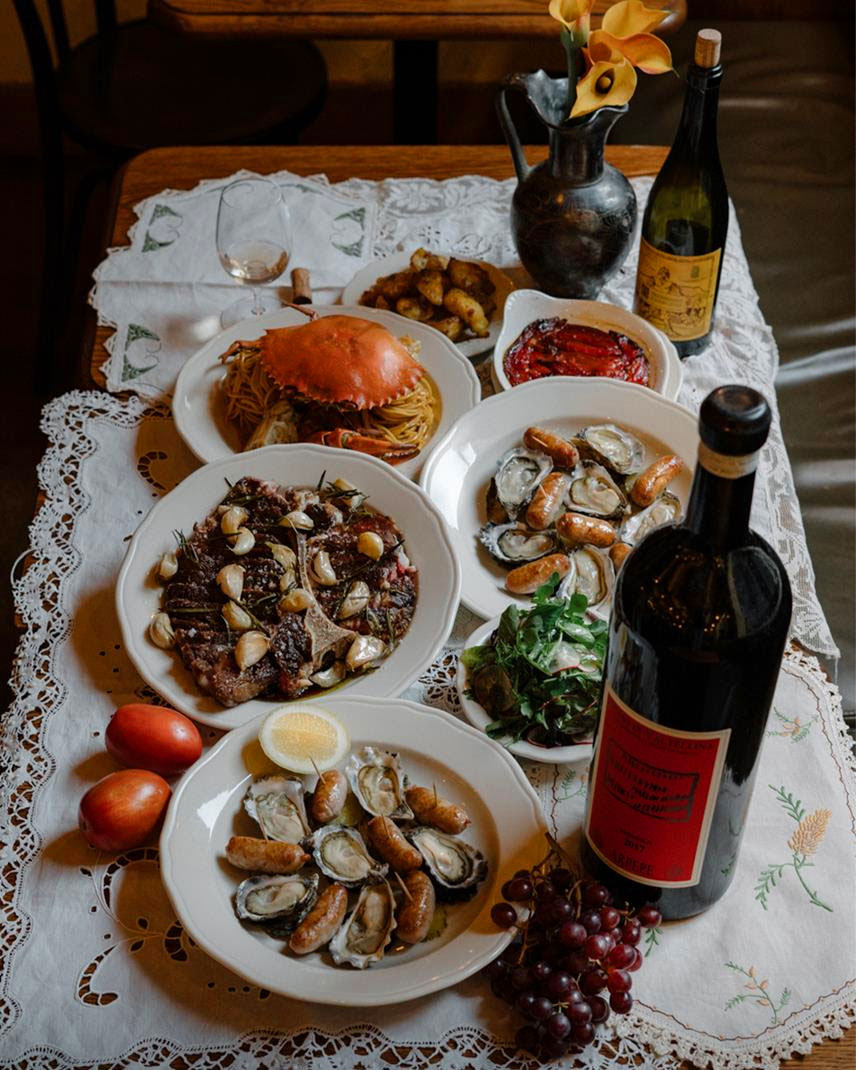 The underground swinging sensation that is Restaurant Hubert is a must-do for any Sydneysider looking to get their Gatsby on. They describe it to us as "post-war French bistro", which sounds like something we could do with as the pandemic eases up. Hubert is brought to you by the boys behind some of the city's best venues including Shady Pines, The Baxter Inn, and 10 William Street. With live jazz echoing around the mahogany walls through the week, you really are hard-pressed not to have a good time here.
Diners are welcome to chill out at the bar and sip champagne or tuck into the extensive French feast that is the menu. The star dish here is the chicken fricassée which is steamed until it's "juicy and tender, fried for its golden crisp skin, then served over a rich bread sauce." The bar actually holds the title for the largest miniature spirit collection in the Southern Hemisphere totalling 4,000 bottles purchased from a private collection. It's a stunning spot and the perfect place, as they say, to "linger long into the night".
Now, check out Sydney's best Chinese or Sydney's best Greek restaurants.
Image credit: Swillhouse, Nikki To, Steven Woodburn, The Strand, Whalebridge, Porcine, Swillhouse, Bistro St Jacques, Merivale, Gavroche, Jude Cohen, Daniel Boud, Swillhouse