Motel glow-ups are definitely becoming a thing in NSW, and we are all the way here for it. Once the perfect inexpensive overnight pit stop for a road trip up the coast, they've since become a more stylish spot to rest your head, complete with cool amenities and designer furniture.
If it's a nostalgic, retro experience you're after—the sort that feels like a William Eggleston postcard, but less Memphis, and more Brunswick Heads—check out the best motels in NSW.
Coming Soon: Motel Molly
Mollymook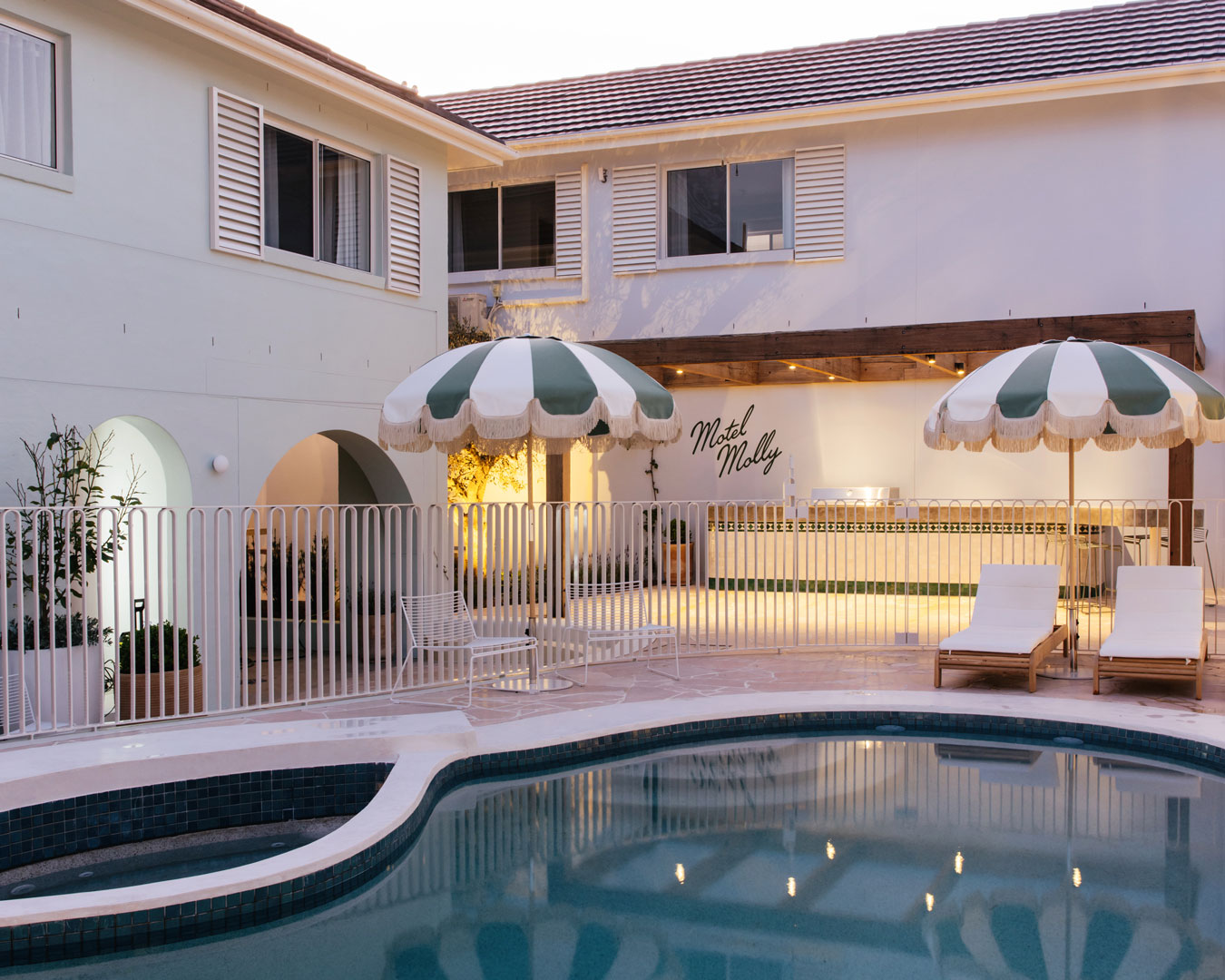 Slated to open next week, Motel Molly is a reimagining of the iconic Surfbeach Motel in sunny Mollymook. Painted in sweet gelato hues, the redesign is the work of award-winning architecture design practice Richards Stanisich. Here, you'll be able to take your pick of roomy three-bedroom residences and two-bedroom apartments—perfect for a South Coast group getaway. Some come complete with Moroccan-style sunken baths and breezy balconies, and each has access to the stunning retro swimming pool and BBQ area. Little luxuries are peppered throughout, like Le Labo Santal 26 scented candles, room sprays, and bathroom amenities, Moroccan ceramics and textiles by Lrnce, and Spence and Lyda and McMullin & Co furniture.
Motel Molly will open on Thursday 1 December 2022. Bookings are now open.
The Isla
Batemans Bay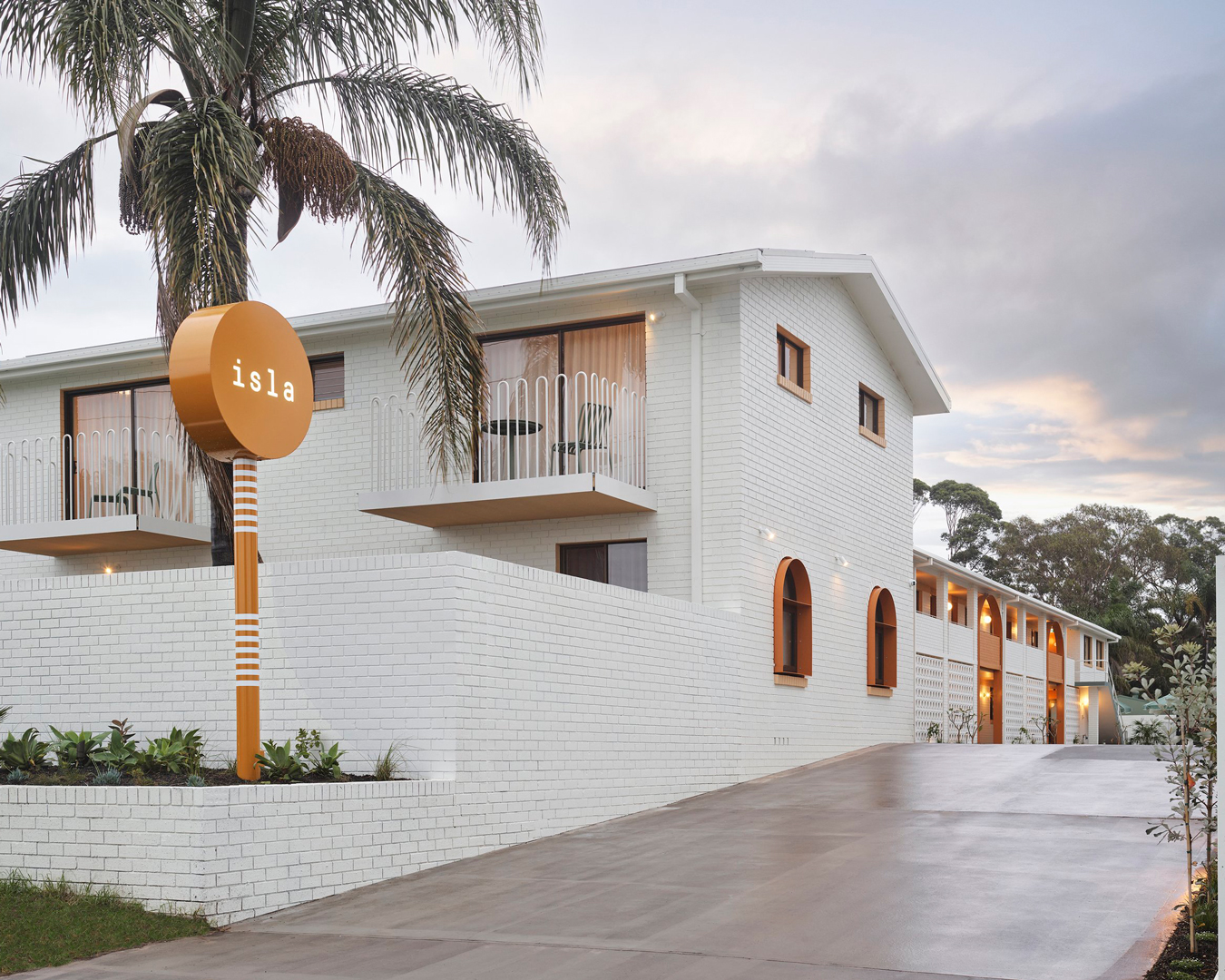 This aesthetically pleasing coastal motel offers 18 rooms, with some major nostalgic nods to its 1980s history. The redesign is the work of award-winning architects at THOSE and each room features bespoke oak furnishings, dreamy A.H Beard beds, and contactless check-in. If it's available, we highly recommend booking the Grande Suite for your own private pool.
Outside, the old garage has been converted into a stunning pool lounge. Take a dip in the new pool, or pull up a seat in the communal dining area, dotted with retro umbrellas. We love the bespoke vending machines serving up local goods and produce like Poor Tom's G&T's and ST ALi Espresso Martinis.
Kyah
Blue Mountains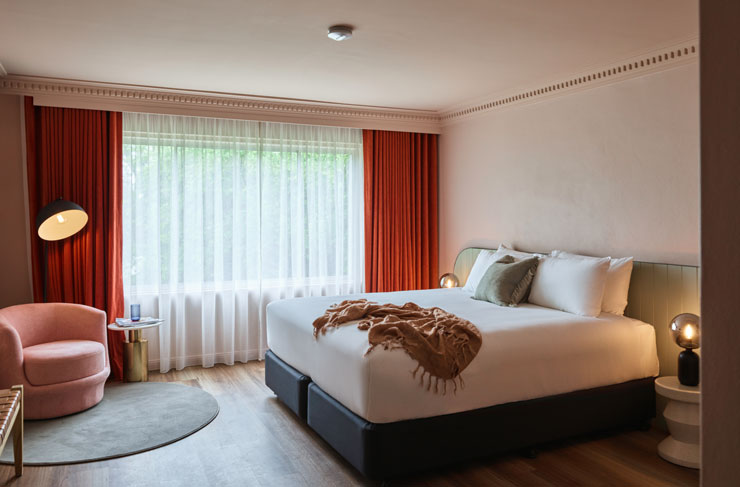 MKD Architects have redesigned this 70s-era motel into a plush 46-room mountain retreat. Throughout each of the hotel's three wings, which are named Meehni, Wimlah, and Gunnedoo after the Three Sisters, you'll find blush pink archways, Art Deco-inspired furniture, and plush velvet drapery. It's Palm Springs meets the mountains.
Choose from roomy king suites, two-bedroom suites, spa suites, family rooms, and extra-spacious family suites—each with its own individual access, complimentary WiFi, smart TVs to stream your own content, and a minibar filled with local goodies like craft beer by Katoomba's Mountain Culture and cookies from Whisk and Pin.
Set across two acres at one of the highest points in the Blue Mountains, Kyah features a tennis court, steam room, fireplaces for wintertime, vegetable gardens, one of the Southern Hemisphere's oldest cherry blossom trees, and a sprawling 170-seat on-site restaurant, Blaq.
The Sunseeker
Byron Bay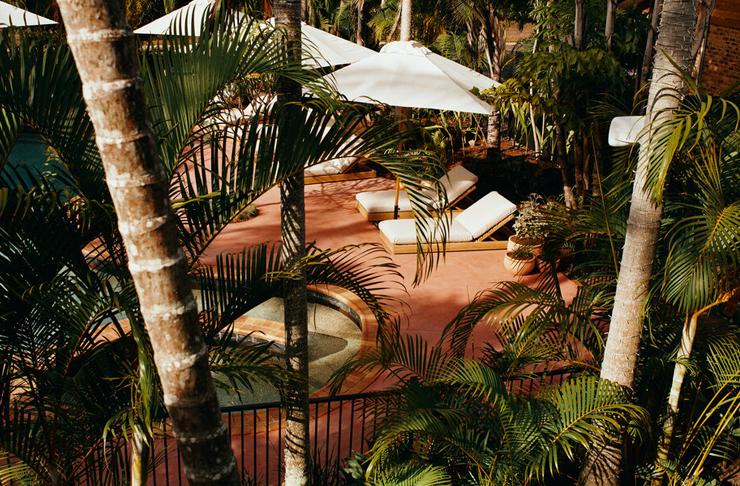 This boutique low-rise motel has a lot of things going for it. The entire building has been consciously constructed, from its 82 solar panels and recycled timbers to its hemp insulation and repurposed slate tiles. Along with this, The Sunseeker sports four sprawling gardening beds, each containing a Subpod so the motel is able to transform its green waste into compost to feed the garden.
As for where you'll find The Sunseeker, it sits on Bangalow Road, just a short walk from the beach, Arakwal National Park, and Cape Byron Lighthouse. The motel is made up of 12 traditional-style hotel rooms (all of which boast their own private patio or balcony) and a handful of next-level California-inspired bungalows as well. The timber panelling on the bungalows has been sanded by hand and every room will give you your own deck, BBQ, private garden, bathroom with a walk-in shower and recycled Italian terracotta tiles, bamboo bedding, and a dreamy outdoor bath.
You can also amp up your stay with a selection of custom grocery packages prepared by the legends at Bay Grocer. Order the crumpet breakfast, fresh charcuterie board, or an entire dinner banquet, featuring pork sausages, Dutch cream potatoes, and Yalla chocolate mousse.
The Sails Motel & Pool Club
Brunswick Heads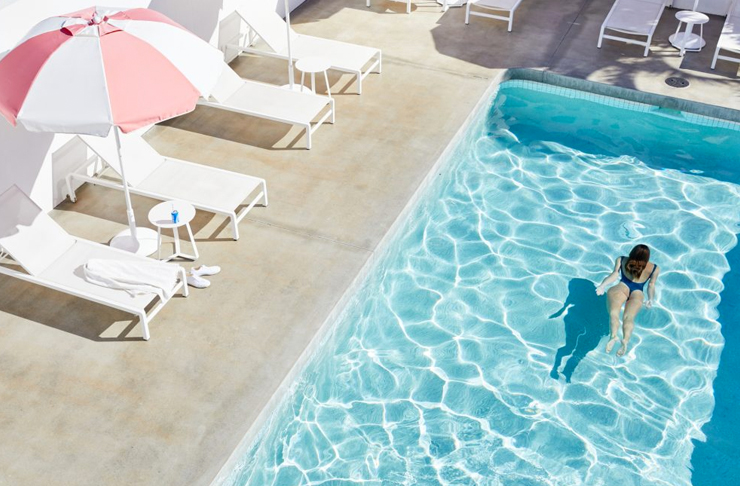 Let's be completely honest, as soon as you hit Brunswick Heads you feel like you've had a brief encounter with a DMC DeLorean (Back To The Future style) and been sent to the peak of retro vacationing in the middle of the 70s.
There aren't many motels that hit quite like The Sails Motel in Brunswick Head does. The Sails offers up 22 separate rooms in a Palm Springs-inspired setting that'll make you feel like you've jetted across the world to Coachella. Here, rooms range anywhere from a simple studio design to digs that can comfortably fit up to six guests. Though we hate to admit it, every point of this epic motel is a stellar photo opportunity you're not going to want to miss.
Your dope facilities here look like a beautiful blue swimming pool with white sun chairs and striped brollies, a pool bar, and, if you can cop a five-minute walk down the road, one of the best pizza restaurants in Brunswick, Saint Maries.
Chalet Motel
Brunswick Heads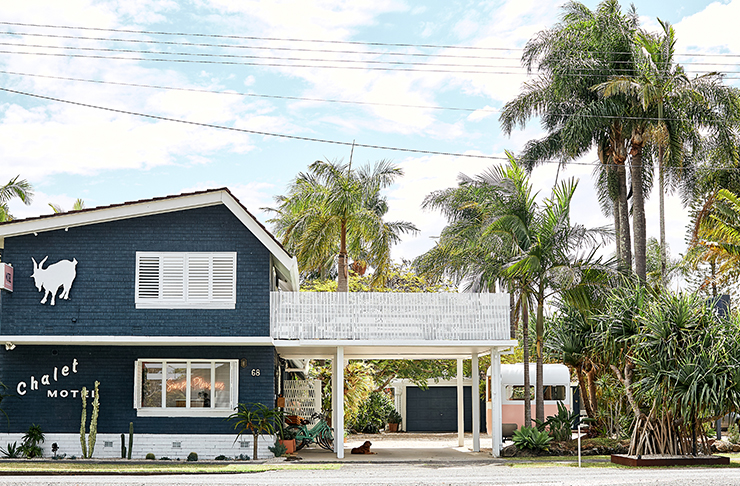 Just down the road, you'll find The Chalet Motel, another boutique motel giving you all the bang for your buck. Sporting a 60s-era aesthetic, you'll feel like you're on the set of Now And Then. The Chalet Motel has everything you could possibly need to make that ultra-charming film come alive like bike riding, swimming in the Brunswick River, a trip to the old Brunswick picture house and of course, bakery treats from the rustic-but-delicious Brunswick Bakery (the blueberry tarts are a must).
Offering 12 stylish double, queen, and family-style motel rooms, this stunning spot also has a saltwater swimming pool and is the only dog-friendly motel in Brunswick Heads.
Blueys Motel
Blueys beach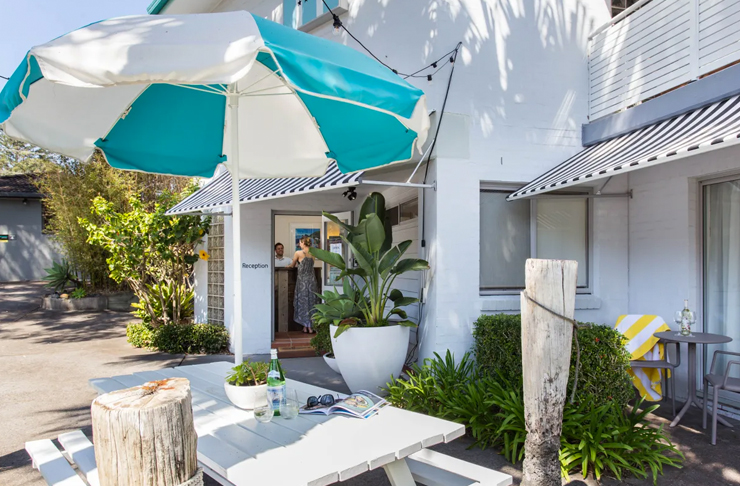 Set your motel sights on the straight-up champion of beach motels known as Blueys Motel. Located on Blueys Beach on the Barrington Coast in NSW (a super easy three-hour drive north of Sydney), this intimate stay has just 10 rooms for all the private and secluded vibes. The motel hits like a refreshing beachside post-swim margarita on a scorcher of a day and has everything from a glossy outdoor pool, spa, sunbeds, and a leafy courtyard. It's also just a short stroll from the beach. Blueys is the perfect budget accommodation for when you're road-tripping around the Mid-North Coast of NSW.
The Mid Pacific
Port Macquarie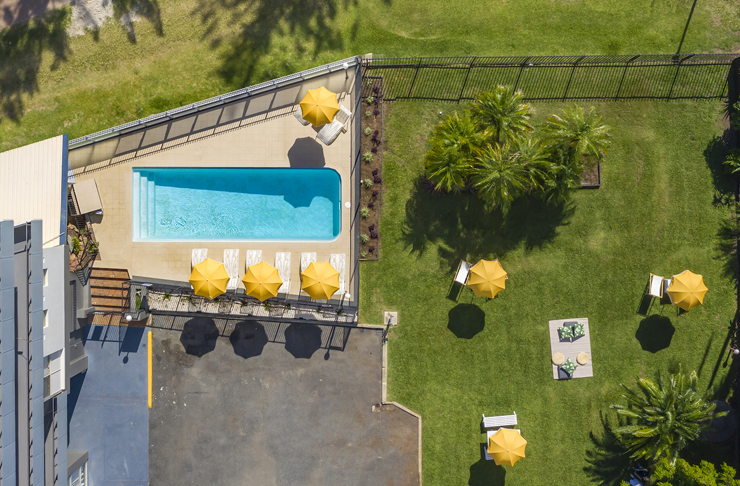 The beauty of this budget stay in NSW is that it just so happens to be sitting on a gold mine of local adventures. You'll find four different types of rooms here ranging from cosy sleepers, if you're just making an overnight pitstop, to more spacious suites, if you're committed to an entire weekend and need stellar but wallet-friendly accommodation.
After exploring Diamond Head, Middle Brother National Park, Grants Beach, Queen Lake, and a whole slew of other adventures, this no-frills motel also has a saltwater swimming pool that gives you panoramic views of the Hastings River. Before you ask, no—it's not uncommon to catch sightings of dolphins popping up along here. The Mid Pacific also features two spacious indoor, heated spas which also (no surprise) overlook the river. To top it all off, there's a perfectly manicured lawn just waiting for you and your mates to indulge in the ultimate sundowner session.
Now, check out our hit list of the best Airbnbs in NSW for less than $150 per night.
Image credit: Motel Molly, Motel Molly, The Isla, Steven Woodburn, The Sunseeker, The Sails, The Chalet Motel, Blueys Beach Motel, The Mid Pacific Motel
Editor's note: Urban List editors independently select and write about stuff we love and think you'll like too. Urban List has affiliate partnerships, so we get revenue from your purchases.