For Sydney food stylists and business partners, Alexandra Heard and Heleena Trahanas, life and business are all about taking your pleasure seriously.
"For us, the lines between business, food, and life in general, is blurred," says Heard.
Having met at the beginning of their careers working at titles like Gourmet Traveller, Vogue Travel, and Vogue Living it was here that their journies in food styling began, assisting on shoots and working events.
After leaving publishing and pursuing careers in design and food, a mutual love for travel brought them back together in 2017 to create digital lifestyle concept and Paddington store, ALEX AND TRAHANAS. A mecca for handmade and hand-painted ceramics, bold jewellery, and chic, androgynous suits, the Italian-inspired brand is all about bringing the warmth of Mediterranean hospitality to Australian shores.
With summer fast approaching—and bringing with it the perfect excuse to indulge in good food and good company—we caught up with the designer duo to uncover their food styling and entertaining tips, and how they perfectly photograph their visual feasts with the help of the new Samsung Galaxy Z Flip3 5G, available at Optus.
Here's how to curate the perfect long lunch, according to Sydney food stylists Heard and Trahanas.
Who or what inspires your work?
The warmth of European hospitality inspires our work. We think a lot about how people feel at the lunch or dinner table engaging with our pieces which all comes back to those feelings conjured up when enjoying lunch at a seaside taverna or trattoria in Europe surrounded by your favourite people.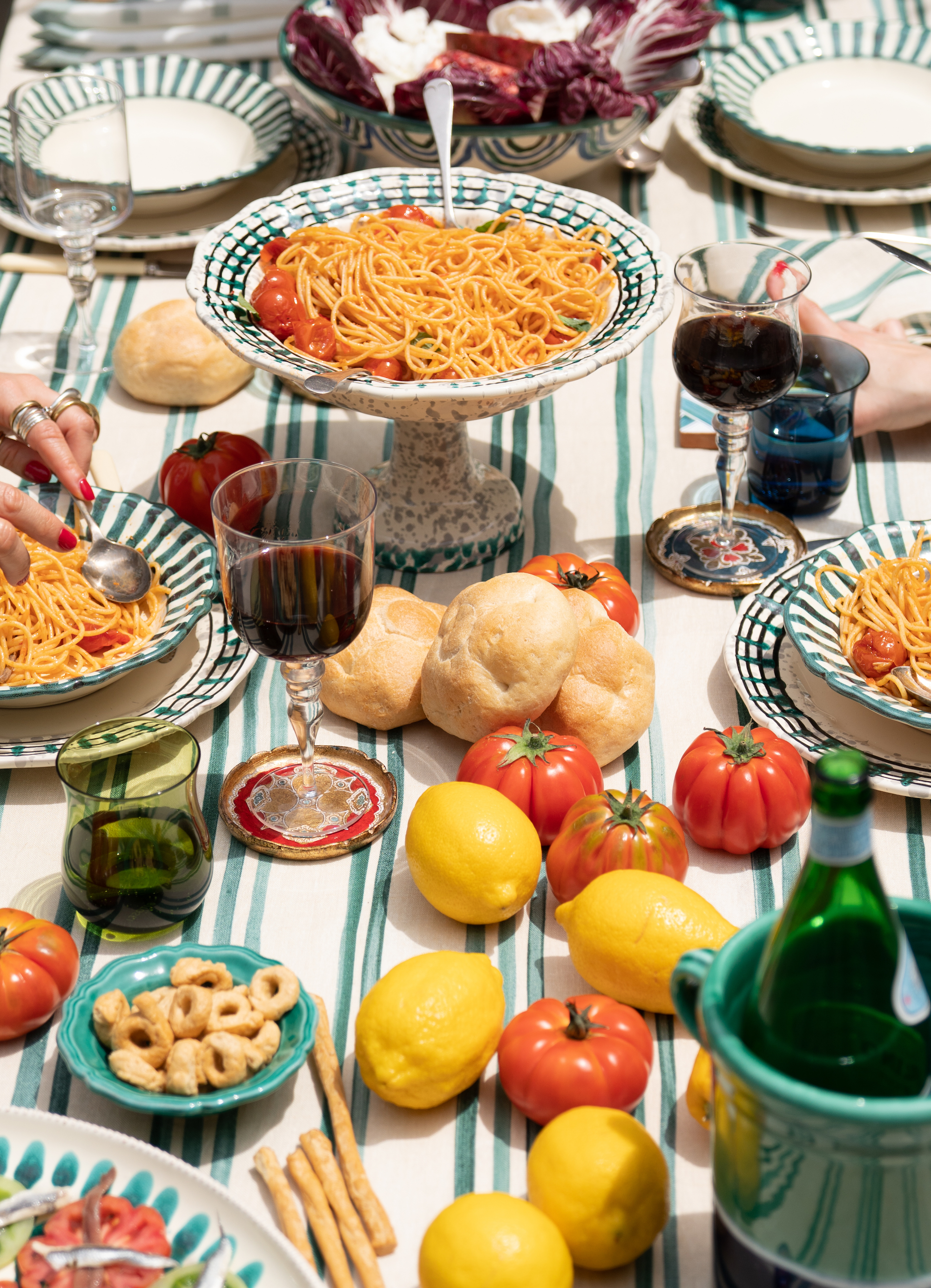 What has been your biggest career 'pinch me' moment so far?
Collaborations with some incredibly talented people we admire: artist and designer Louise Olsen, Carlo, Giorgia and Alessio founders of boutique farmhouse Masseria Moroseta in Puglia, Scott McComas Williams head chef at Ragazzi and Fabbrica, and our most recent collaboration with family-owned Australian design and furniture business Jardan. We also get a real buzz from creating collections and wonderful feedback from our lovely customers.
Tablescaping really took off in popularity this year, do you think that has been a side effect of lockdown as we turned to new outlets for creative release?
This period of time really highlighted the opportunity to tune in and create small beautiful moments within our homes especially when enjoying or sharing a meal.
Do you have any favourite local artisans that you like to source your ingredients?
We have many in Sydney, but a few favourites include Penny's Cheese Shop, Fabbrica pasta, Haberfield IGA, producers at Carriageworks Farmers Markets in Eveleigh, Iggy's Bread, Raffael's Bakery in Haberfield, Grandiflora and Bess in Paddington.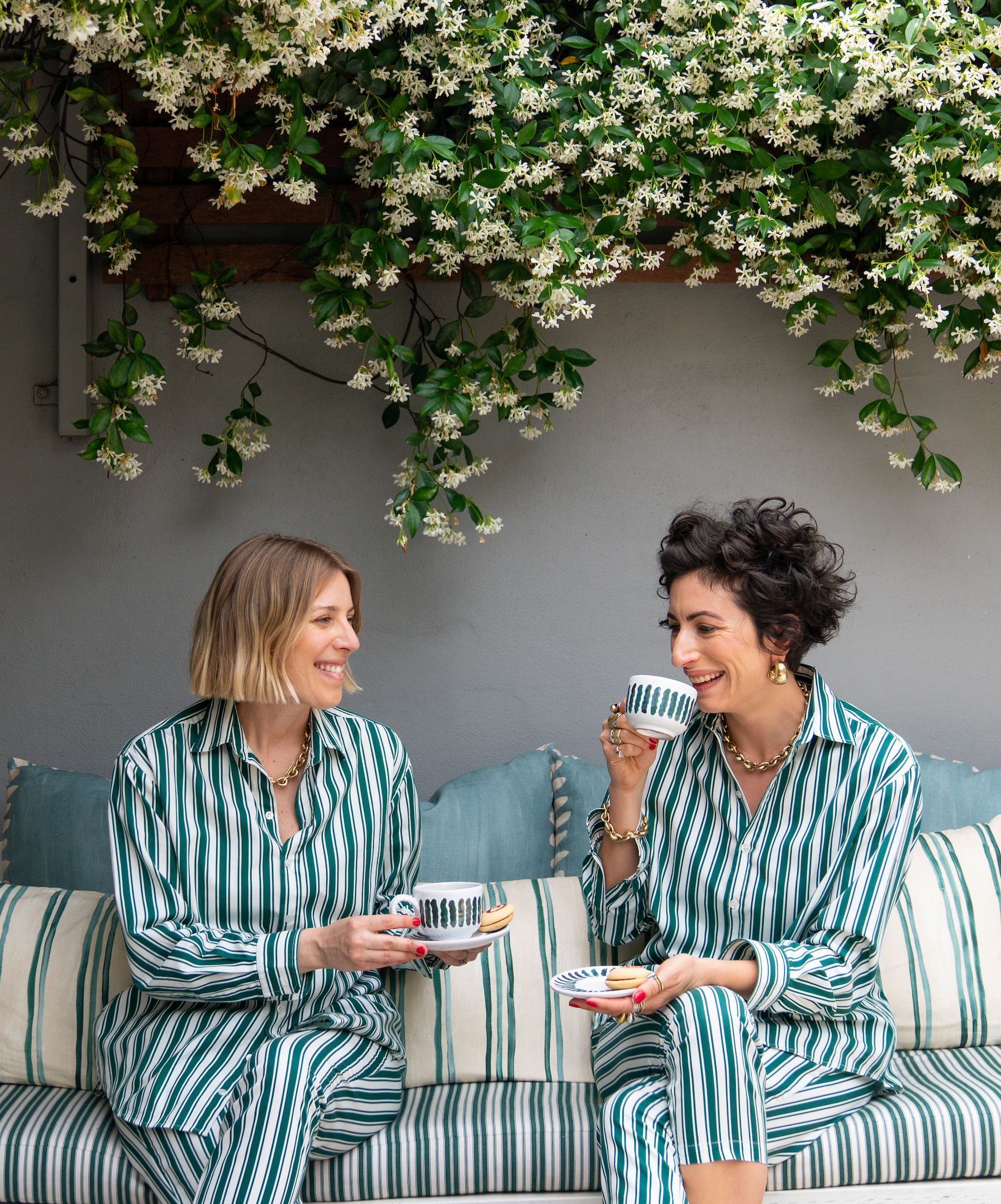 What are your top entertaining and hosting tips?
It's all in the preparation. Dreaming up the menu, drinks and table setting is almost as fun as the occasion itself. Be organised so that all the preparations are done well in advance. Get your family and friends involved so you have extra hands! By having everything done in advance, you can be a warm, relaxed and an attentive host.
Apart from being generous with food and wine, the best menus for entertaining do not require a lot of extra attention when your guests are there, you are merely pulling things out of the oven, assembling, and dressing salads etc. Also, think about the balance and flow of the menu, if your guests are uncomfortably full, it is unlikely there will be dancing later on.
The table is what we live for. To us setting the table is a form of creative meditation and also a visual gift for your guests—there are no rules. Bold table settings are all such a joy to put together, we love nothing more than entertaining with our colourful hand-painted ceramics from Puglia.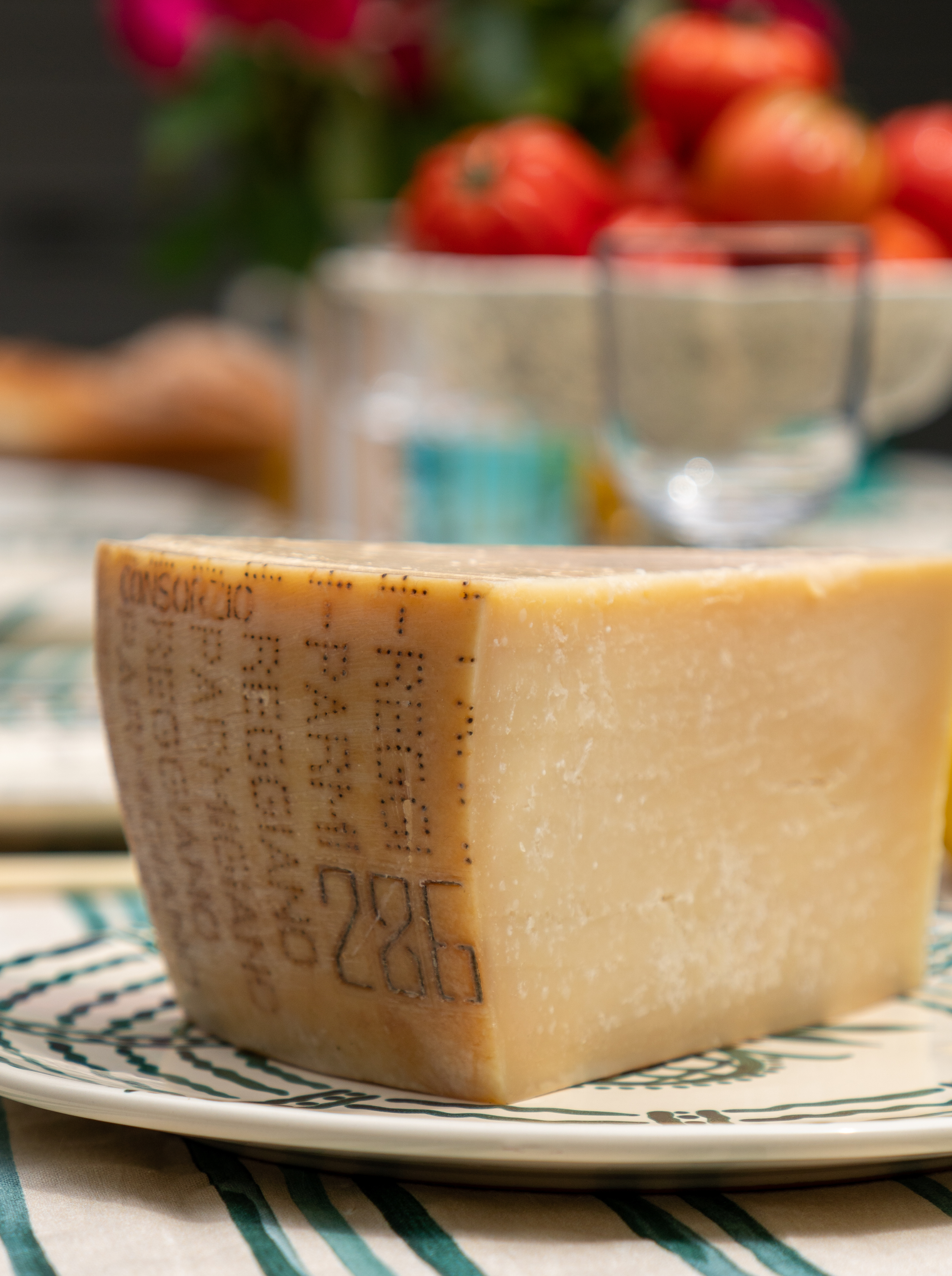 Talk us through your creative process when it comes to curating a beautiful tablescape, Where do you start?
Once we have decided on a menu, we lay the table with one of our new washed linen tablecloths and matching napkins in an Italian print to anchor the space and set the scene. From there, we curate our Apulian ceramics to complement the various dishes, making sure that there are different heights, shapes and colours on the table and set them aside in the kitchen.
Then the table is set with a layered main plate and pasta bowl in a Mediterranean palette, classic cutlery, ceramic water jug, quality breadboard, our woven rattan bread baskets from Ischia and Bitossi water glasses.
Before guests arrive, we have salad bowls and vases filled with bold coloured fruit, vegetables and blooms—whatever catches our eye and is in season at the time. They are then moved to our drinks trolley or neighbouring surfaces when the table is adorned with food.
ALEX AND TRAHANAS is a lifestyle concept that extends beyond beautiful dinnerware and ceramics to fashion and jewellery; How important is it to you both to curate a cohesive theme while entertaining?
We believe there should be no rules for entertaining, it's for the love and joy of bringing people together. We love to think about the full picture of a beautiful rolling lunch or dinner experience, from what is on the table, to what we feel confident and comfortable wearing. Rather than an overtly themed occasion that can feel contrived and stuffy, it's the seamless flow of pieces when combined that creates a relaxed yet gorgeous setting.
Your ALEX AND TRAHANAS Instagram is a dream! Do you have any photography tips when it comes to capturing your tablescapes and sharing them to the 'gram?
We lean on the Samsung Galaxy Z Flip3 5G for our shoots. Colour is really important to our brand and the quality is really exceptional with the Flip3.
Having the option to shoot hands free is really important for us because having hands in shots creates a lot of warmth and movement around the table. When you have to shoot content all by yourself it can be hard to achieve that, so we can really create a lot more and achieve that with the Samsung Flex Mode handsfree option.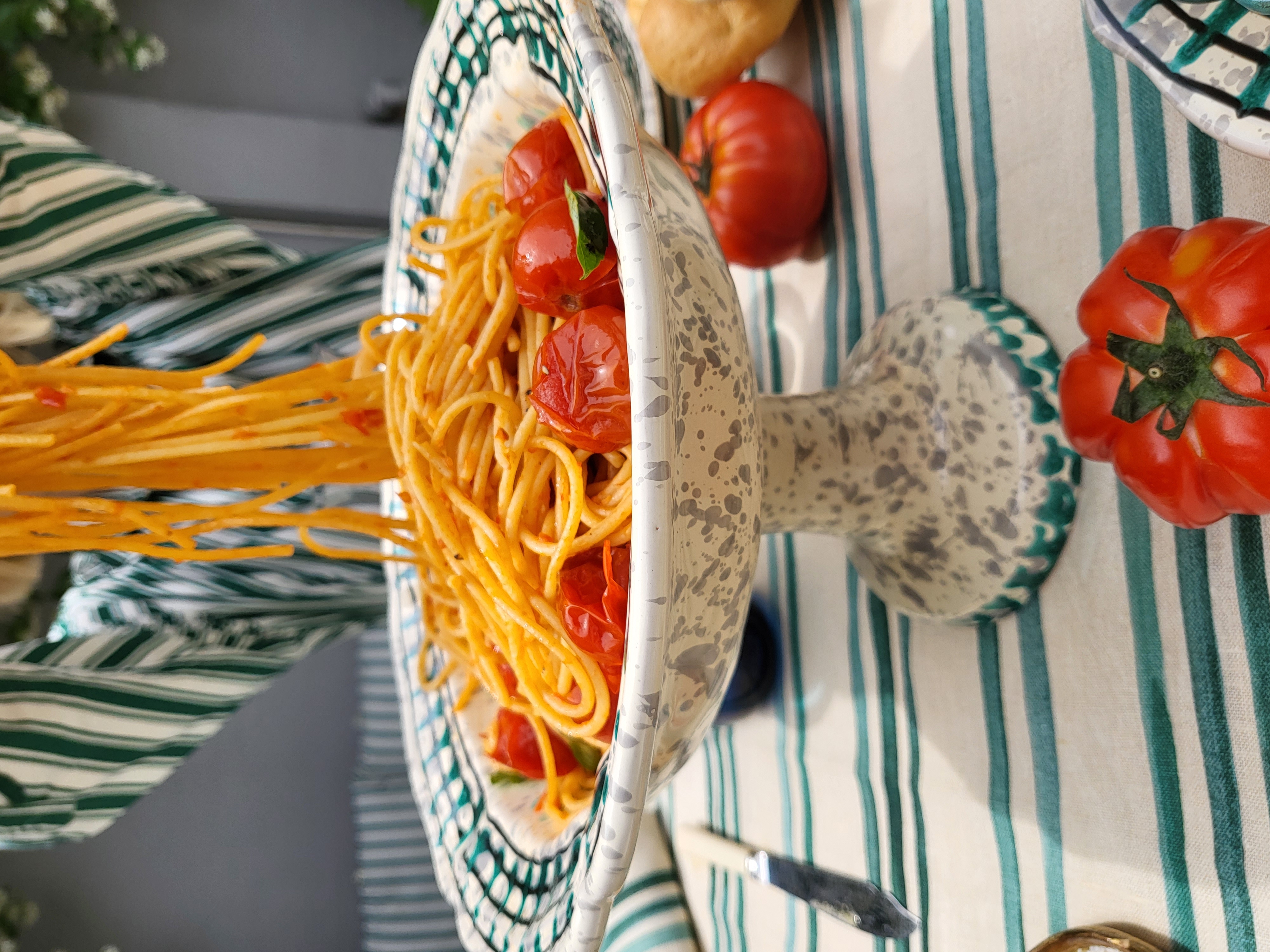 Image taken on the Samsung Galaxy Z Flip3 5G, available at Optus
What advice would you give to someone who's looking to start their own business or enter the world of food styling?
Take your pleasure seriously. The more you put in, the more you get out.
What's next for you both? Do you have any dream collabs in the works?
We have lots of exciting things on the boil. Our new collection just launched which we're so excited to release, as well as many things bubbling away for 2022.
Capture your visual feasts with the Samsung Galaxy Z Flip3 5G available at Optus. With its exceptional camera quality and ability to shoot hands-free photos, there are so many reasons why it's the must-have tech accessory to have in your food styling toolkit.
And the best part is, you can buy it now and pay over a 12, 24 or 36 month period on a device payment plan with OptusPay completely interest-free.
Editor's note: This article is sponsored by Optus and proudly endorsed by Urban List. Thank you for supporting the sponsors who make Urban List possible. Click here for more information on our editorial policy.