Lunar New Year is upon us, which means it's time to celebrate the best way we know how: by embarking on a month-long feasting journey with our friends and family.
This February, The Star is giving us ample opportunity to do just that. Their acclaimed chefs have created a series of special menus to usher in all the good fortune we can handle and more. We're talking decadent seafood feasts, creative spins on classic flavours, dining traditions to bring us luck, and extravagant dishes that take opulent dining to a whole new level.
Ready to set a prosperous, auspicious, and luxurious tone for the year ahead? Gather your family and indulge in The Star's ultimate Lunar New Year dining experiences.
CHUUKA
Prepare yourself for what is quite possibly the most beautiful and delicious salad you've ever tasted. For those of you who zoned out after the word 'salad' - come back to us. This is no bowl of boring leaves. Chuuka's Co-Executive Chef, Victor Liong, has crafted a shared meal packed with Chinese and Malay inspired flavours, featuring greenlip abalone as the star alongside pomelo, summer mango, green papaya, and pickled ginger.
All these delicious ingredients are presented individually on a platter for ultimate pre-dining aesthetics. When you're ready to dig in, your entire table can take part in the Lunar New Year tradition of tossing the salad. Aim high people, the bigger the toss the better the year ahead.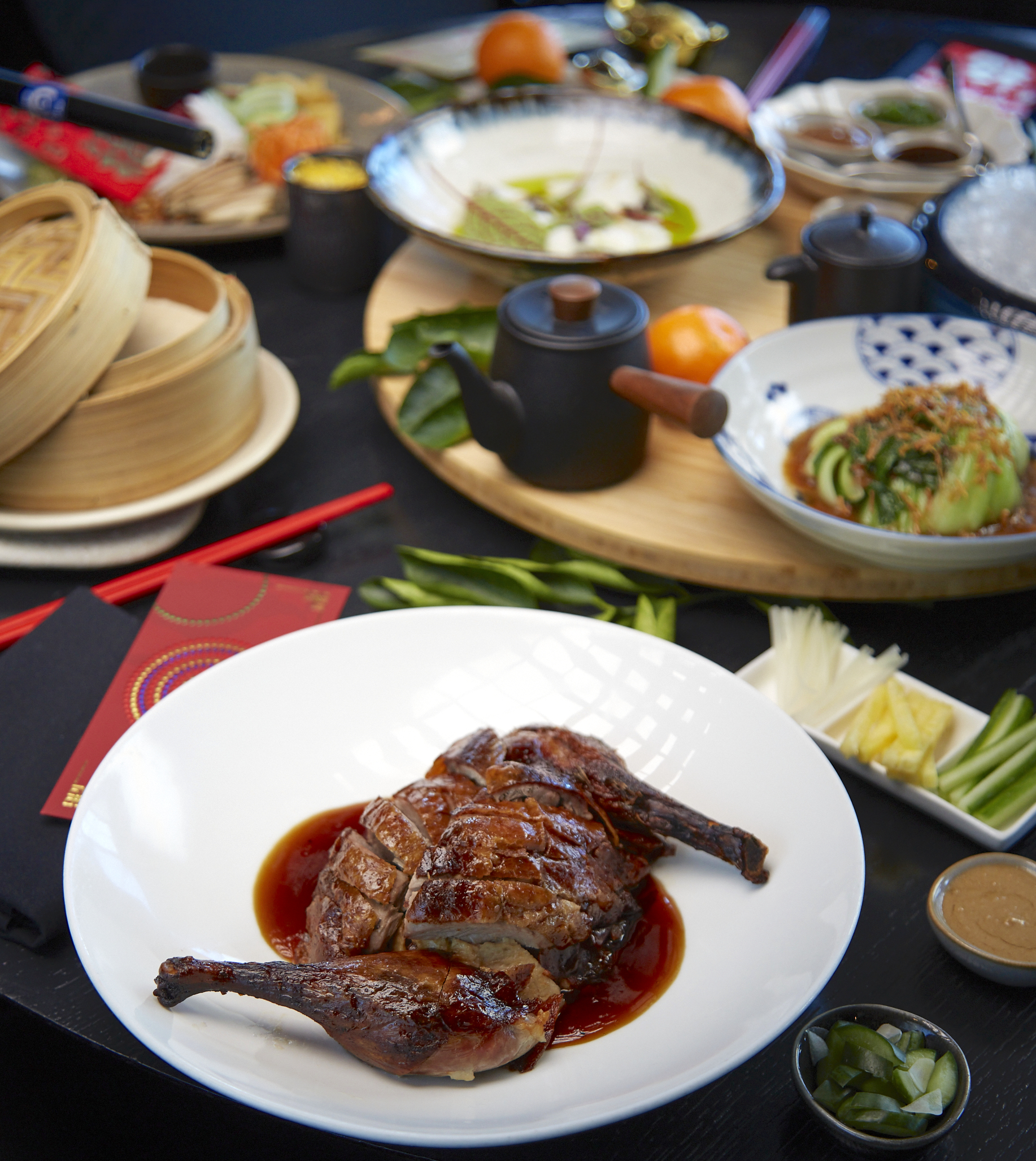 Sokyo
The way you celebrate Lunar New Year sets the scene for the year to come — so why not hit the celebrations hard by indulging in ultimate culinary luxury? Sokyo's Executive Chef, Chase Kojima, had that thought exactly, creating the Opulent Sashimi Platter to rival all other Lunar New Year dishes. Treat you and your family to perfect portions of decadent lobster sashimi, caviar, toro, scampi, and fresh fish that melts in your mouth, all served up on a stunning platter for a mere $628.
If opulence isn't quite in your budget this year, Sokyo has another Lunar New Year dish up their sleeve. Order their braised, Chinese five-spice pork belly. Served with yuzu apple and fried ginger, this mouth-watering dish will kick the year off with rich, lavish vibes.
Flying Fish
What says celebration more than a seafood feast? Flying Fish will be serving up an array of classic seafood dishes, reimagined by Executive Chef Peter Robertson. The idea was to create a Lunar New Year menu born from the same traits that the year of the ox champions, being hard work and honesty.
Book in for prawn, scallop, and pork potstickers, Moreton Bay bug spring rolls, and salt and pepper cuttlefish, all served up with exciting twists and packed with flavour.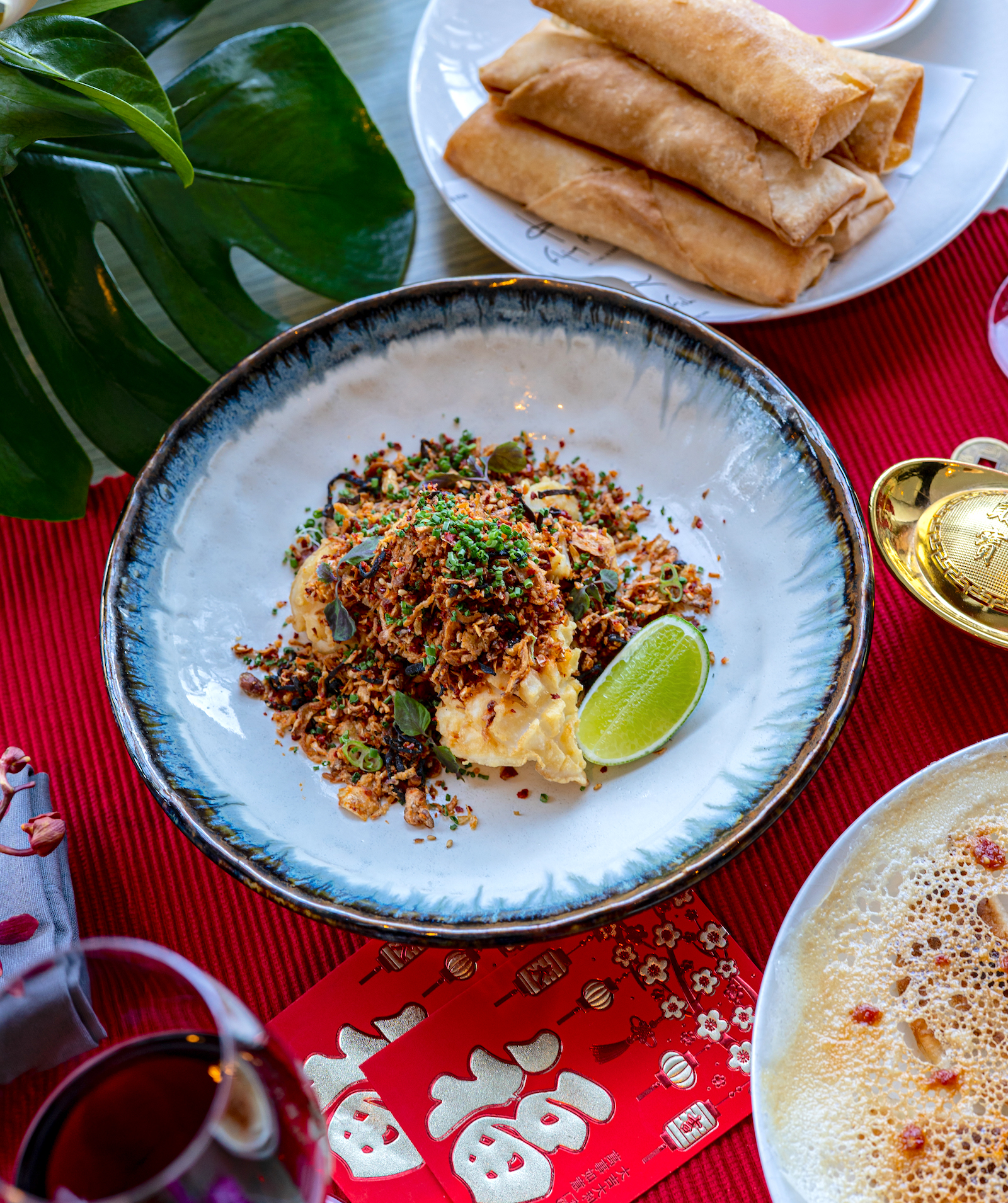 BLACK Bar & Grill
Serving up more indulgent goodness to bring us good fortune and prosperity is BLACK Bar & Grill. Executive Chef Dany Karam has carefully constructed a trio of Lunar New Year Dishes that boast bold and luxurious flavours. The first two shine a spotlight on the match made in heaven that is seafood and butter. Whether you opt for the blacklip abalone served with wakame butter, or the grilled Alaskan king crab smothered in conpoy butter, expect high-grade ingredients that have been flavour-matched to perfection.
Reached your seafood limit? BLACK has you covered with the most opulent steak you may ever eat. For $488 you'll dine on a 1.5kg wagyu tomahawk with a marble score of 7+, served with bone marrow and sawtooth coriander gremolata.
Fat Noodle
Last but certainly not least, we have the restaurant that is always front of mind when it comes to Lunar New Year, Luke Nguyen's Fat Noodle. All for celebrating Asian street food, Nguyen hasn't disappointed this year, bringing us not only a special New Year menu but also three and four-course banquet menus for two.
Across all his menus you can enjoy chicken money parcels, braised baby abalone, and his ever-iconic longevity noodle served with king prawns, scallop, and blue swimmer crab meat. Other favourites worth ordering are the lobster served with creamy salted egg yolk, the lucky kingfish and salmon yu sheng, and chilled pumpkin cream with purple rice for dessert.
Eat up Sydney, with The Star's drool-worthy Lunar New Year line-up this is bound to be our best year yet.
Editor's note: This article is sponsored by The Star and proudly endorsed by Urban List. Thank you for supporting the sponsors who make Urban List possible. Click here for more information on our editorial policy.