Wine pairing? Completed it mate. These days, it's all about the spirit.
Cocktails are no longer the pre-dinner entertainment, but rather taking a full seat at the table; holding strong against their culinary counterparts. Often setting you back the same amount as a decent glass of wine, a nip of whisky or a well-crafted cocktail can be just as exciting and even more complementary to your meal.
But… whisky? With food? It works. Aussie whiskies, like food-friendly and Melbourne-made Starward Whisky, can be much lighter and more approachable (easy) to drink, making them ideal for mingling with (but not overpowering) your meal. They're closer to Japanese whiskies than, say, Irish; which makes sense when you think about the huge (and popular) Izakaya culture in Japan.
Yup, you're sold. But where to start? We've done the hard(ish) yards to bring you this guide to whisky, and how to pair it with food like a pro. Speaking of whom, we caught up with Dave Vitale, Starward Whisky founder and all-around whisky connoisseur, to fill in a few of the gaps.
You see, Starward is matured in Australian red wine barrels, which Dave tells us punches up its fruitiness and versatility. And it makes sense, we're used to drinking red at the dinner table, so why not whisky? "We see so many chefs and bartenders who are excited to play with the juicy red wine notes of the whisky … and coming up with some incredible cocktails".
How To Drink It
If you're a whisky novice, there are a few things to know: drinking it neat will give you the full smooth and rich experience you need to take in the stuff. A few drops of room temperature water will open up the palate, and depending on the whisky you could bring out some of the lovely, little notes like vanilla or stone fruit. Serving on the rocks may be tempting, but it can dilute and cold can mask the flavour of the golden goodness. No Bueno. Of course, dipping your toe in with a cocktail is a fine choice too. Just remember to enjoy responsibly, mmkay?
If you're confused, don't be. Dave tells us; "The main rule is … there are no rules except to have fun (so the opposite of fight club). [If] it's a big bold whisky or a lighter brighter whisky – there's a way to pair salty and sweet and fiery and fresh". Phew.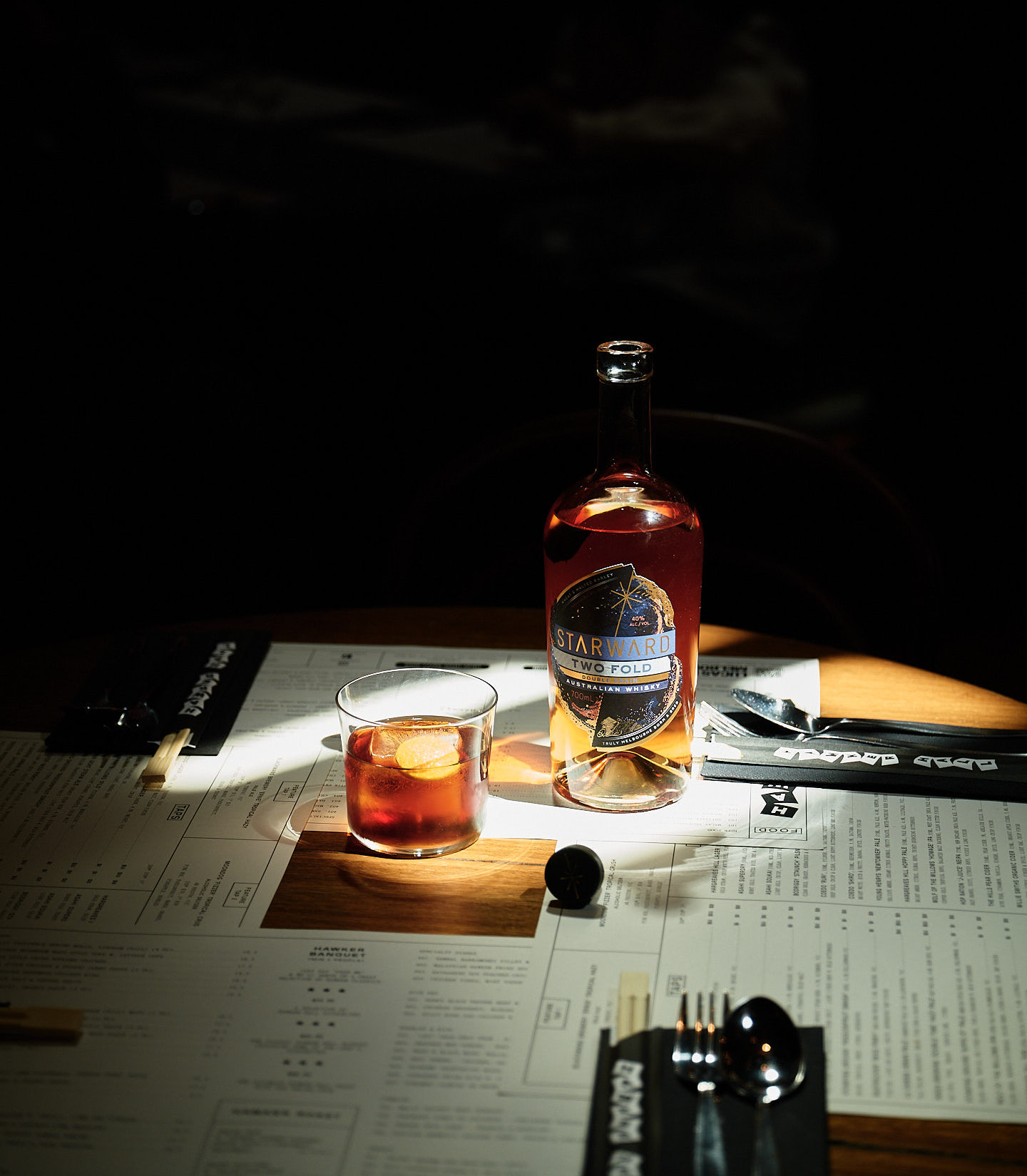 How To Pair It
You're used to wine, sure, and some of the same rules apply: generally speaking, lighter, fruit-forward whiskies (think Australian or Japanese) pair well with simple seafood dishes like sashimi.
Case in point: the whisky cured salmon with tozasu and pink grapefruit at Melbourne's Yakimono, brought to life when paired with their punchy, lemony Ginza cocktail. Why does it work? "It's bright, bubbly, and citrusy" Dave tells us. "The light and delicate Japanese flavours in this dish pair so beautifully. They're complimentary and soft, so you can fully experience the salmon and its dressing".
Bigger, bolder whiskies that may be higher in alcohol (or even have punchier oak) can handle a meal as bold as itself. They're perfect when paired with a buttery, leeky roast chicken or a funky blue cheese; "Something to cut through the richness and stand up for themselves" Dave adds. They're also heaven when paired with a perfectly rich dark chocolate or a gooey truffle.
Chin Chin's Sydney's whisky and turmeric rotisserie chicken with hellfire and cucumber pickle is elevated when paired with their Ginger Fizz: bubbling with the always-versatile Starward Two-Fold, yuzu, ginger, and pear to add some extra zing. A huge fan of this one, Dave tells us, "we needed some punch to stand up to the pickle and chilli. The guys at Chin Chin know their flavour pairings. The spiciness of ginger, and citrusy yuzu round this out perfectly"
Punchy, spicy whiskies can hold their own against a hearty meal. Go crazy: pair an Old Fashioned with a saucy beef shin ragu or a warming Osso Bucco. The same goes for dessert; dark chocolate or treacly caramel will come alive with the right whisky.
Hawker Hall in Melbourne's sticky date pudding with whisky infused cocktail caramel is perfectly paired with their 'Know when to fold 'em'; a whisky, coffee, salted caramel situation that needs no further explanation. But here's one anyway: "We all know, or should know, that whisky and chocolate work well. Adding in coffee and salted caramel just takes it to the next level.
So there you have it. You're (something of) an expert. Go forth and see where your palate takes you. Or get involved in one of the Starward whisky-paired dinners across Sydney and Melbourne over the next few months.
Editor's note: This article is sponsored by Starward Whisky and proudly endorsed by Urban List. Thank you for supporting the sponsors who make Urban List possible. Click here for more information on our editorial policy.