As much as Sydney loves the iconic Bondi to Bronte coastal walk, it isn't exactly pram-friendly thanks to a few steep stairways up and down cliffs and the ever-present crowds sporting their best activewear. If you're in need of a smoother stroll, you've come to the right place.
There are plenty of pram-friendly walks around Sydney, perfect for catching some fresh air while you are four-wheeling with the fam. From harbourside boulevards to city parks, keep scrolling for the best pram-friendly walks in Sydney.
Manly Lagoon To Shelly Beach
Manly
Move over Bondi to Bronte, we've found a better (flatter) coastal walk at another of Sydney's ultra-famous beaches. Begin at the northern end of Manly Beach near the Queenscliff Surf Life Saving Club and stroll along the promenade with a perfect view of the sand, waves, and Manly's iconic Norfolk Island pine trees. It's about 2km down to Shelly Beach where you can pull up for a coffee and a swim.
Iron Cove Bay Walk
Leichhardt
This 7km loop in Sydney's inner west is mostly flat and without stairs, winding around the Parramatta River and trailing through Rozelle, Lilyfield, Haberfield, Five Dock, Rodd Point, and Leichhardt. Also called The Bay Run, this beloved circuit is popular with families and is particularly pretty at sunset. We recommend parking up at Leichhardt Park and booking a pit stop at Haberfield Rowers for top-notch pub-style eats and a stunning view of the water (there is a kids' menu too).
Glebe Foreshore Walk
Glebe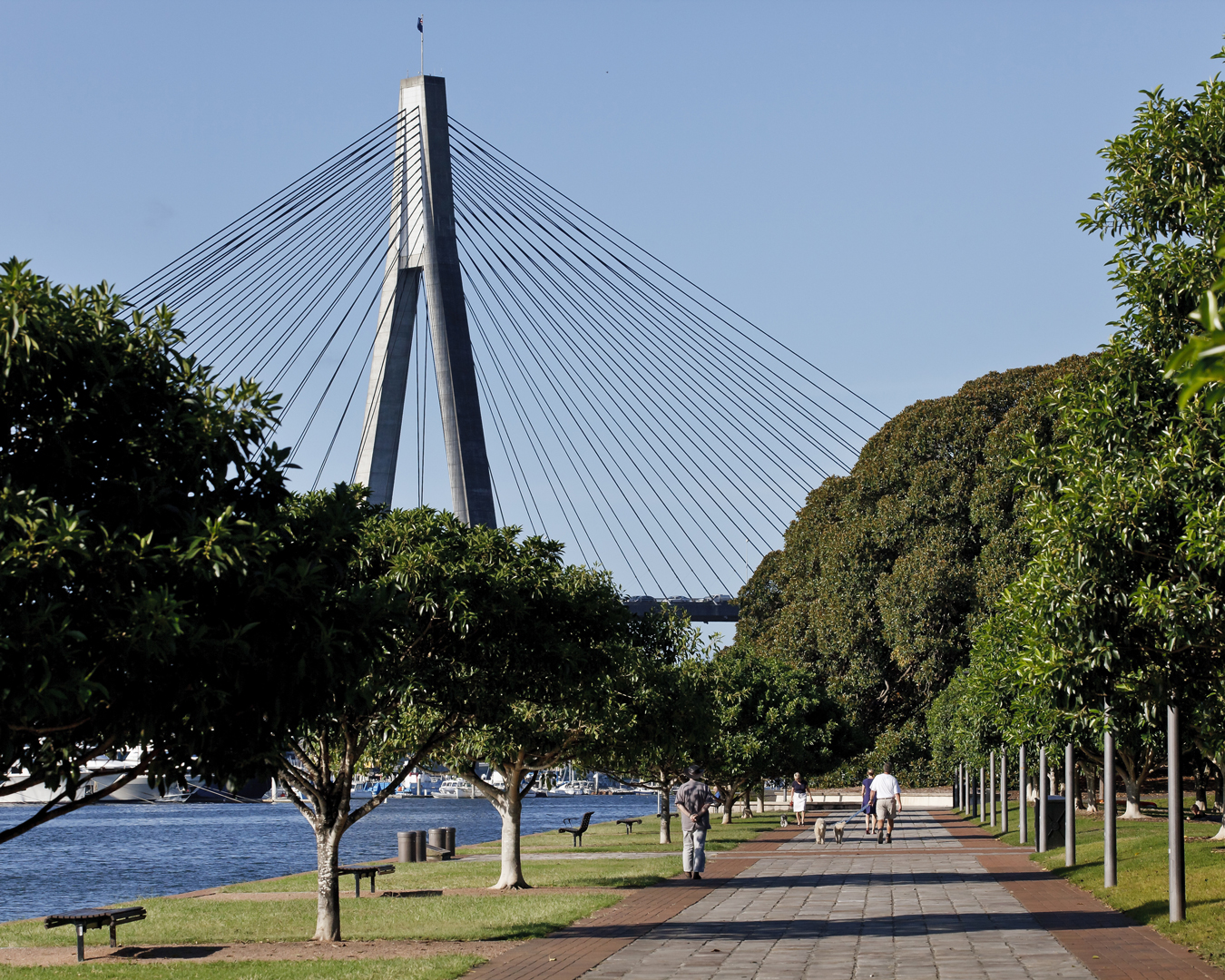 This route features one of Sydney's most picturesque cityscape sunrises. If you can get up early enough, you'll see the city glow silver as the sun rises behind it. If you're not an early riser (no judgement there), you'll still get to enjoy the four leafy parks dotted along this walk. And good news, if you've got a pup, three of these parks (Federal Park, Bicentennial Park, and Blackwattle Bay Park) are completely off-leash.
Equality Green
Prince Alfred Park | Surry Hills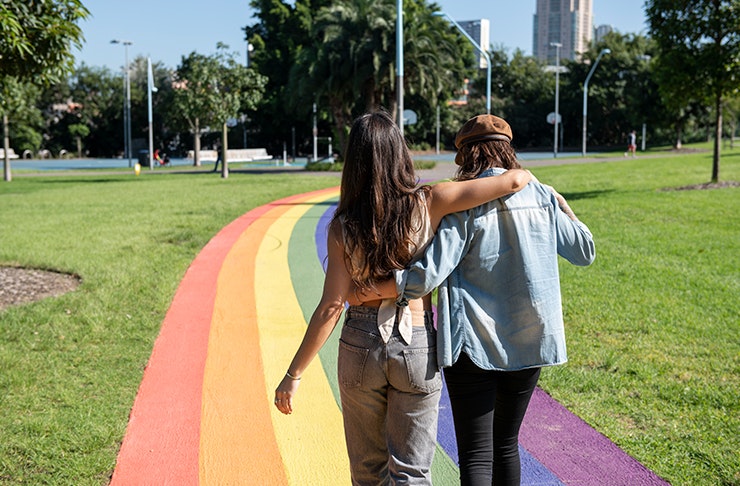 Push your pram across a rainbow at this historic spot. t may not be the longest walk in Sydney but what this rainbow path lacks in size, it makes up with beauty (and a whole lot of history, too). Equality Green is a 90-metre footpath that was set up at the beginning of 2021 to commemorate the day same-sex marriage was legalised in Australia—15 November 2017. The walk leads to an area within Prince Alfred Park where some 30,000 Sydneysiders gathered in solidarity to rally and hear the results of the postal survey. The rainbow footpath laps up a whole lot of sun and you'll be able to see the city skyline too making it a pretty wholesome spot to hit for a short walk with the fam.
Sydney Park
St Peters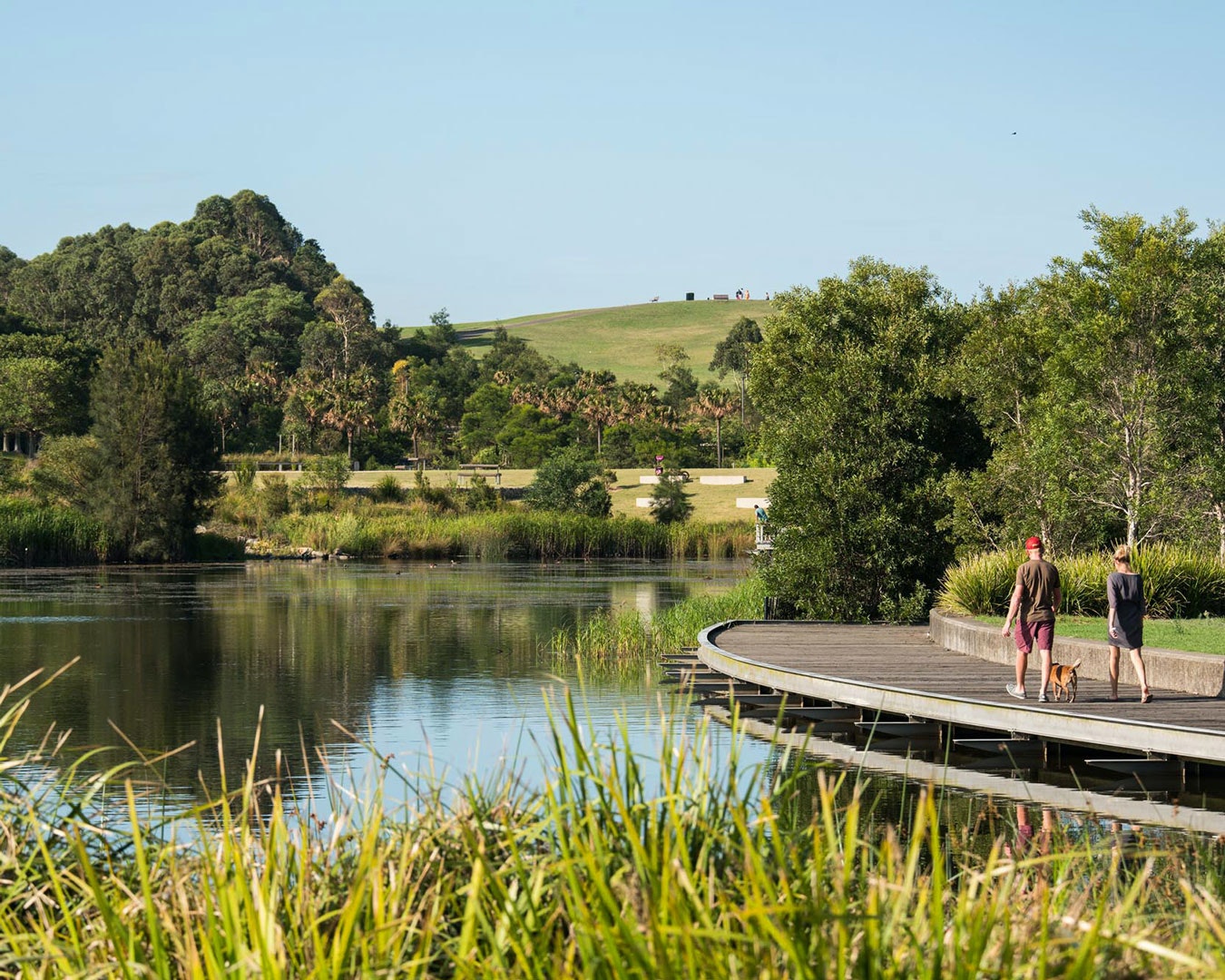 Sydney Park is the park of choice for Inner West pup parents, joggers, and weekend picnickers alike. Its stunning wetlands—a tiered system of pools that flow through the centre of the park—have been awarded for sustainability, as they work to capture and clean 850 million litres of stormwater each year, making it available for re-use. Accolades aside, Sydney Park is filled with rolling hills, beautiful native birds, lush green grass, wide-open fields, landscaped gardens filled with native plants, playgrounds and smooth meandering pathways. In short, it's an idyllic inner-city oasis perfect for walks with the fam.
Western Sydney Parklands
Blacktown, Fairfield And Liverpool
Not familiar with Western Sydney Parklands? This sprawling oasis is the largest urban park in Australia and one of the largest in the world, covering bushland across Blacktown, Fairfield and Liverpool. Often dubbed "Sydney's Biggest Backyard", it's about 14 times bigger than the Royal Botanic Garden, The Domain, Centennial Park and Moore Park combined and features 16 precincts, 50 park areas, Sydney's largest off-leash dog areas, and heaps of picnic spots, and flat pathways perfect for prams.
Woronora River Bridge Walk
Woronora
For unobstructed bushland and river scenes, try the Woronora River Bridge Walk. This bridge continues for more than half a kilometre from the top of the Sutherland basin to across the river to Bangor. Throughout this track, you'll pass all the trees and native flowers and since you're in the area, you'll also want to check out The Boatshed, a bright blue waterfront kiosk churning out homemade feasts and kayak hire like no one's business.
Centennial Park
Randwick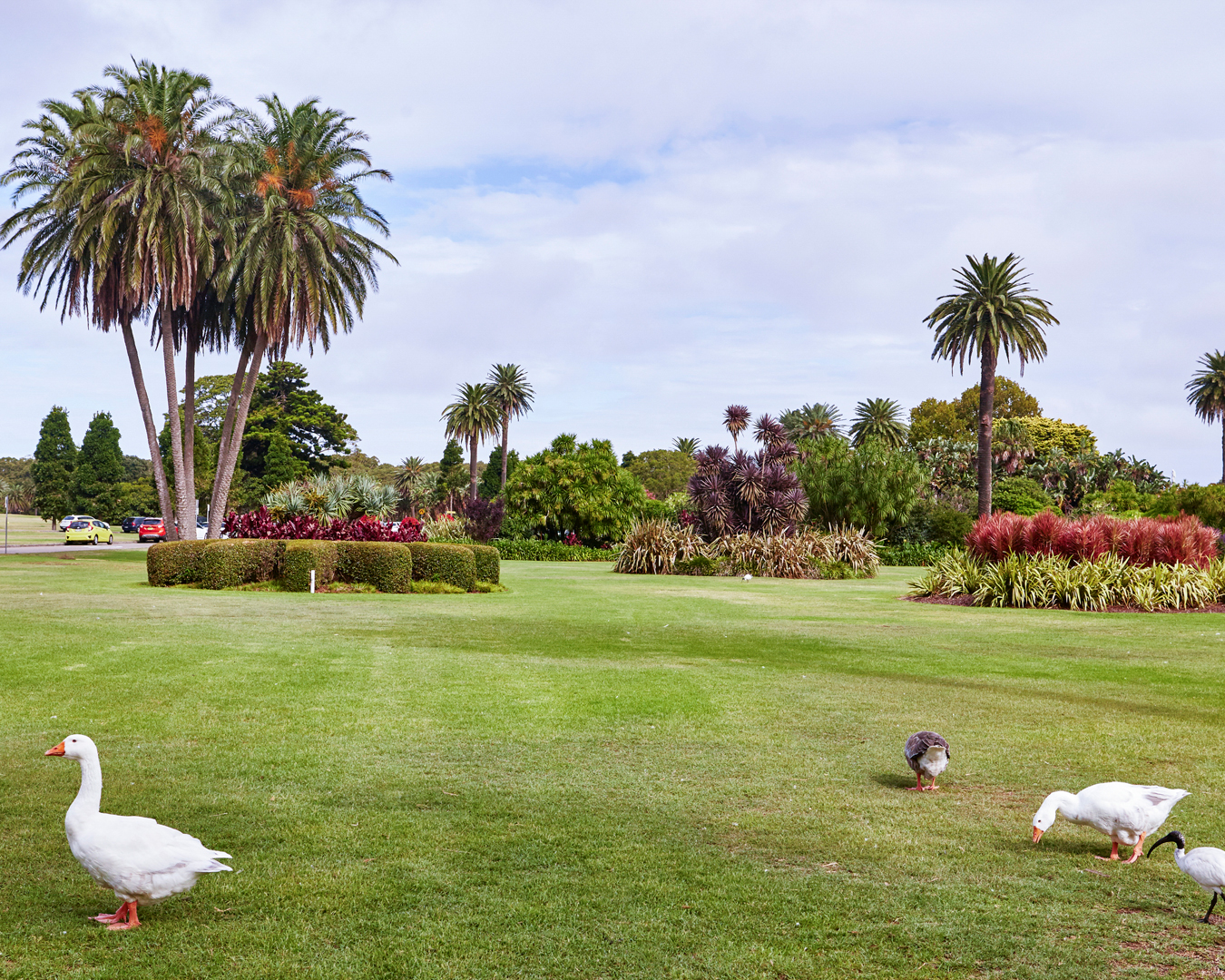 Sydney's central patch of green is a great spot for pram-friendly walking. Stick to Grand Drive and follow the 3.7km loop around for the most wheel-appropriate route, and you'll also get to take in the park's green lawns, bird life, picnic spots, and ponds. Just mind those pesky cyclists! And when you're done, keep strolling into Paddington for a coffee—we love Barbetta.
Brick Ring Walk
Sydney Olympic Park
Sydney's Brick Ring Walk is an absolute must for any early morning or late afternoon walker. The soaring circular walkway casually sits 18.5 metres high so you can get a birds-eye view of the pond below. The path extends to around 550-metres so you can do a number of rounds and get those steps in.
The Royal Botanic Garden
CBD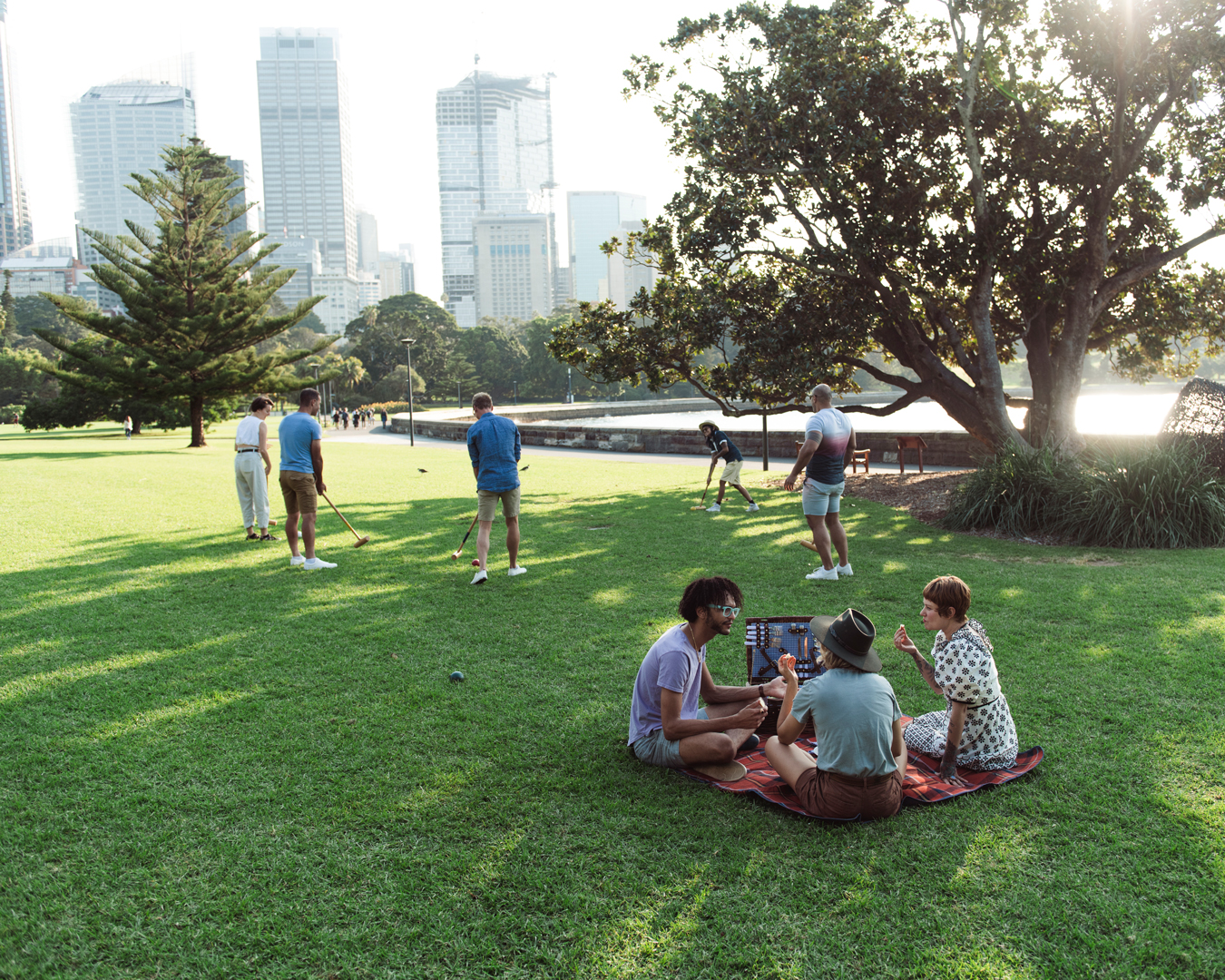 Sydney's oldest garden is maybe its most magical—The Royal Botanic Garden was founded in 1816 and it is home to thousands of beautiful native and non-native plants. For any budding gardeners, a stroll through the Botanic Garden will absolutely inspire, from the Australian Native Rockery, filled with flowers that only grow in Australia, to the palm grove, herb garden, and Palace Rose Garden with views of sparkly Sydney Harbour.
Parramatta Park
Parramatta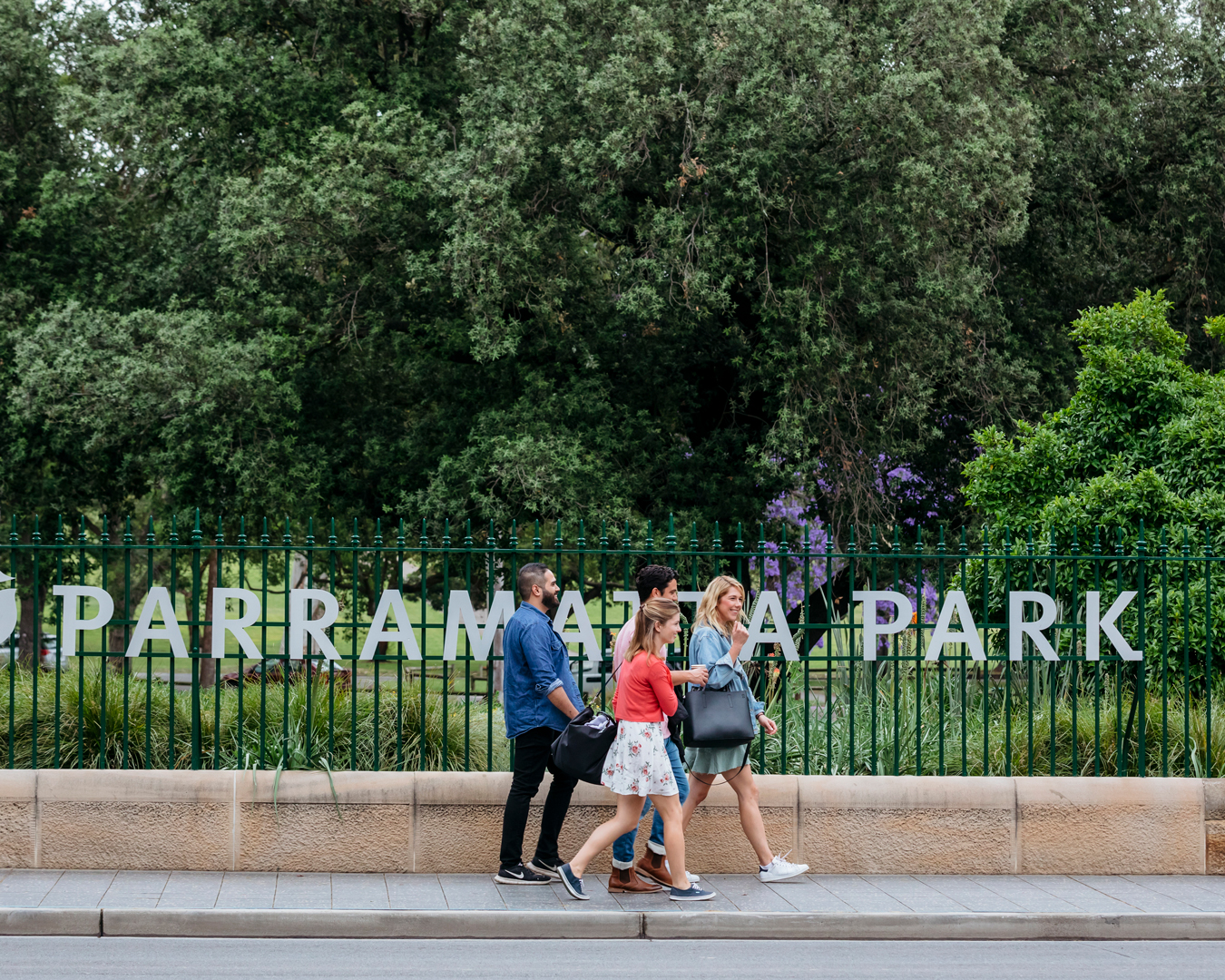 This sprawling park in Parramatta dates back 160 years. Taking up 85 hectares of wide-open space, Parramatta Park houses gardens, bushland, picnic spots, monuments, playgrounds, waterways, cycle paths, walking tracks, and bright purple jacarandas come November. The park is rich with tens of thousands of years of Indigenous culture, being a deeply important place to the local Dharug people. Along the Burramatta Landscape Trail—a new initiative launched in July 2021—Dharug community members have planted yams and other rare vegetables important to Dharug culture.
Now, check out the best free things to do with kids in Sydney.
Image credit: Destination NSW