2020 has been a year of change, and for many of us, it's included sizable shifts not only in the way we live but how we exist within our physical spaces. But, regardless of how your living situation may have evolved this year, we're always on the lookout for inspiration and creative ideas on how others style, work and live within their own unique spaces.
One Sydney creative high on our stickybeak list was singer-songwriter Isabella Manfredi. So, we teamed up with NRMA Insurance to take a dynamic dive into her world, her covetable style and her recently moved-into space. Here, we uncover her tips on finding a great rental, the item that makes her house feel like a home and how she's been able to cultivate a beautiful and creative space in the heart of Sydney.
WHAT WERE YOUR NON-NEGOTIABLES WHEN IT CAME TO LOOKING FOR YOUR CURRENT SPACE?
I had a huge list. I had a very specific list of things that I wanted. I wanted a dishwasher. And my partner was like, "I don't mind doing the dishes." And I'm like, "Oh, nice for you." But yeah, I needed a dishwasher. I wanted a well-appointed house. I've lived in shared houses. I've done my dash. I really need to live in a place that supports me, and that is fully functional. Everything's working and is in good condition. I wanted built-in wardrobes and lots of storage space. And I really wanted a garden. Some kind of outdoor area because I love gardening. So, I wanted to be able to grow some herbs and some veggies, and have somewhere to put all my plants.
WHY DID YOU DECIDE TO RENT OVER BUYING?
If we're looking at buying, it would be a really different scenario. But the reality, for me, is that buying's not even on my radar. It's not even a possibility even without all of those factors. I'm just not in that position in my life. What renting allows me to do is have a beautiful environment, be in a city, be close to my family, which is really important to me, and have a beautiful home that feels safe and secure, and can accommodate everything.
HOW DO YOU GO ABOUT CREATING A WARM AND INVITING SPACE?
I'm always thinking about how to make my place warm and welcoming. I just go with my gut and like to choose things that I have a resonance with.
WE'RE ALL HOME A LOT MORE THAN USUAL AT THE MOMENT, HAS THIS SHIFT CHANGED WHAT YOU LOOK FOR IN A SPACE?
When I was touring and on the road, I was living in share houses and I would just have one room. So, everything that I owned would be in that one room. And it was great, but also I didn't really spend a lot of time at home. And then, I had an apartment on my own, which was a one-bedroom apartment. And initially, when we're thinking about moving in together, like getting maybe one-bedroom or two-bedroom. But [the current situation] allowed us to think bigger and gave us permission to get somewhere that we could grow into.
THINKING BACK TO THE DAYS WHEN YOU WERE TOURING AND TRAVELLING A LOT, WHAT DID YOU MAINLY MISS ABOUT YOUR HOME?
I think I actually loved being in different spaces when I was on tour. I used to really love that aspect of it. But I think what I missed most about home was a sense of security and protection. When I'm touring, I often feel a sense of transient peace, or like peacefulness because there's less responsibility. And somebody's making the bed and cleaning up after me, and I don't have those sorts of responsibilities. But, there's not that sense of being able to come home and lay your sword down. I'm home and I can relax. And it's a sense of privacy and sanctuary, which is really important to me.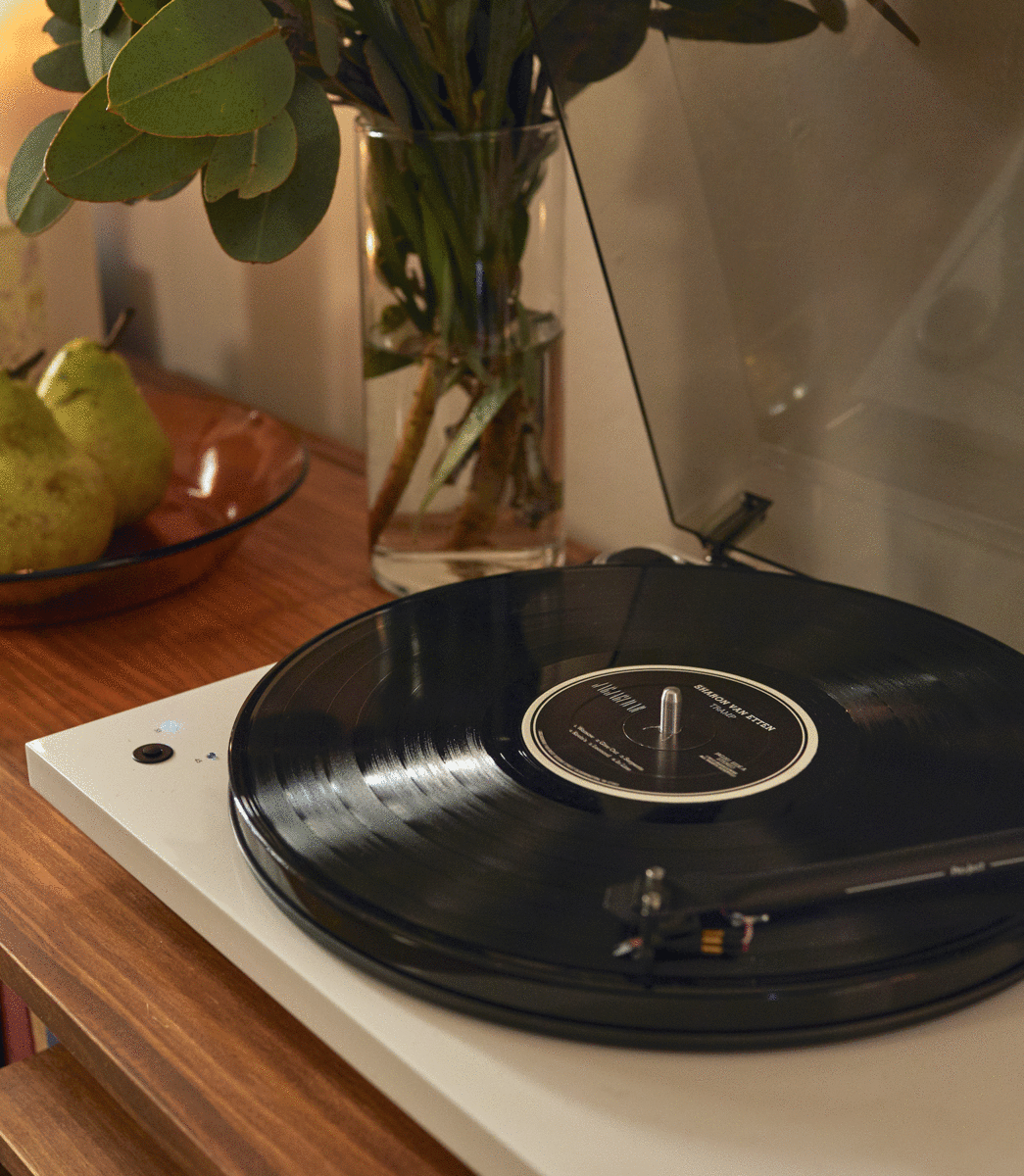 What are the pieces that MAKE YOUR HOUSE FEEL LIKE HOME?
That's a great question because I've actually got a dining room table that was my family dining room table from when I was growing up. And my mom's had it in storage for me. She's just like, "Can we please get rid of the old dining room table?" And I'm going, "No, I'll have a house to put it in one day." So when we got this place, we went and picked it up, and plunked it down in the middle of the dining room. I think the dining table, for me, is what makes me feel like I'm home.
WHAT ARE SOME OF THE BENEFITS THAT YOU THINK COME WITH RENTING, COMPARED TO OWNING YOUR HOME?
One of my favourite things about renting is that if anything goes wrong in the house, it's not your responsibility. If the sink is clogged, not our problem. If the backdoor breaks, not our problem. If there's mould, not our problem. I mean, it's our problem. It is your problem if you don't have a good relationship and a house-proud landlord or you don't have a good relationship with your real estate agent. But… yeah, that's something that I would definitely advise people renting, is like, really understand who your real estate agent is, and know what is their policy on fixing things. Because you don't want to be stranded with a plumbing problem for a week because your guy's on leave or something. Or your real estate agent is not that responsive. And similarly, understanding what kind of person your landlord is. Are they house-proud? Do they care about the property and do they want good tenants? Some people are just investors, and they don't really care who's in the house. But that was something that I was very conscious of when picking a home because I knew that I wanted to be somewhere for a while. I wanted to settle.
DO YOU THINK THE STIGMA AROUND RENTING IS GETTING PEELED BACK?
Yeah, by necessity. The thing for me is, I grew up with the assumption that I would own my own home because that's what my parents were able to do. That's what my grandparents did. My family are immigrants. So, owning your own home was a great source of pride. A part of me is still expecting that is going to happen at some point. But the more rational side of my brain is like, probably not. And in fact, that actually really suits my lifestyle in a lot of ways.
Don't let the fact you're renting stop you from curating the home of your Pinterest dreams. Protect your prized possessions with the help of NRMA Insurance.
Editor's note: This article is sponsored by NRMA Insurance and proudly endorsed by Urban List. Thank you for supporting the sponsors who make Urban List possible. Click here for more information on our editorial policy.