Imagine untouched wilderness, rugged terrain, tranquil waters and your wildest adventure yet, all waiting for you just a short flight away.
From kayaking, hiking and canyoning, here are the ultimate adrenaline activities to tick off on your next adventure down south. It's time to let your wild spirit run free.
Pedal Adrenaline
Featuring epic mountain biking trails through lush rainforest and down flowing trails, Tasmania is a thrill-seeker's dream. Boasting 125km of purpose-built mountain bike trails with options for all skill levels, head to Blue Derby in Tasmania's north east for some of the best trails in the world. The absolute must-dos? The wilderness rides, Blue Tier and Atlas. In Tasmania's northwest, grind through the ever-growing trail networks at Wild Mersey and in the Dial Range. For experienced riders, head to the small village of Maydena and let gravity propel you down the mountains. Located just an hour's drive east of Derby, you'll discover one of the state's newest mountain bike marvels, the St Helens Mountain Biking Trails. Here, the 42-kilometre Bay of Fires Trail plunges from the mountains to an epic stretch of coastline, while a network of shorter trails loop around the hills just south of the town.
Hike Rugged Coastlines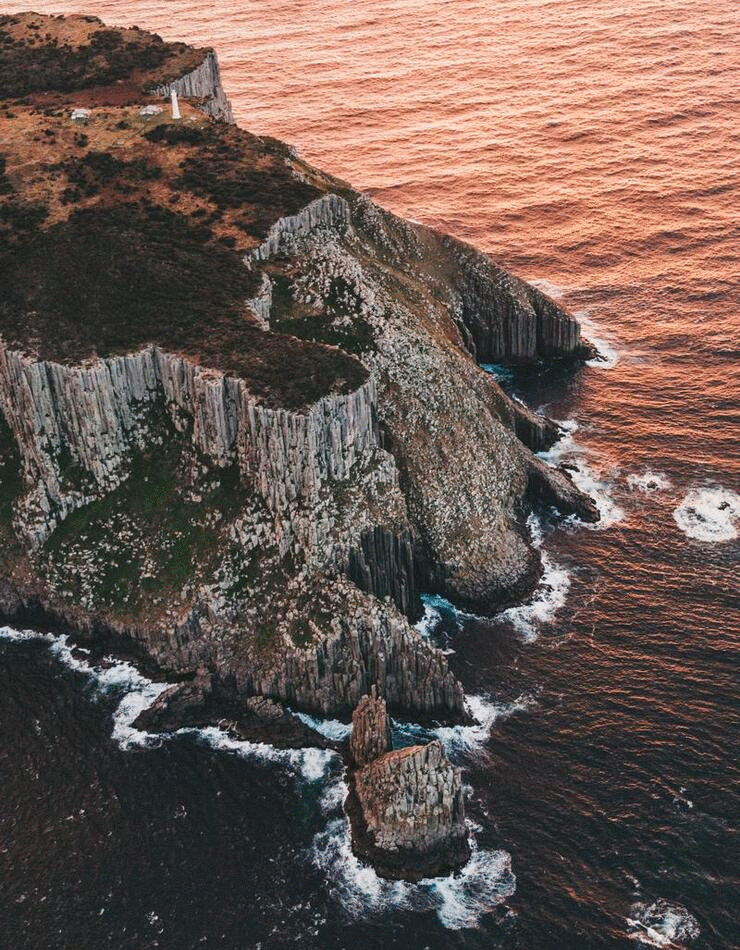 The breathtaking Three Capes Track is a four-day, 48-kilometre coastal-hugging hike that should be on every adventure-seeker's hit list. The Three Capes Track is open year-round and can be done DIY, staying at public eco-huts, or on a guided walk staying at private lodges. The trek begins at Port Arthur where you'll be taken by boat to Denmans Cove. From there, it's a four-kilometre hike to the first night's hut. This walk follows the highest sea cliffs in Australia and thrill-seekers can test their nerve by edging out onto the Blade at the tip of Cape Pillar while peering down onto Tasman Island. Plus, there's plenty more to experience while you're on the Tasman Peninsula like the Port Arthur Historic Site, Pennicott Wilderness Journeys' Tasman Island Cruises, and Tasmanian Devil Unzoo's Devil Tracker tours. Yep, this place truly has it all.
Sea Kayaking
Go full remote with an eight-day wilderness sea kayak tour through Bathurst Harbour and Port Davey in the wild Southwest. The journey begins with a 40-50 minute scenic flight from Cambridge Airport near Hobart before touching down in the now-abandoned tin-mining settlement of Melaleuca. The itinerary is flexible, dictated by water and weather conditions, but it's guaranteed to be wild, fun and fabulous as you paddle through the dark waters of the Bathurst Narrows and out into the near open sea of Port Davey. Nights are spent camped on empty beaches as far from the world as it possibly gets.
Get Your Heart Racing At Cradle Mountain
There's no denying Cradle Mountain-Lake St Clair National Park is one of the most beautiful destinations found in Tasmania, but it's also packed with incredible adrenaline activities. Top of our list is Devils@Cradle where you'll get to see and meet the mysterious and secretive Tasmanian Devil, going horse riding with Cradle Country Adventures on an overnight ride through bush and open fields, delving deep into narrow Dove Canyon with Cradle Mountain Canyons and hiking the short and seriously pretty Dove Lake Circuit.
Chase Waterfalls
A one-hour drive from Hobart, deep within Mt Field National Park lie two majestic must-see waterfalls. Set out from the visitor centre and follow the Russell Falls Nature Walk through the rainforest to the foot of Russell Falls. From here, continue upstream to the suitably named Horseshoe Falls. Next, drive a couple of hours north and tick off the short hike to the beautiful Liffey Falls, pouring off the Great Western Tiers near Deloraine. The walk follows a series of small cascades before ending at the base of the falls for a view that will surely take your breath away.
Remote Road Trips
The Great Eastern Drive lives up to its name as one of the most treasured and scenic drives in Australia. Start from St Helens at the northern end, or Orford at the southern end and follow the coast-hugging Great Eastern Drive through wine country, secret beaches, picturesque coastal towns and vineyards. This 176-kilometre stretch of paradise is dotted with coastal stays like Piermont Retreat and Hamptons On The Bay to rest your head. You'll experience all the world-famous must-dos like Bay of Fires and Wineglass Bay and stumble on lesser-known, untouched gems. Take anywhere from a weekend to a few days, a week or longer. Just remember to slow down and savour every magical moment.
Wild Walks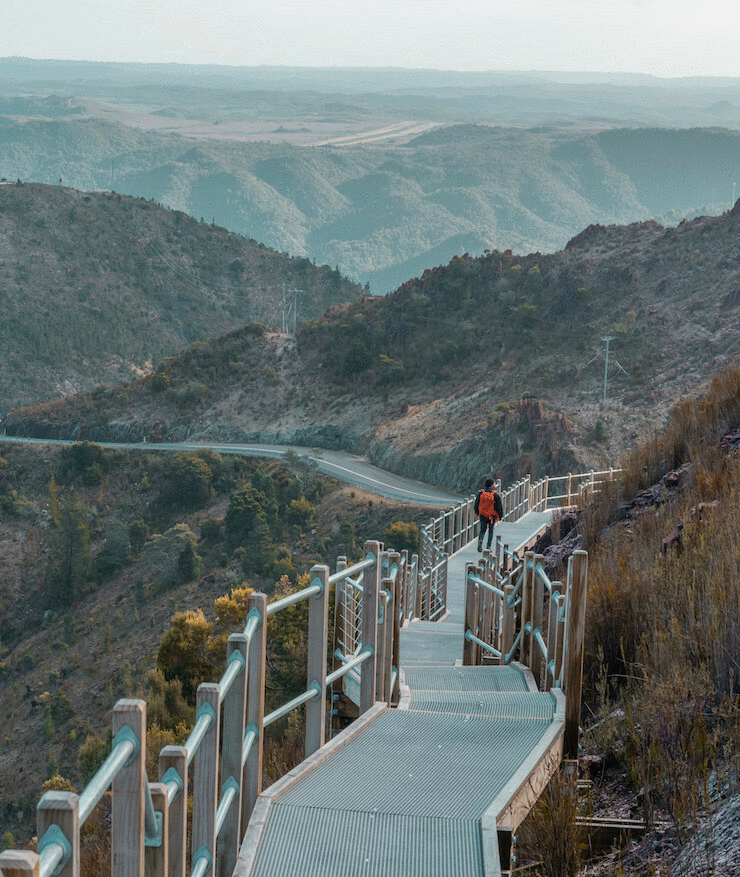 Tasmania is peppered with trails winding through mountains, along the coast or just through stunning landscapes leading to picturesque destinations that will truly take your breath away. If you don't have time for Tassie's world-famous multi-day hikes then you absolutely need to tick off a few of Tasmania's 60 Great Short Walks. If you're on Tasmania's east coast, then you must head inland and hit up the 20-minute Evercreech circuit where you'll stroll among the tallest white gums in Australia, and you cannot miss Apsley River Waterhole and Gorge. For one of the most photographed and iconic trails, look no further than the 90-minute Wineglass Bay Lookout hike that will reward you with an unforgettable view of Freycinet National Park and the sweeping bay. There's raw beauty at every turn so no matter which trail you choose, you will not be disappointed.
Been bitten hard by the travel bug? Get ready to experience the ultimate thrill-seekers adventure to Tasmania and let your wild spirit run free.
Image credits: Flow Mountain Bike, Jason Charles Hill, Jarrad Seng, and Jess Bonde