If Townsville, North Queensland, isn't on your travel list in 2023, then we're sorry to be the ones to tell you that you're absolutely missing out. It might seem unexpected but don't say we didn't warn you. Between some seriously breathtaking natural gems, uber-exciting eats, and a range of stays to satisfy all kinds, Townsville has quickly become one of the country's best places to explore this year. So whether you're travelling solo, with mates, your fam, or a special plus one, here are the best spots to eat, play and stay to make sure you maximise your annual leave while exploring this tropical gem.
Play
Snorkel And Dive The Great Barrier Reef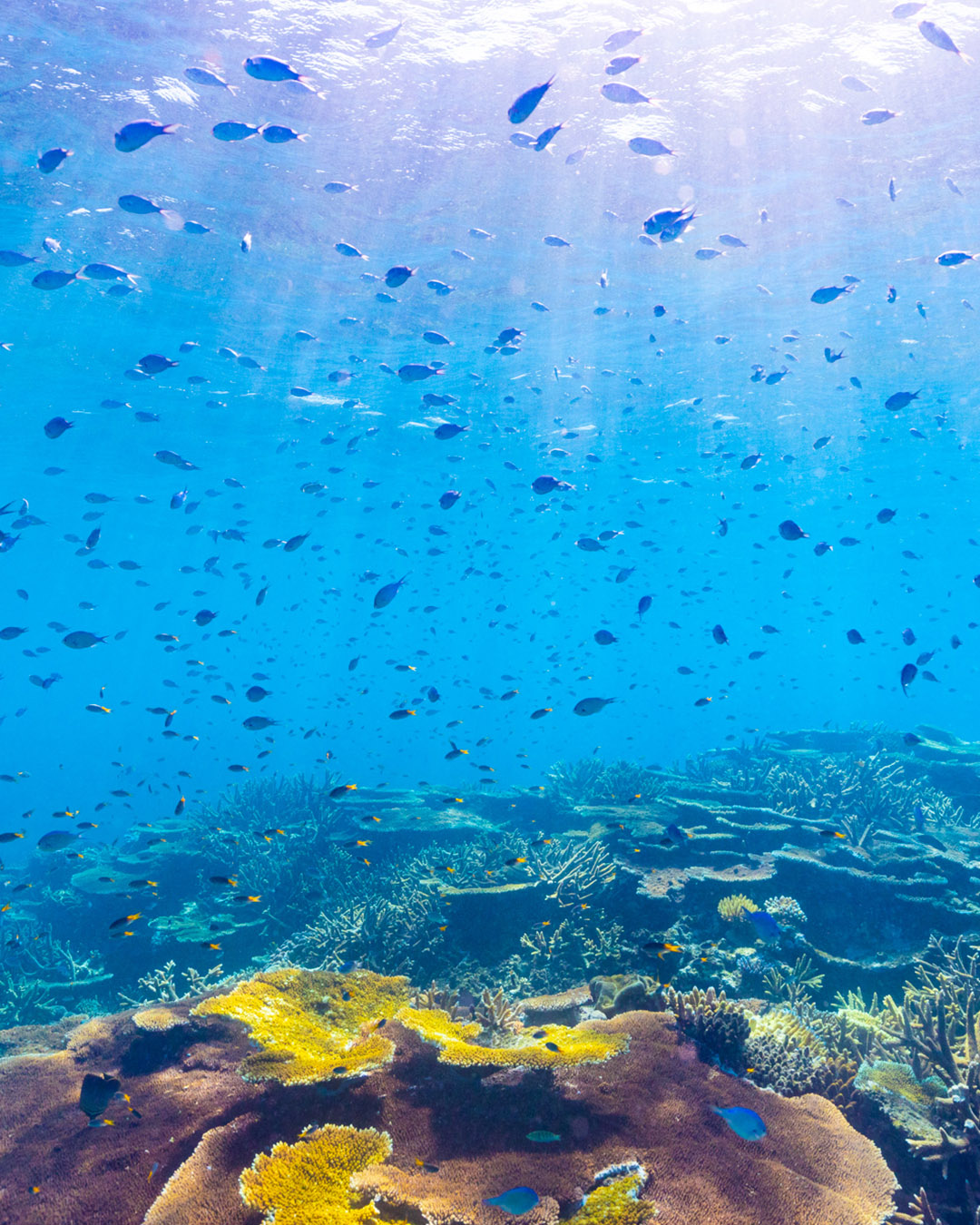 (Great Barrier Reef)
Forget what you've heard, Townsville's position as the headquarters of the Great Barrier Reef makes it an ideal launchpad to explore one of the world's seven natural wonders. Whether you're an experienced diver or more comfortable in a snorkel, there are plenty of options for you to get up close and personal with the swarms of marine friends within the central section of the reef. Also home to the Southern Hemisphere's first underwater museum—the Coral Greenhouse—a reef experience from Townsville is one you can't find anywhere else. While the real deal is always best, this shipwreck dive is an exception. Dive deeper into history with a world-acclaimed wreck dive on the SS Yongala—this built reef is home to mega marine fauna that is a true wonder to behold.
Connect With Nature On Magnetic Island
A trip to Townsville wouldn't be complete without a trip to Magnetic Island, or as it's locally known: Maggie. The island is just a 20-minute passenger ferry ride away from Townsville and is home to some of the best beaches in Queensland. While it can be done in a day, it's worth checking out the accommodation options, because between the snorkelling, hikes, restaurants, and bars (and not to mention the native colony of adorable rock wallabies and the largest population of wild koalas in Northern Australia) you're going to want to stay a night or two.
Grow Your Knowledge With First Nations Tours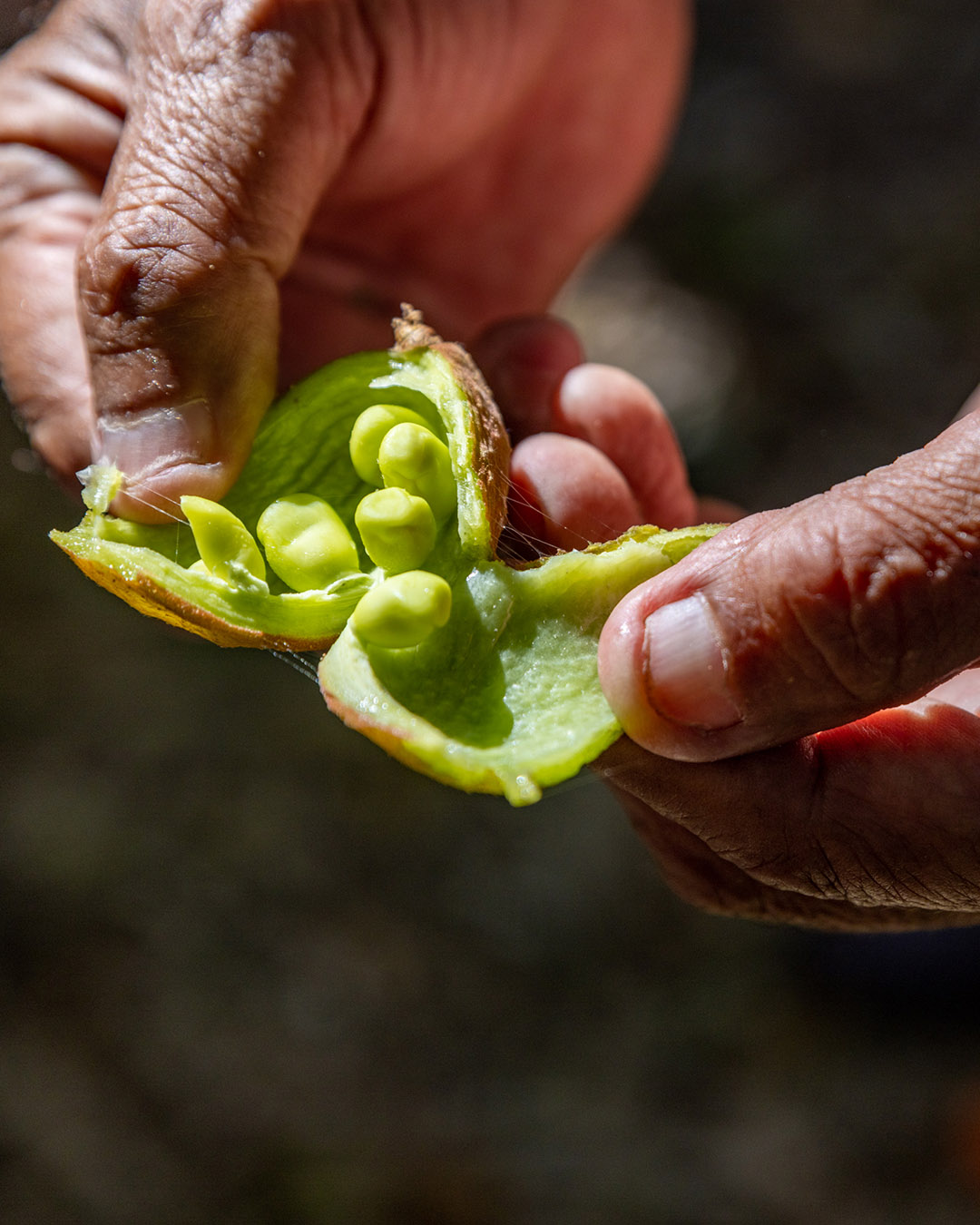 (Gudjuda Aboriginal Tour)
One of the best ways to truly experience this country is through the thousands of years of knowledge that comes from the region's First Nations people. Joining a Gudjuda Aboriginal Tour or Mungalla Aboriginal Tour is a great way to understand how they thrived in the area now known as Townsville and offers an authentic insight into the history of the region. Marvel at the giant carpet snake monument, Gubulla Munda, experience smoke ceremonies, try native food and learn from some of the oldest art forms on Earth all within Townsville and its surrounds.
Enjoy A Luxe Escape To Orpheus Island
For those who are after an especially secluded escape, Orpheus Island should most definitely be on your radar. The island is surrounded by coral reefs that make for the perfect diving and snorkelling spots, often there for you to discover solo. The only accommodation offering on the island is the all-inclusive Orpheus Island Lodge, so why not take the opportunity to live it up White Lotus style? But if you're up for a snooze under the stars, you can also book National Park permits to camp on the island.
Explore Waterfalls At Crystal Creek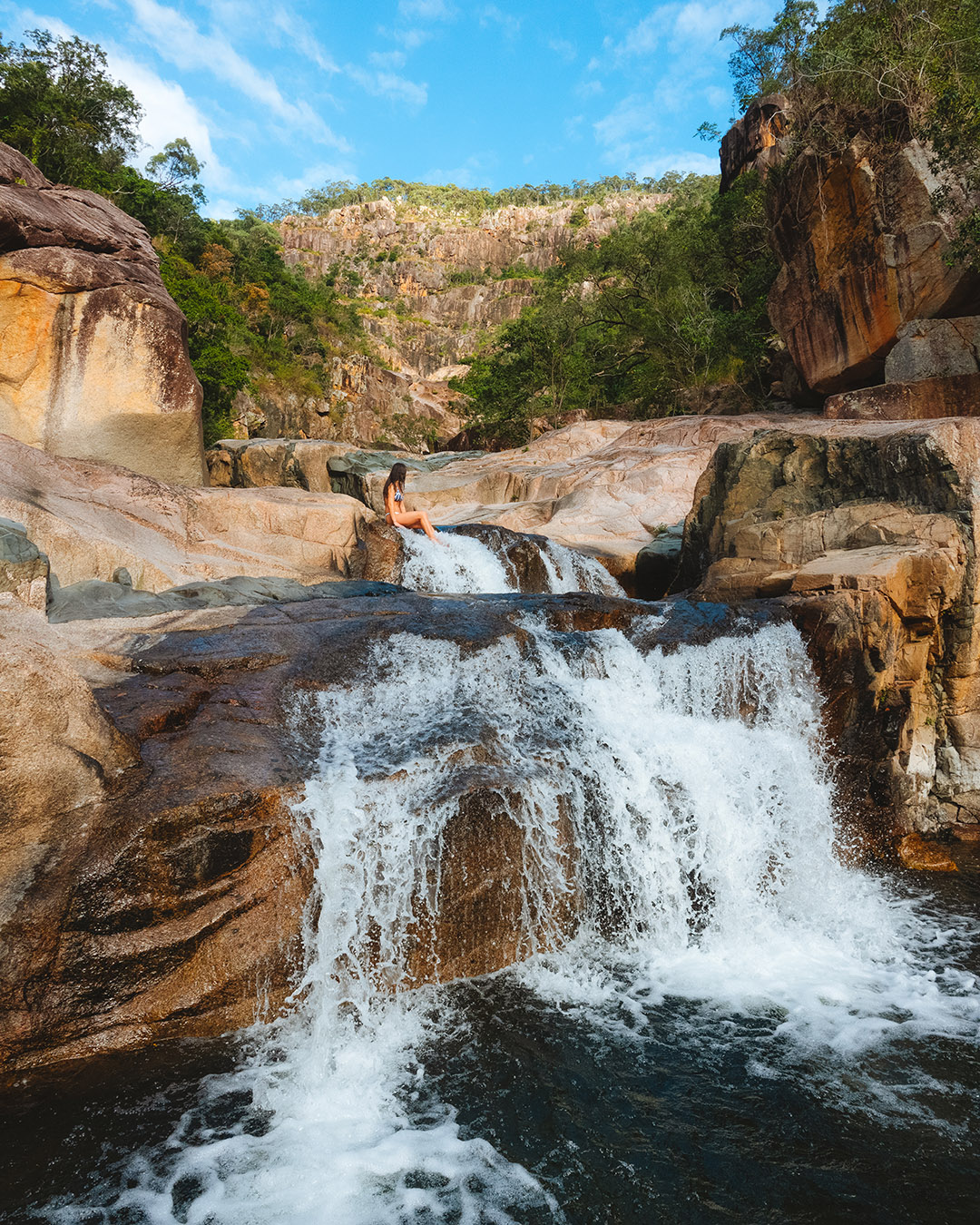 (Crystal Creek)
Just a short drive north of Townsville you'll find the impressive Crystal Creek, which provides idyllic swimming holes and waterfalls to explore and cool off in. Arguably the best part of Crystal Creek, however, is the smooth rock formations that have turned into natural waterslides that are guaranteed to bring out the little kid in you. The falls are located within the lush Paluma Range National Park, and there are plenty of hikes for you to explore the area even further. Or take to the trails by eBike with a guided NQ Cycle Journeys tour.
Visit The Highest Waterfall In Australia
If you're looking for a spot of nature that is truly spectacular, it's hard to look past the incredible Wallaman Falls. Standing at 268 metres tall, Wallaman is the tallest single-drop waterfall in all of Australia, and as much as Instagram can try, it's something that can only be truly appreciated in person. The falls are located 2.5 hours north of Townsville within the Girringun National Park, making it a perfect day trip for you and your travel crew. Just off the coast from this epic wonder is the Jurassic playground that is Hinchinbrook Island. Book guided experiences to both with Wild Hinchinbrook.
Explore The North's Own Wild West
If big is on your bucket list, then be sure to buckle up for a visit to Texas Longhorn Tours. This working outback property is home to the largest herd of Texas Longhorn cattle outside of Texas. These beautiful bovines are impressive in every sense, with horn length holding records across the nation. Take your time to immerse in the history of this township of Charters Towers which was once known as "The World" from the historic gold mining days.
Explore The Strand
You can't go to Townsville without hitting up The Strand, a 2.5km palm tree-lined promenade that takes you right along the beachfront of this tropical city. The Strand is dotted with activities to suit all travellers. Expect sprawling parklands, bikeways, picnic areas, swimming and fishing spots, as well as heaps of restaurants, cafes, and bars to keep you refreshed in between activities.
Hike Castle Hill
If you're looking for the best views of Townsville, you'll want to head up to the top of Castle Hill. The hill (which is just metres shy of a mountain) sits at the centre of town and is the perfect landmark to help orient yourself. Castle Hill has plenty of walking trails that meander up to the top, where you'll be rewarded with 360-degree views of Townsville and its surrounds. There are plenty of benches along the way to break up the trek, or you can opt to drive to the top if hiking isn't your jam.
Eat + Drink
Annee's Caphe Du Sua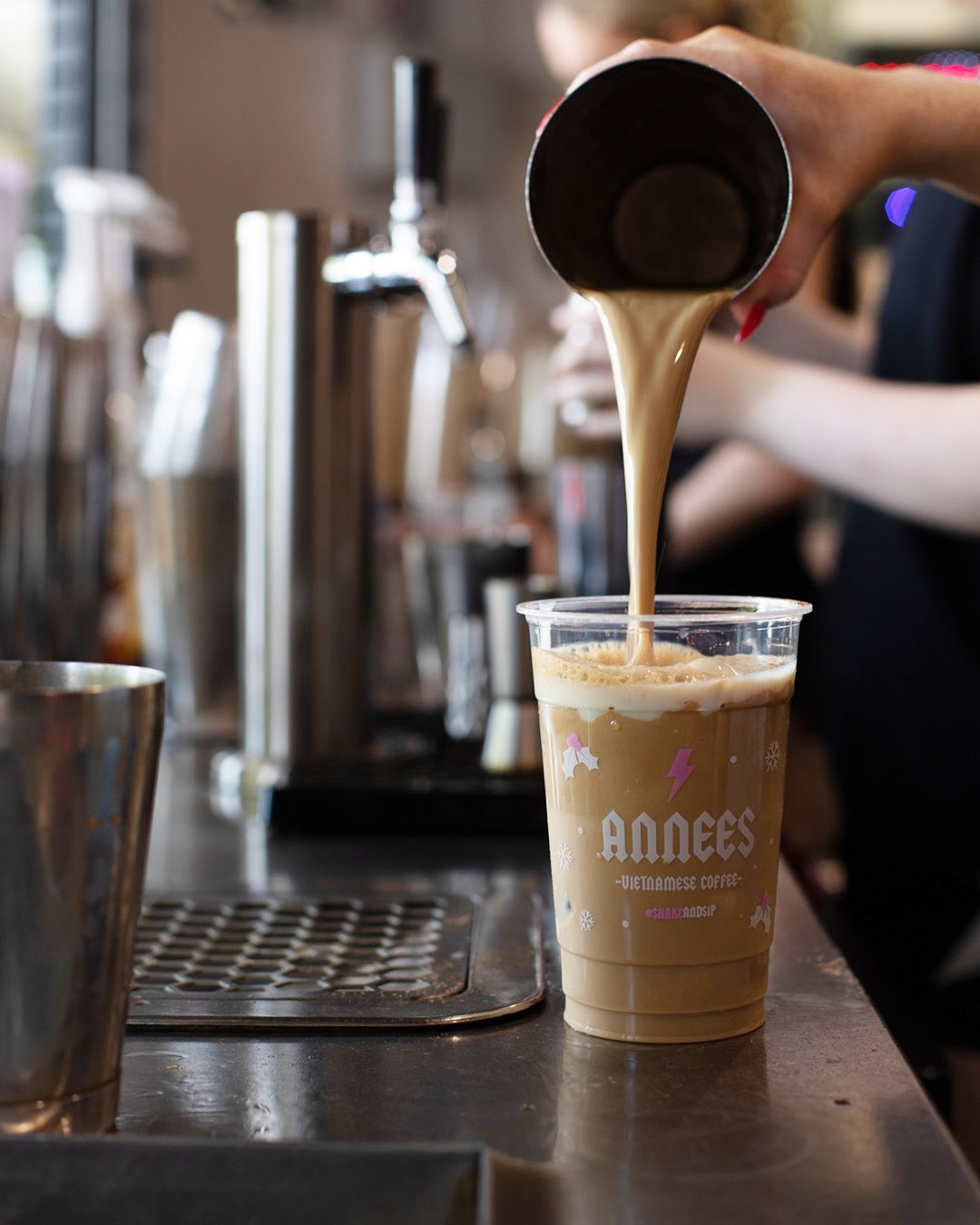 (Annee's Caphe Du Sua)
One of the best ways to fuel a day of exploring a day in the tropics is via a sweet cup of coffee, and what better way to experience all flavours at once than with a Vietnamese iced coffee from cult favourite Annee's Caphe Du Sua? Known for its deliciously authentic coffees, the beloved coffee haunt is the brainchild of Vietnam native Anne, who brought a taste of her home to the tropics of Queensland where the combo of strong coffee and sweet condensed milk has won over the hearts of many.
Miss Songs
There's something about the combination of Asian fine dining and local Queensland produce that makes for a truly tasty experience—and head chef of Miss Songs, Arie Prabowo, has been perfecting the flavour for years. The restaurant sits within The Ville Resort-Casino, which is currently Townsville's biggest luxury resort, so you can keep your expectations high and you still won't be disappointed.
Taste Tropical Brews
Townsville Brewing Co., locally known as The Brewery, not only offers award-winning craft beers and locally distilled gin, but also a mean pub feed that is sure to satisfy. Whether you're after a steak or a parmi, The Brewery has all the classics covered. If you're looking for something a little more fine-dining, check out The Brewery's Restaurant 1889, which offers a more curated, seasonal, experience. Keen on more tropical brews? You can also taste local sips at Magnetic Island Brewery, Tiny Mountain Brewery and Tan Lines Gin Distillery.
Shorehouse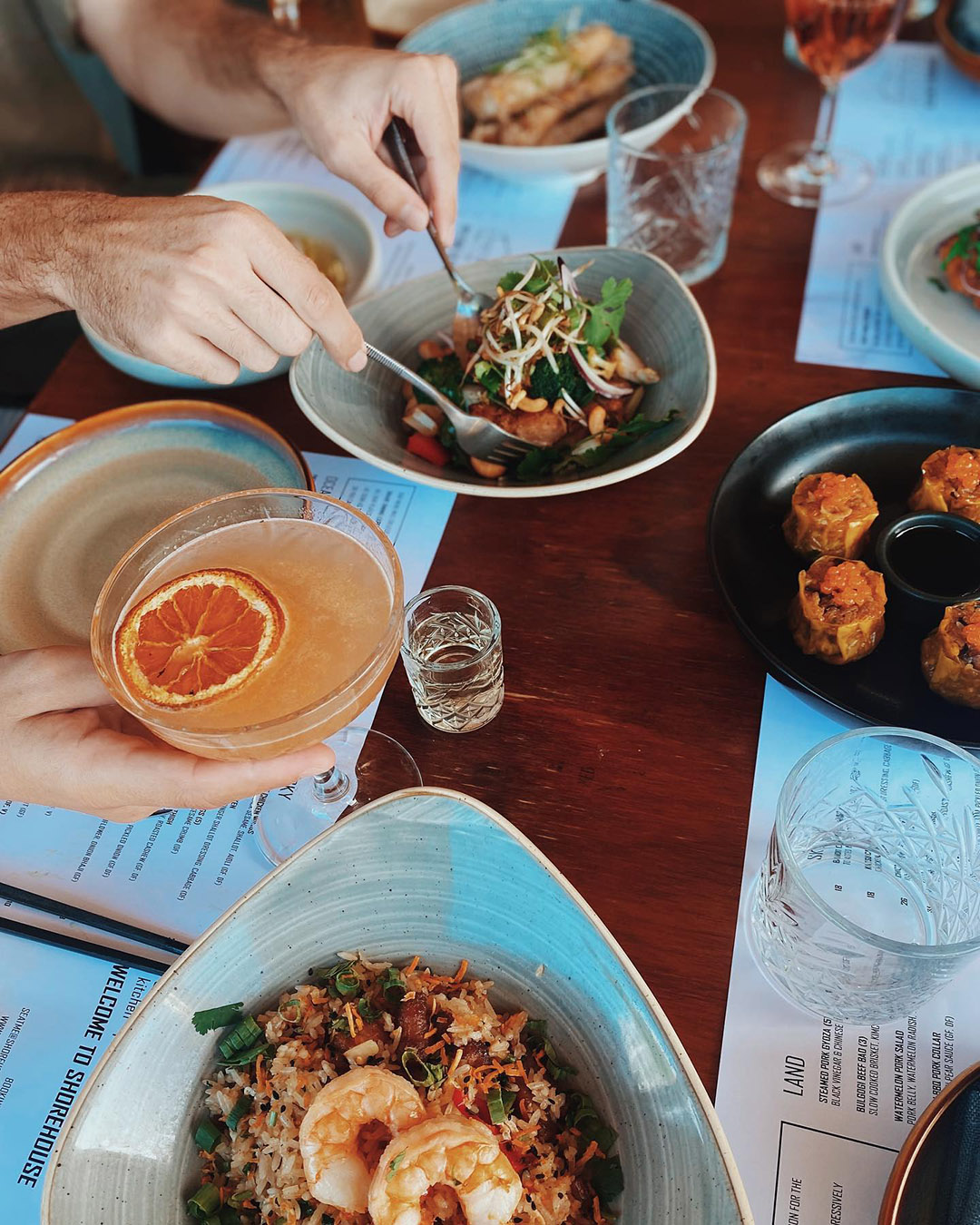 (Shorehouse)
Shorehouse in Townsville is a must-visit destination, not only for its food but its stunning waterfront location that provides beautiful views of the ocean and The Strand while you dine. The menu boasts a range of delicious, locally sourced dishes that are made to be shared. And with a variety of vegetarian, gluten and dairy-free options, it's an easy crowd-pleaser.
Dig Into Award-Winning Food
JAM is an award-winning restaurant all locals can confirm is a favourite. The menu features an eclectic and innovative mix of dishes that showcase fresh and locally sourced ingredients. Whether you're in the mood for seafood, steak, or vegetarian fare, JAM has got you covered. Not to mention its extensive wine list and signature cocktails, which of course perfectly complement the menu. If one hatted restaurant isn't enough, be sure to check out the impressive fare on offer at Bridgewater and A Touch of Salt—you won't regret it.
Sample Flavours By The Sea
We'll stand by the fact that a trip to a beach paradise can only be made better with a fresh taco in hand. And when in Townsville, your Tex-Mex needs are covered with Longboard and California Taco. Between the Baja fish and the coconut prawn tacos, you'll have no excuse not to be double-parked while admiring views of The Strand and Magnetic Island across the water. There are also plenty of BBQ classics that are on offer and options that cover dietary requirements. But most importantly, its extensive drinks menu provides a margarita for every mood, so you'll have no excuse not to check it out. For the best breakfast views, you can't beat Cbar—the only café perched on the Coral Sea with absolute waterfront views of the iconic Magnetic Island. Here, all your classics are covered—and there's no better way to start your day than a coffee by the sea.
Stay
The Ville Resort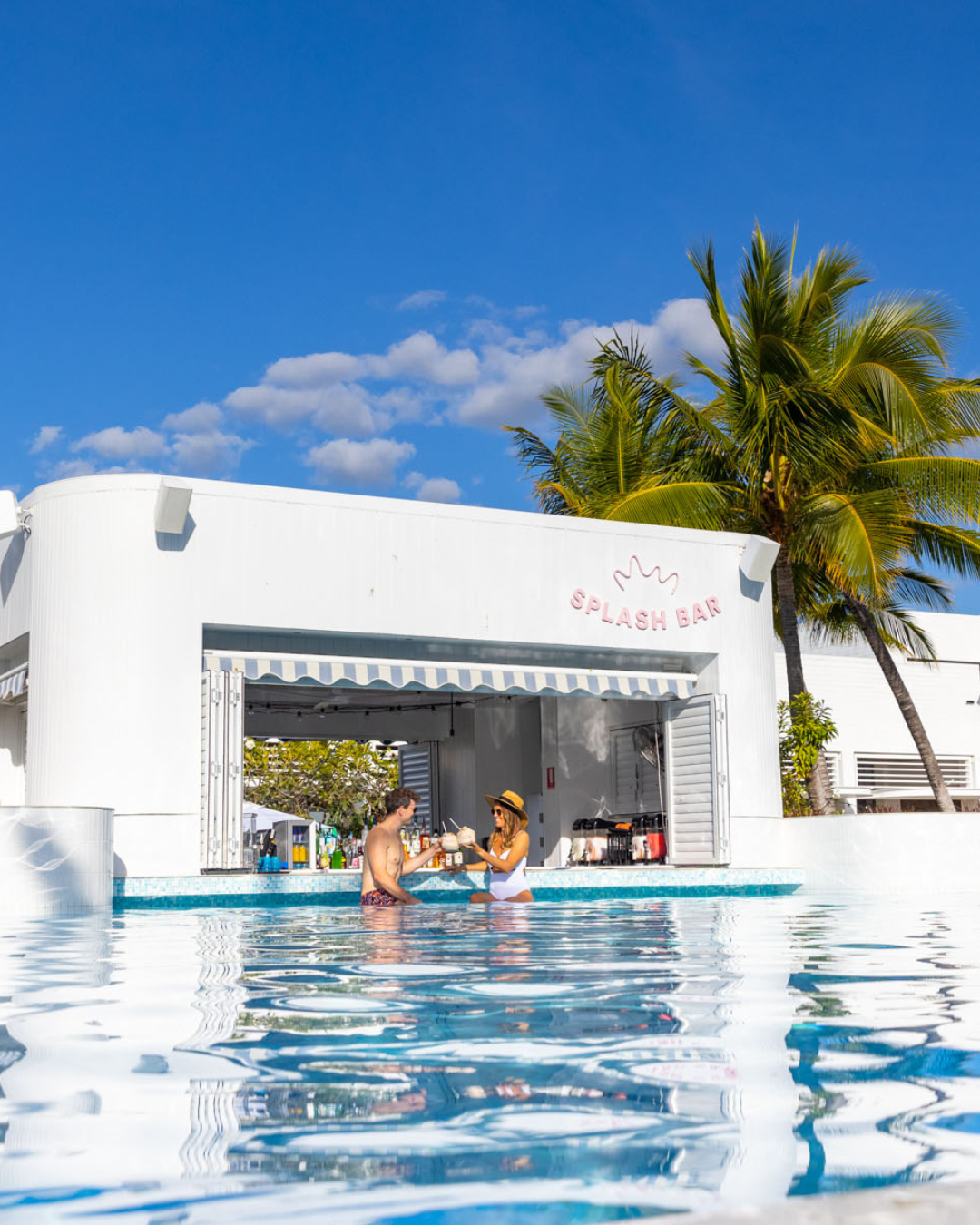 (The Splash Bar, The Ville)
If you're looking for the ultimate stay while in Townsville, a stay at The Ville Resort is exactly what you'll be booking. The palm-tree-lined resort is perched right along the waterfront with luscious lawns begging you to kick back on. Whether that's lounging by the gorgeous pool (hello, Splash bar complete with cabanas), at one of the world-class restaurants, or at the spa, you'll be guaranteed a good time when staying at The Ville.
Amaroo On Mandalay
If you're on the hunt for your very own beachfront oasis, look no further than Amaroo On Mandalay. This luxurious resort offers a range of accommodation options, from villas to apartments. With a magnesium lagoon-style pool, spa, and BBQ area, you can't go wrong with a few nights at Amaroo.
Beach House Motel
For those who are looking to stay somewhere central, Beach House Motel has you covered. Sitting right on The Strand, Beach House is the perfect home base to explore the city's best cafes, shops, and restaurants. Not only does it have easy beach access and ocean views, but Beach House Motel comes with everything you need for a relaxing stay.
Hidden Valley Cabins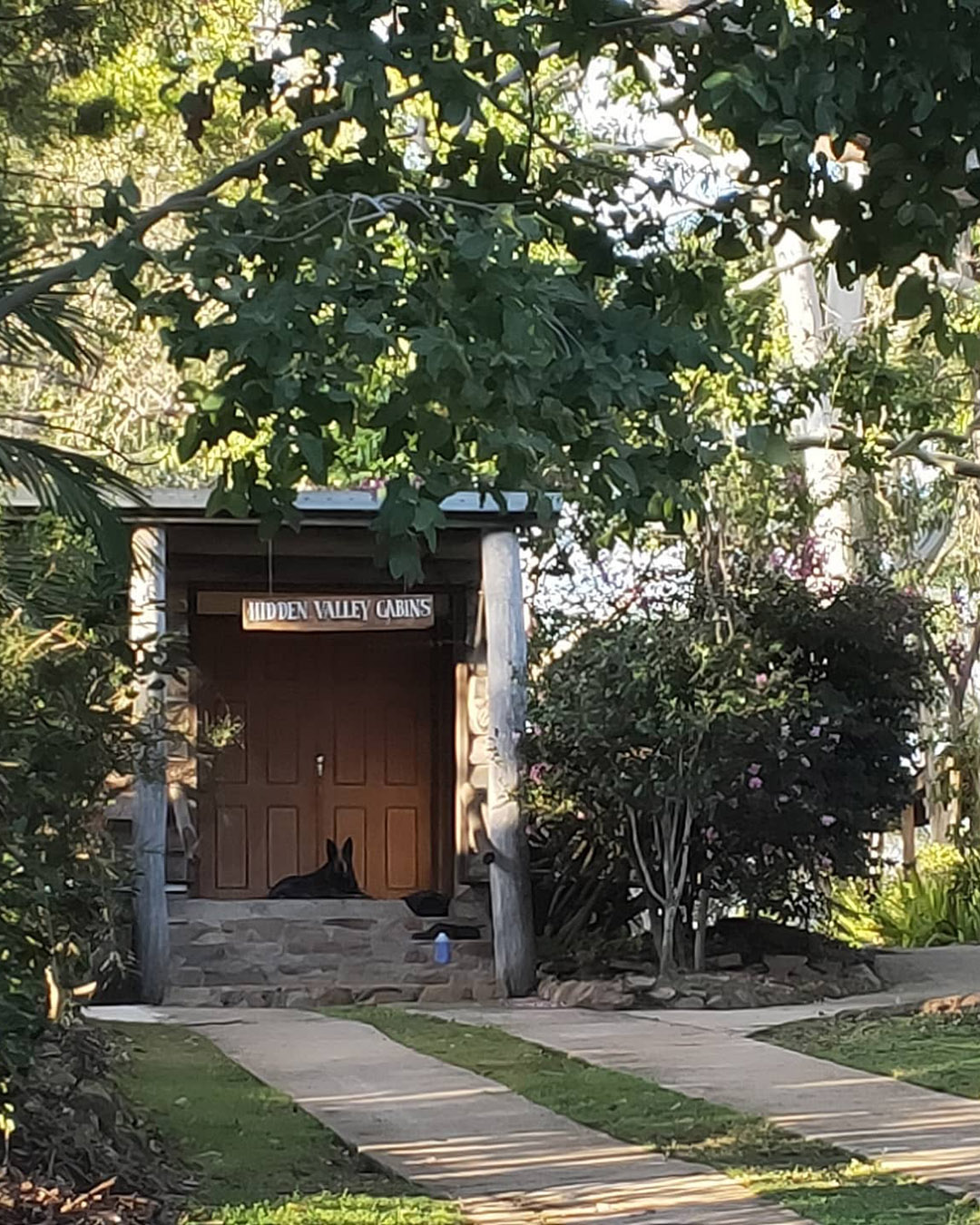 (Hidden Valley Cabins)
If you're searching for an authentic eco-tourism experience in the heart of North Queensland, Hidden Valley Cabins is a must-visit—even if just for one night. Nestled in the heart of the Paluma Range National Park, this off-the-grid retreat offers a range of fully self-contained cabins, surrounded by lush rainforest and crystal-clear creeks, making a stay at Hidden Valley the perfect way to disconnect.
Tropical Palms Resort
Just 200 metres from Picnic Bay Beach is Tropical Palms Resort, a cosy accommodation option on Magnetic Island. The resort also offers 4WD hire, so you can explore the island even further. The beach is also just a short walk away, so whatever pace you're holidaying at, Tropical Palms will ensure your time on the sand is high.
Editor's note: This article is sponsored by Townsville Enterprise Limited and proudly endorsed by Urban List. Thank you for supporting the sponsors who make Urban List possible. Click here for more information on our editorial policy.
Image credits: Tourism and Events Queensland. Sourced from Instagram: Annee's Caphe Du Sua, Shorehouse, Amaroo On Mandalay, Hidden Valley Cabins.