There's nothing quite like the Aussie summer holiday—especially if it's been a while since you jumped in the car and went exploring. But before dialling up another trip to the usual beach towns on the coast, consider ditching the crowds and heading inland to Central NSW—where the number of water adventures might pleasantly surprise you.
Youll be spoilt for choice if you're heading to the central regions (beginning at just a two-hour drive from Sydney). Oberon, Orange, Blayney, Cabonne, Cowra, Bathurst, Forbes, Lachlan, Weddin and Parkes each offer unique summer attractions and water adventures perfect for beating the heat. We're talking waterfalls, rivers, dams, lakes and underground caves, good for swimming, kayaking, fishing, hiking, cycling, fossicking or doing what holidays are mostly meant for and simply relaxing.
So to help you decide what destination(s) to punch into your GPS, we've teamed up with Central NSW Tourism to round up what every Central NSW region has to offer for your summer trip.
Pack your inflatables and be ready for a splash, these are the best water adventures you need to tick off in NSW this summer.
Oberon
If you're looking for beautiful views and pristine fresh air, look no further than Oberon. Only a two-hour drive west of Sydney, the region is well known for local mushroom foraging in the autumn months, but its summer brings a mild climate with virtually no humidity—ideal for bushwalking, fishing, cycling, fossicking, and of course, swimming.
Start by exploring the magnificent Kalang Falls, nestled in the Kanangra Boyd National Park. Take a scenic walk to the Kanangra Walls lookout before diverging onto the waterfall walk's path and cooling down for a refreshing dip under a natural shower. There's more exploring to be done by heading to nearby Jenolan Caves, one of the most ancient open caves in the world with some pretty breathtaking limestone formations.
Orange
Anyone who's fortunately travelled through Orange has most certainly partaken in the region's famed wine tastings and paddock-to-plate dining offerings. We're here to tell you those are top of the list if you're visiting this summer, with a delicious embarrassment of riches.
But before you hit the cellar doors, make sure you first take a dip at Lake Canobolas. Lying at the foot of Mount Canobolas, this tranquil lake offers swimming pontoons, with a little beach on the shoreline for you to plant yourself for the arvo. The lake and surrounding areas are perfect for swimming, canoeing, cycling, sailing, and hiking.
And if you somehow still need a slight cooling down, pick up a delicious, locally made gelato from Split Milk Bar in town.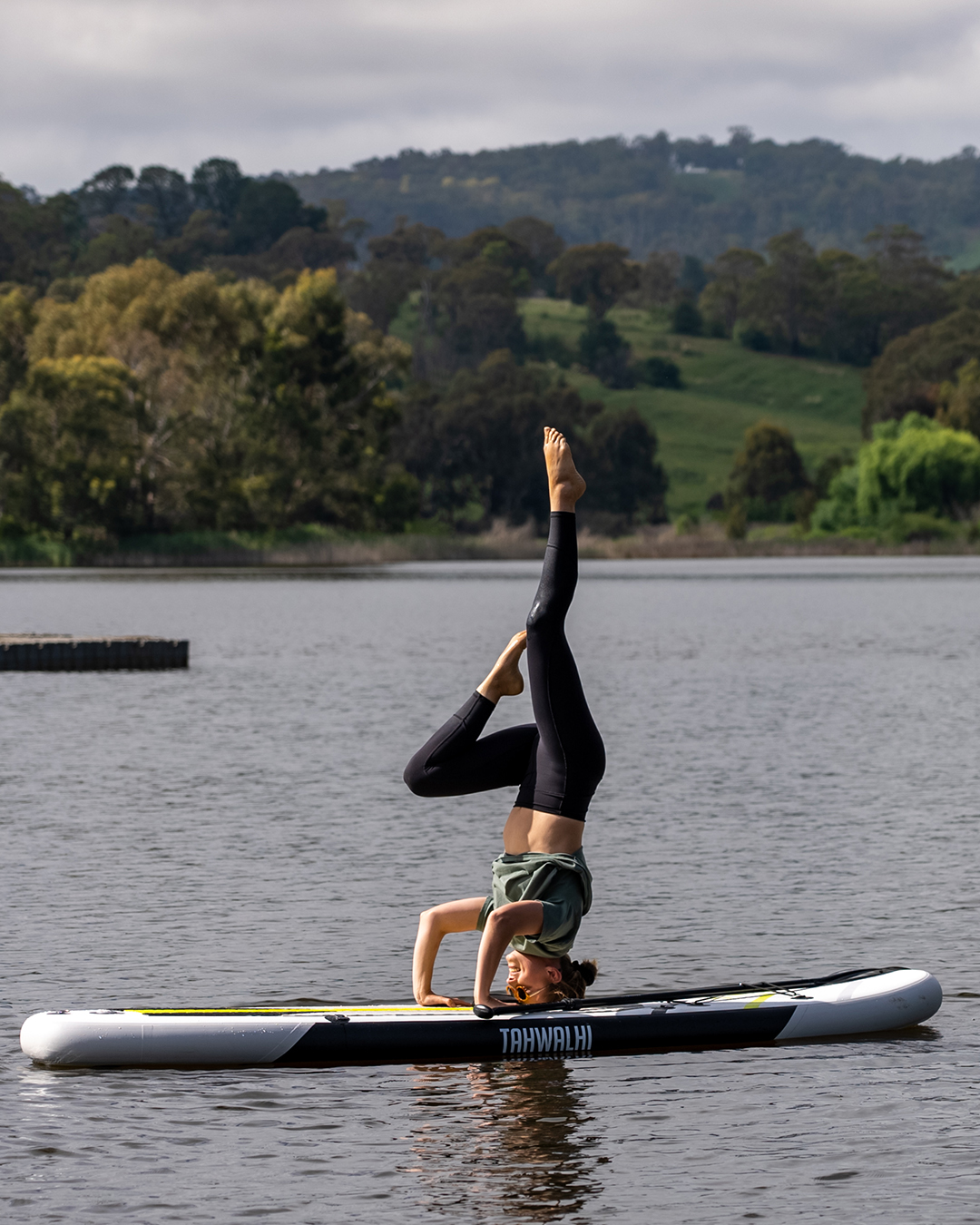 Blayney Shire
About three-and-a-half hours west of Sydney, Blayney Shire is best known as a historic gold mining region. For a swim, head straight to Carcoar Dam. Built in 1970 and sitting on the Belubula River, it's the perfect spot for a swim, with plenty of space for water skiing and sailing if you're up for it. Pack a fishing rod, with the dam being stocked with golden perch, trout and murray cod and grab a grazing picnic platter in neighbouring historic village, Carcoar.
Next, make your way north to the village of Millthorpe for a unique wine walking tour with the Millthorpe Wine Collective. Taste over 30 wines across three local cellar doors: Angullong Wines, Slow Wine Co and Tamburlaine Wines. Drinking a chilled glass of wine is a well-proven way to stay cool, right?
Cowra
There are countless reasons to visit and fall in love with Cowra, perhaps none more so than the town's magnificent Japanese Gardens and Cultural Centre. The five-hectare garden features waterfalls, streams, lakes and open-air tea house.
But if you're after a swimming adventure–there's plenty of that too. Like taking a hike through the Koorowatha Nature Reserve and rewarding yourself with a swim in the spring-fed waterhole Koorowatha Falls, which translates from Wiradjuri as 'a place of pine trees'. Grab a spot at the Farleigh 'Beach' Reserve—a local's favourite picnic spot shaded by giant eucalyptus trees on the banks of the Lachlan River. Or finally, take a dip in Wyangala Dam, where the Lachlan and Abercrombie Rivers meet for a bit of swimming and fishing.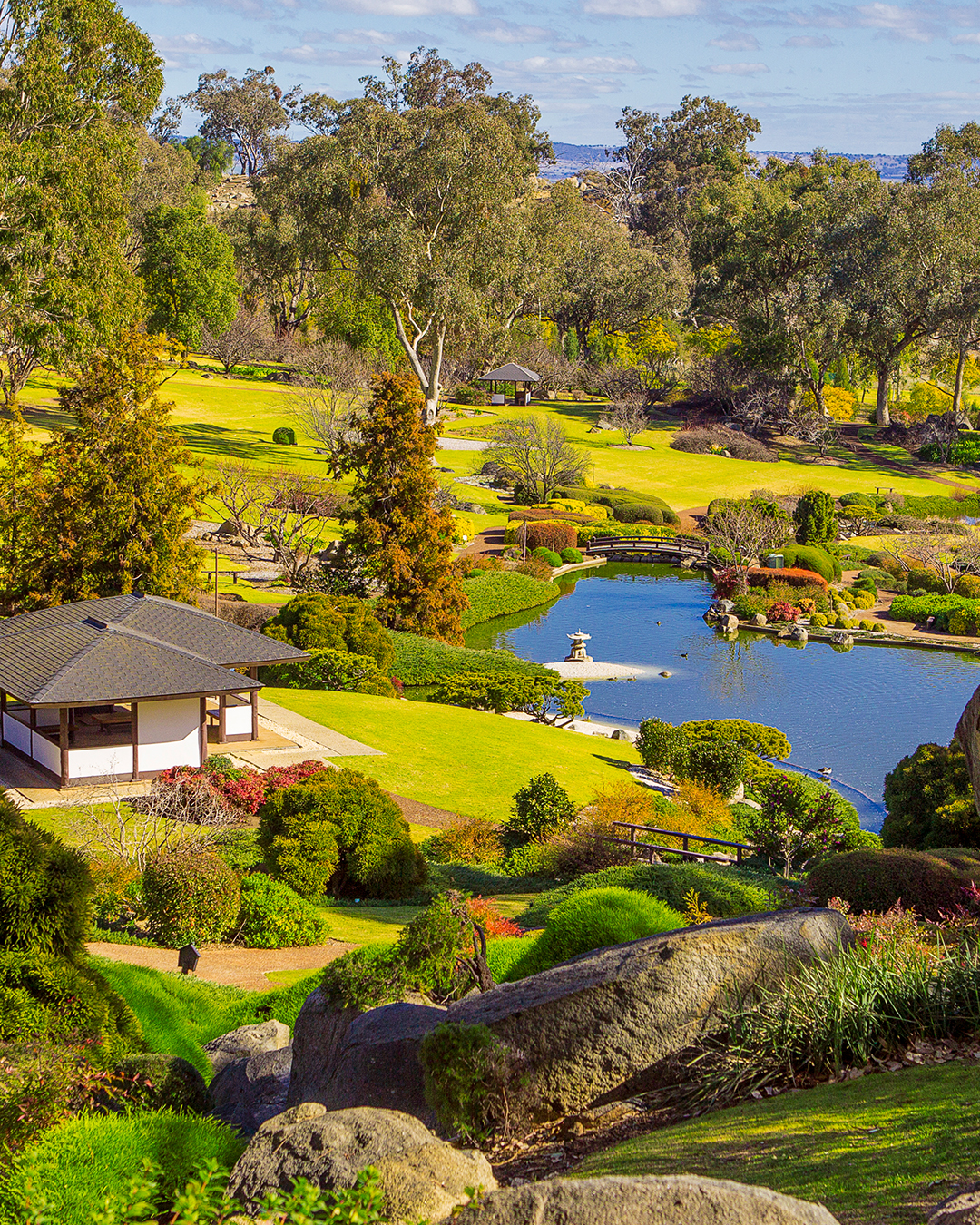 Bathurst
Most Aussies are no strangers to Bathurst, the home of one of our country's most beloved sporting events: the Bathurst 1000. It's also a stunning city to explore for its museums, art, food, wine and historic buildings.
Our pick has to be the Flat Rock picnic area on the Fish River in nearby O'Connell. The spot boasts plenty of crystal-clear natural pools to plunge into and either grass or signature flat rocks to lounge and lunch on. Elsewhere, make your way to the historic Sofala on the Turon River for the local scenic swimming hole, followed by a schooner at the close by Royal Hotel for a true country pub experience.
For hours of fun head out to Chifly Dam for the Bathurst Aqua Park. Country NSW's largest aqua park here you'll find floating slides, jumps and pontoons.
Forbes
In the heart of the Lachlan Vallery, on the Lachlan River, take a stroll through Forbes for some iconic heritage buildings and the town's famed sculpture down the Lachlan outdoor art trail. If you need to cool down head to Gum Swamp—a beautiful billabong for bird watching.
Check out the Forbes Ski Dam, an awesome spot right at the bend of Lake Forbes. Make the most of the surrounds and embark on a walking or cylcing trials. Or, make a splash with watersports with plenty of room for kayaking and wakeboarding. Complete with BBQs and shelters to whip up lunch, it's the whole package.
Lachlan Shire
If you love camping out under the stars, we think you might love the region of Lachlan, just over six hours west of Sydney. Local towns of Condobolin, Lake Cargelligo and Tottenham are all RV friendly and ideal for mobile travellers, with plenty of sites for camping and good old fashioned bush hospitality.
It's in Lake Cargelligo that you'll find one of the best swimming adventure spots in Central NSW. The town boasts an 8km-long natural inland lake, perfect for water sports enthusiasts and bird watchers alike. While you swim, fish, water-ski, kayak or relax on the foreshore, keep an eye out for the 216 species of birds recorded in the area.
Weddin Shire
Built on gold in 1866, Grenfell is the main township in Central NSW's Weddin Shire. Best known as being the the home to the iconic Grenfell Commodities painted silos, sprawling Weddin Mountains National Park and magestic Iandra Castle.
But if you're passing through during the summer months, grab your swimmers and bring the crew down to Company Dam (or Comps Dam to locals) just near town. The body of water is surrounded by bush, and there's a good chance you'll spot local wildlife as you unwind for the day. Keep an eye on the sky if you pack your binoculars–the area is prime for bird watching too.
Parkes
If you're serious about the 'King of Rock and Roll', then you most certainly know Parkes. Entering its 29th year, every January, the town hosts the internationally renowned Parkes Elvis Festival, where thousands of fans flock to show their love for the great musician. Note that in 2022, the festival is being held in April instead.
But that doesn't mean there aren't plenty of summertime reasons to park up in Parkes. Like heading just outside of town for popular swimming spots Lake Endeavour and Bumberry Dam—ideal for a day of swimming and bushwalking.
If you're after a solid hiking spot before treating yourself to a swim, look for trails in nearby Goobang National Park or Yamma State Forrest.
Cabonne
Located three-and-a-half hours west of Sydney sits Cabonne. The region is full of historic pubs, modern vineyards and is rich with Australian history. The town of Yeoval is where the great Banjo Patterson spent his childhood and is currently home to the Banjo Paterson Museum.
As for swimming? Almost every village in the region has itself a public pool. From Manildra and Eugowra to Canowindra and Cudal–there's somewhere to go for a dip and cool down.
So, what are you waiting for!? This is the summer we can all safely travel again, and we've just given you 10 places to go and endless reasons to go there. Grab your mates, family or partner and make the most of your holiday by heading to Central NSW for stacks of inland water adventures. For more info to plan you visit, head here.
Editor's note: this article was produced in partnership with Central NSW Tourism. Thank you for supporting the partners who make Urban List possible. To read our editorial policy, click here.
Design credit: Dom Lonsdale