First established in New Zealand five years ago, White + Wong's brought together their love for flavour and vibrancy in the form of an extensive eatery offering inspiration from China, Hong Kong, Vietnam, Malaysia and Thailand. Since becoming a local favourite at home and perfecting everything from noodles, soups, curries, delicious dumplings and inspired sashimi dishes, they've recently made the leap across the ditch, bringing their flair for flavour to the buzzing CBD precent, 25 Martin Place.
Led by head chef, Ashish Bhatnagar, dual kitchens craft an extensive range of dishes, from the simple but surprising prawn cracker to a yuzu curd that isn't to be missed. The winning note for this buzzing CBD addition is its ability to cater for a huge range of occasions. From date night to bigger group bookings, they've got you covered.
And we've all been there. Someone suggests catching up for a cheeky dinner with the crew and as the invite list grows, so too does the stress of organising a table for ten people. Add the FOMO factor and you're looking at last-minute ring-ins and ring-arounds trying to find somewhere easy to book.
Taking the stress out of wrangling a large group, White + Wong's provide bookings of up to 16 people, online, with no stress.
With big groups come big opinions, and inevitable arguments over how many appetisers to order. Another problem that White + Wong's deftly tackle with multiple banquet options.
There are three banquet options available to choose from, depending on your appetite.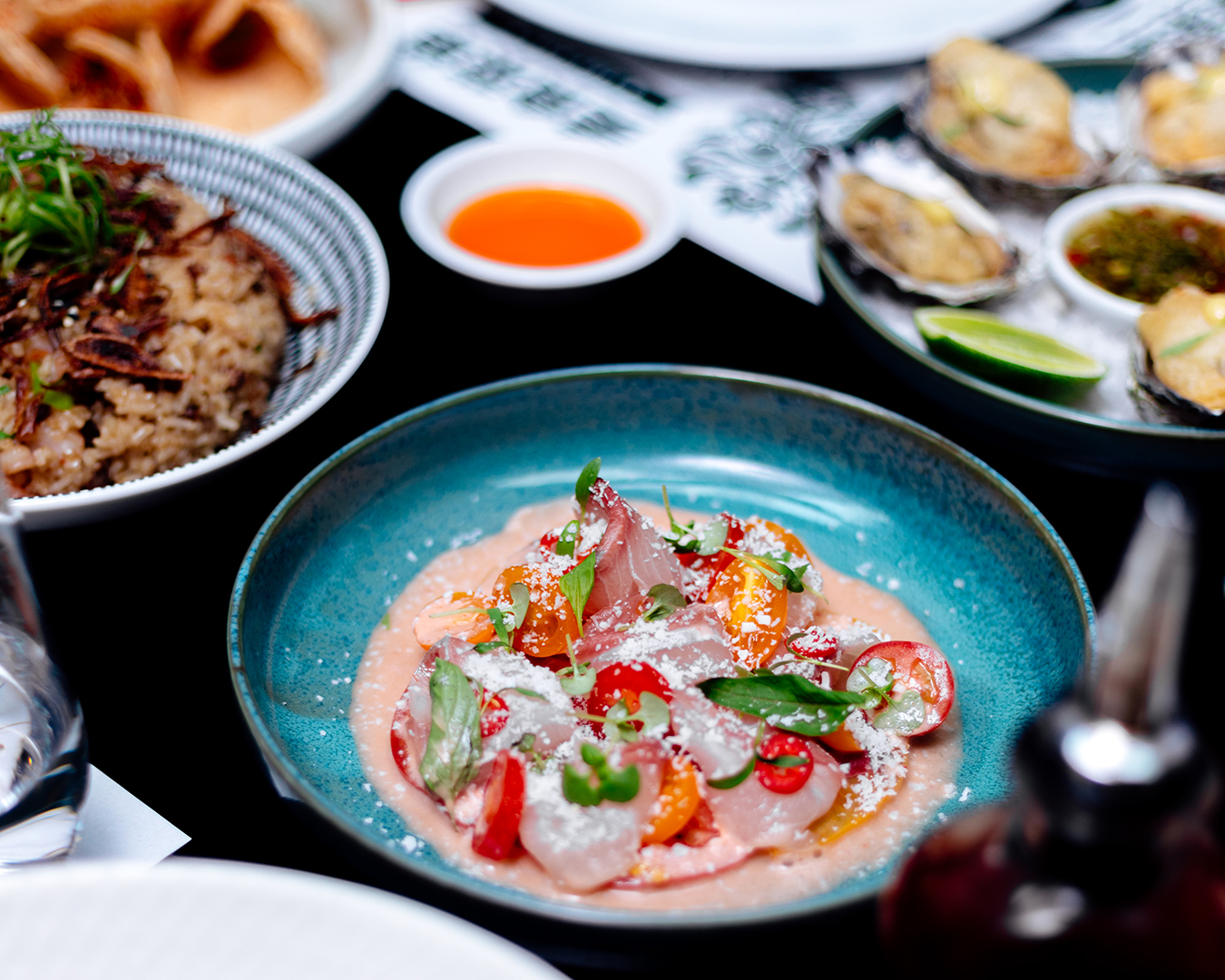 For those who are ready to feast, the $115 banquet showcases the extensive array of White + Wong's offerings, with appetisers including Fijian-style Kingfish sashimi, Bang Bang chicken and edamame, followed by Chinese roast pork belly, Masaman lamb shoulder curry and Peking duck. Rounding out the feast is a banoffee sundae with salted caramel ice cream and miso.
If you're keen to sample all of the flavours at White + Wong's, but don't want to have to unbutton your pants at the end of the meal, go for the $85 banquet—equally satisfying but lighter selections from the extensive menu. You'll still be treated to the knock-out appetiser, the Fijian-style Kingfish sashimi, alongside crispy soft shell crab, and prawn crackers with seaweed and salt. Mains include a Thai beef salad, crispy fried chicken and a red burry with the beef shin. Closing out the night is the star of the show, a yuzu curd with mascarpone chantilly and coconut sorbet.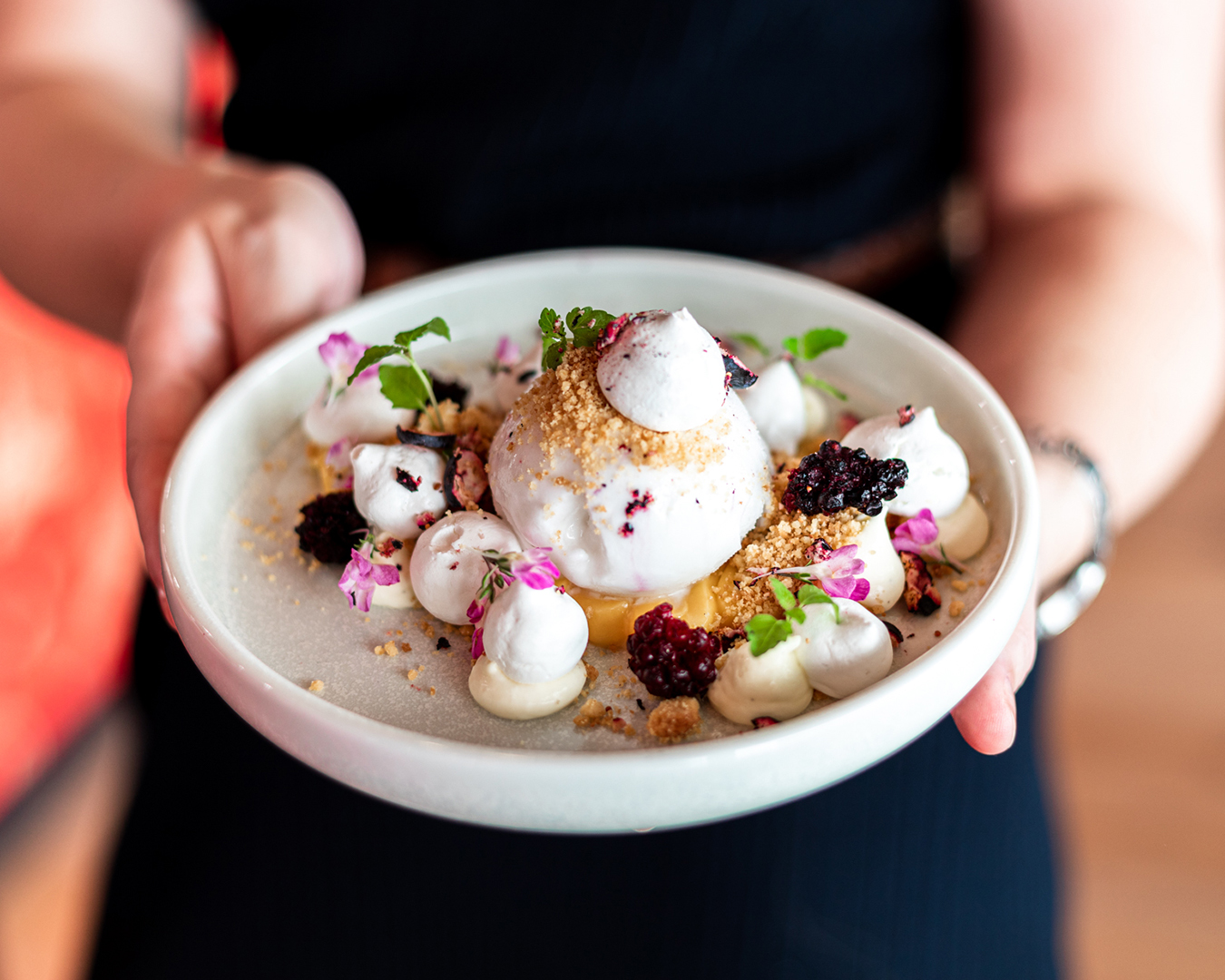 For those who become overwhelmed by choice or simply love indulging in a banquet feast but don't have the numbers on your side, you can't go past the Feed Me menu for $65 a head. Available for a minimum of two people, the menu includes a selection of house favourites including starters, curries, sides and desserts. All dishes are also available à la carte.
With large groups comes inevitably staggered arrival times, and the in-house Sardine Bar on the upper floor is perfect for pre and post-dinner sips. This terrace bar offers a relaxed ambience for casual get-togethers, after-work drinks and bespoke cocktails. The full menu is available here too, including the indulgent Woktails menu, featuring sips such as the Jade Slipper, made with Absolut Elyx vodka, Midori, coconut syrup, fresh lime & pineapple juice, and the Orchard Road made with Malfy Blood Orange gin, St Germain elderflower liqueur, yuzu sparkling sake & soda.
Keen to get the crew together for an easy and satisfying flavour-filled meal? Head over here to explore White + Wong's full menu and to book your table of up to 16 now.
Image credit: Supplied, Urban List
Editor's note: This article is sponsored by White + Wong's and proudly endorsed by Urban List. Thank you for supporting the sponsors who make Urban List possible. Click here for more information on our editorial policy.