Ace Hotel Sydney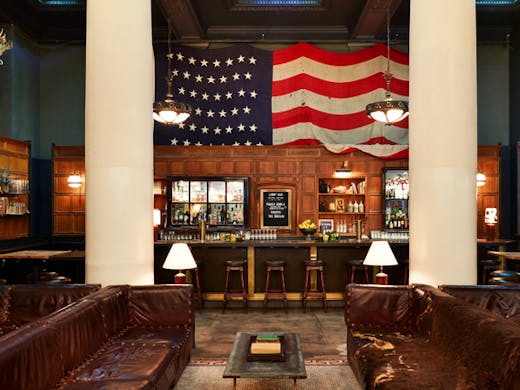 It's been a long time coming, but Ace Hotel is finally launching in Australia—with Sydney as its first Aussie home.
If you're into boutique hotels, you'll be familiar with the very cool Ace Hotel chain. Kicked off in Seattle in 1999 by the late hotelier Alex Calderwood, Ace Hotel changed the game for luxury hotels—it was less Four Seasons, Hilton and Marriot, and more like hanging out in a rockstar's tricked out warehouse apartment. At Ace, rooms feature record players and vintage furniture, local artists' murals and a mini-bar packed with local snacks and explorer necessities (like 2-minute noodles for that hungry but don't want to spoil dinner vibe you get after exploring a city all day).
Without forgoing luxury, Ace has a solid rep for upping the ante on culture—drawing the essence of the thumping city it calls home inwards. Each location has a calendar packed with parties and events. Ace Hotel Palm Springs features a swim club and plays host to Coachella parties each April. The New York outpost features its own Opening Ceremony store, and Downtown LA has a huge 1600-seat gothic-style theatre.
And it seems Ace Hotel Sydney will live up to its international counterparts. It's set to take over the Tyne Building on Wentworth Avenue in Surry Hills owned by Golden Age Group, and will feature 264 rooms, a gym, a restaurant and a cafe, a lobby bar and, of course, a rooftop bar.
Ace's internal design team, Atelier Ace, will be responsible for the all-important design of the hotel, alongside legendary Sydney-based architects, Bates Smart (whose offices neighbour the new Ace Hotel Sydney site).
Ace Hotel Sydney is due to open in 2021, stay tuned for more information.
Image credit: Ace Hotel
---