Altitude Restaurant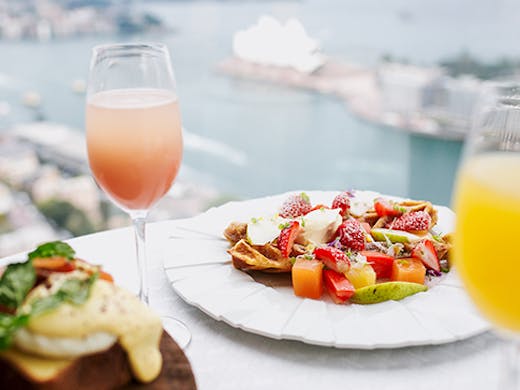 The verdict
Sitting atop the super-luxe Shangri-La Hotel, Sydney, Altitude Restaurant in the heart of Sydney will take your dining experience to dizzying heights thanks to the floor-to-ceiling windows which provide an unrivalled view over Sydney Harbour.
Whether you're looking for somewhere to spend your anniversary, a dinner with your family or a delicious brunch with your friends—the team here have got you covered.
The latter is our favourite offering from Altitude, with free flowing mimosas and bellinis from 11.30am every Saturday, and a breakfast buffet filled with all of the essentials and then some. Yes, you'll be going back for seconds (or thirds, if we're honest).
Our top pick from the breakfast menu is the pancakes or waffles (you can choose between the two), which are piled high with maple vanilla ice cream, toasted almonds and berries, and drizzled with maple syrup. We also recommend the Eggs Benedict and Arabian buttered eggs, which includes fried eggs, mint, dukkah and lemon on toasted Turkish bread, and of course a plate filled with goodies from the buffet is always a good idea.
If you head here for dinner, you can expect a menu of Modern Australian dishes, with the same luxe twist that the Shangri-La Hotel, Sydney is known for. Think smoked duck breast with slow cooked 63oC egg and serrano parmentier, and gold band snapper sashimi with red onion, wasabi and citrus ponzu.
You'll obviously want a glass of wine with dinner, so speak with the sommelier, who will help you navigate through the long and comprehensive list of tipples. We also recommend that you pop into Blu Bar—which is right next door—for a pre-dinner cocktail, and so you can spend maximum time soaking up the amazing view.
Image credit: Carla Dibbs & Altitude Restaurant
---